Jennifer Lopez Shows Off Legs and More Met Gala Celeb Photos
The stars came out to help open "In America: A Lexicon of Fashion."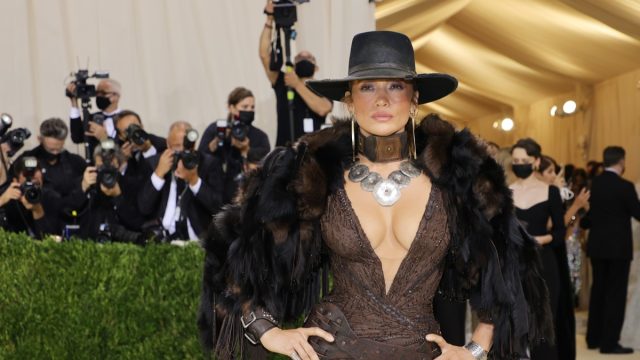 Hollywood's hottest stars came out in full force for the 2021 Met Gala, "In America: A Lexicon of Fashion," which took place at the iconic museum in New York City. Aside from the jaw-dropping gowns and getup, it was impossible not to notice the incredible fit figures draped in the best high fashion has to offer. From Jennifer Lopez's leg-baring western-inspired attire courtesy of Ralph Lauren to Kim Kardashian's skin tight and masked Balenciaga look, Celebwell has rounded up some of the top looks of the night and the celebs' best health and wellness tips—and to get red-carpet-ready yourself, don't miss these essential 30 Best-Ever Celebrity Bikini Photos!
`
Jennifer Lopez dropped jaws in her Ralph Lauren designed western wear. Joined on the red carpet by beau Ben Affleck, the 52-year-olds best accessory was actually her pair of incredibly fit legs. According to J.Lo, the secret to a sexy body isn't rocket science. "You got to work out, you got to watch what you eat," she told Us Weekly. "It's a job—you've got to buckle down." And, in case you are curious how she looks better than she did decades ago, it has to do with her smartened up approach to fitness. "In my 20s and 30s I used to work out but not like I do now," she told InStyle. "It's not that I work out more; I just work out harder and smarter. And it doesn't take me as long as it did in the past. I do it more for my health than I do for looks, which is funny. When you do things for the right reasons, you actually look better!"
2
Justin and Hailey Bieber
Hailey and Justin Bieber opted for simple but elegant his-and-hers attire. The statuesque stunner wore a sexy sweetheart-esque gown designed by Saint Laurent. In order to maintain her svelte figure, the supermodel regularly trains at The Dogpound and eats an incredibly clean diet. "I tried a plant-based diet for two months during quarantine," she recently explained Harper's Bazaar. "I felt great and I had a lot of energy, but it was not for me. I don't eat a strictly plant-based diet and I do still eat meat. I just don't eat a lot of it. I've picked up more fish, greens, and lentils." Her diet consists of "a lot of vegetables and fish, not much meat, minimal dairy," she recently told Byrdie. "I just feel better when I eat that way."  
Billie Eilish had her Marilyn Monroe moment, stunning old Hollywood style in a powder pink Oscar de la Renta ballgown. What is her secret to confidence? The singer, who has struggled with body image in the past, believes that everyone needs to do what makes them happy. "It's all about what makes you feel good. If you want to get surgery, go get surgery. If you want to wear a dress that somebody thinks that you look too big wearing… – if you feel like you look good, you look good," she told Vogue. 
Kim Kardashian put her famous curves on display while keeping her face concealed in an attention-grabbing look designed by Balenciaga. The reality star is completely devoted to health and fitness, executing daily body building sessions with her trainer. "I work out about an hour-and-a-half every single day," she told E! News.
5
Camila Cabello and Shawn Mendes
Camila Cabello flashed her flat abs in a bold purple cutown Michael Kors gown with boyfriend Shawn Mendes on her arm. The singer has confessed that her arm candy has inspired her to be healthier, not only by exercising but eating healthier. "Shawn has influenced me to be healthier. I was not healthy at all before," she told BBC Radio. "I never ate vegetables before. Just like, easy vegetables like cucumbers or cold carrots with cesar. Which I wouldn't say are hard vegetables," she said, admitting she never ate broccoli before her beau came into the picture.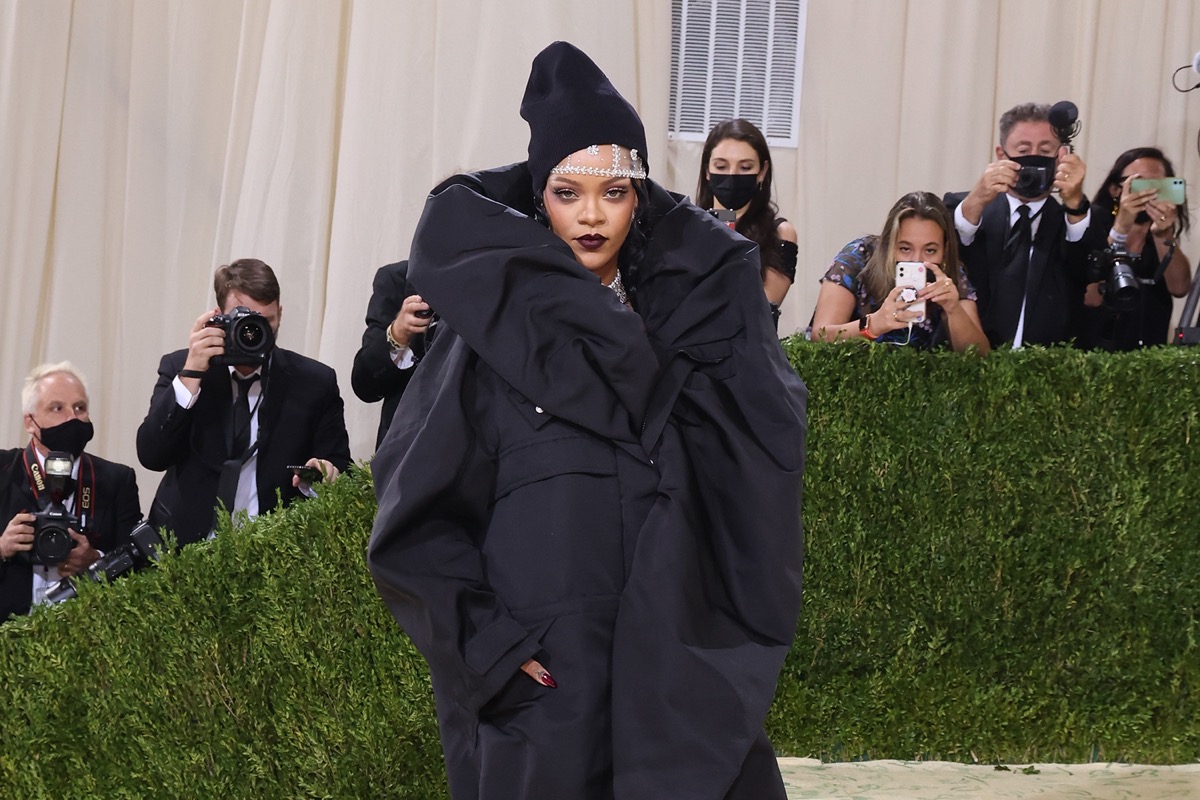 Rihanna reigned the Met red carpet in Balenciaga. The singer loves to eat, and once told Vanity Fair that food is her major motivation when it comes to working out. "I have been in the gym every day this week because I am not willing to give up my food," she said. "But I will sacrifice an hour for the gym."
Olivia Rodrigo went "punk rock feminine" with her feathered and lace black Saint Laurent catsuit. The young star is a longtime vegetarian, and during an interview with Teen Vogue, revealed that she likes to go on jogs and does ab work. "I am a terrible runner but it's the thought that counts," she said. 
df44d9eab23ea271ddde7545ae2c09ec
Ciara flashed her abs in a sequined cutout Dundas gown displaying her husband, Russell Wilson's, football number. The singer prioritizes her health daily. "What I learned by having that daily commitment—and it doesn't mean that I go in the gym every day, because you need to let your body recover—but when I started to become more consistent, I realized how much better I felt, and how much easier my workouts became because it wasn't so aggressive," she told People. "That's game-changing on the body and the mind. I feel like I can conquer the world on the days I work out, and it's very rewarding."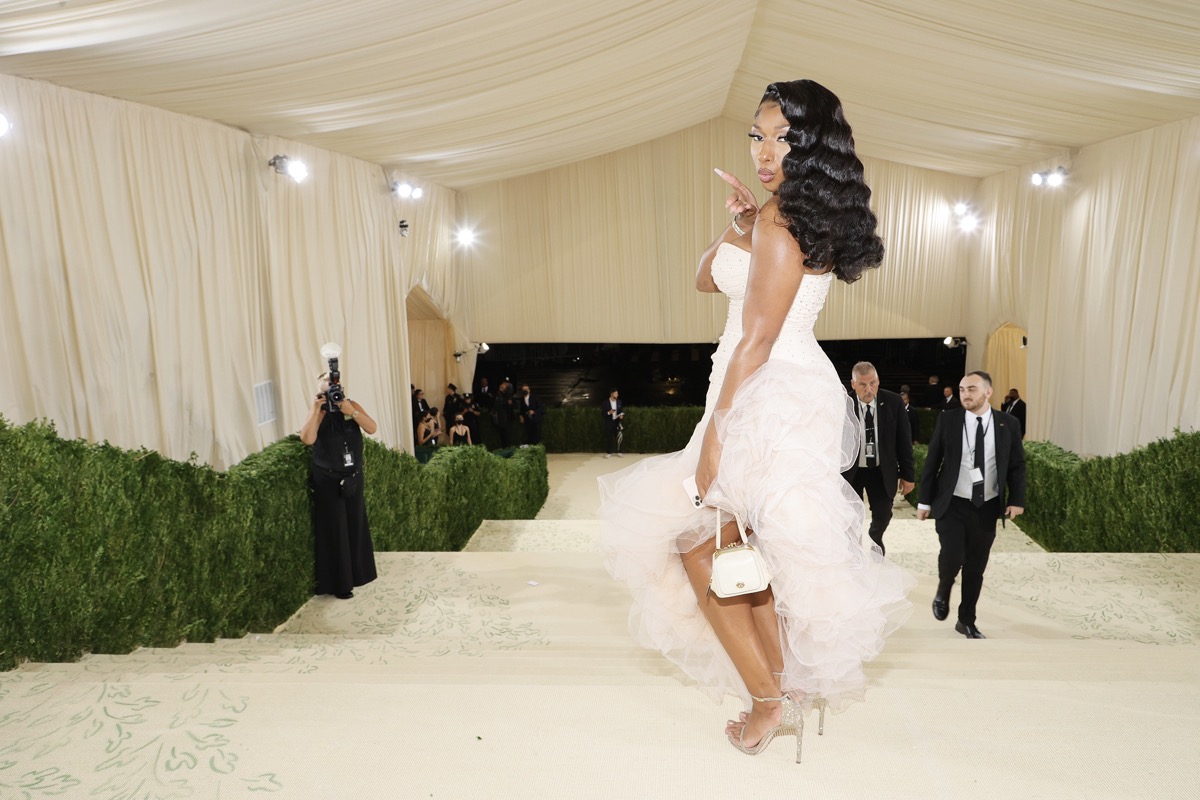 Megan Thee Stallion looked more bougie than "Savage" in an old Hollywood inspired Coach gown. The star recently shared her fitness journey with fans, dubbing her workout "Hottie Bootcamp." It consists of a blend of strength and cardio workouts, including squats and kettlebell exercises. "These kettle bell work outs are hard…I really hate them butttt they get the job done," she captioned one of her videos. She also likes pole dancing for exercise, declaring it "thee hardest work out I've ever done," in an Instagram video. "Sometimes doing the same workouts or working out in the same places becomes a lil boring/ repetitious for me so I had to spice it up a little bit and take a pole class."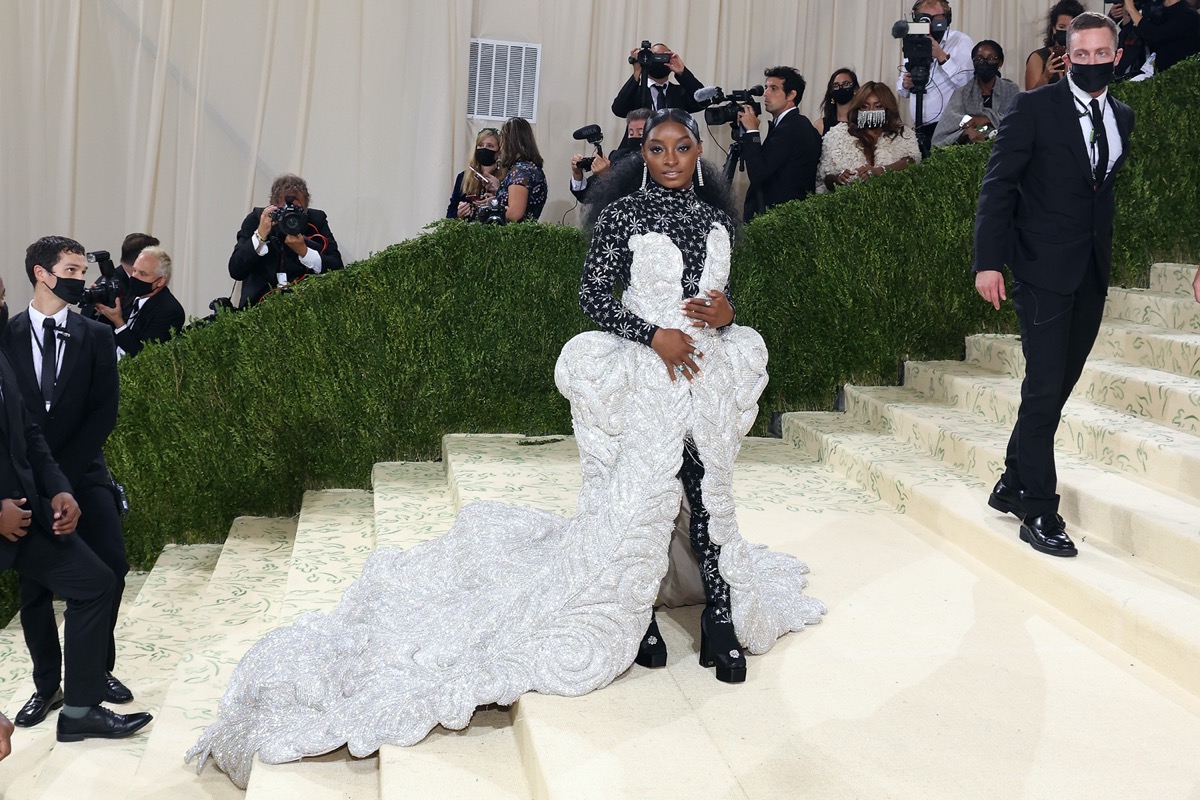 Simone Biles told Vogue that her 88-pound Beckett Fogg and Piotrek Panszczyk of Area gown made her feel "strong and empowered." The gymnast is devoted to fueling her body for fitness. "I eat what I feel good with and try not to overeat or stuff myself because I'm always at the gym," she explained Women's Health in 2020. "For gymnasts, in particular, [tracking] can lead to health problems and eating issues, so I just eat what I know I can and should." She also occasionally drinks alcohol, she told the magazine.
Kendall Jenner showed off her supermodel body in a sheer and shimmery Versace gown. "Sometimes when I'm watching TV, I think to myself, 'I should be doing crunches and sit-ups right now,'" she wrote on her no-longer-active blog per Byrdie about how she motivates herself for a workout. "Then I get off the couch and do it."
Cynthia Erivo bared her midsection in a white hot Moschino ensemble designed by Jeremy Scott. A vegan, the star is also a devotee of The Dogpound. "I know that my body asks for that amount of activity and it makes me feel good. I don't think that working out is just a physical thing, I think it really is about how you feel," she told Bon Appetit. "You release serotonin when you work out, so I think I may be slightly addicted to the feeling. The Dogpound is a great place. They try out new workouts on me because they know I can handle it."
Leah Groth has decades of experience covering all things health, wellness and fitness related.
Read more
---