15 Amazing Bodies of Female Pole Vaulters
Here are their fitness secrets.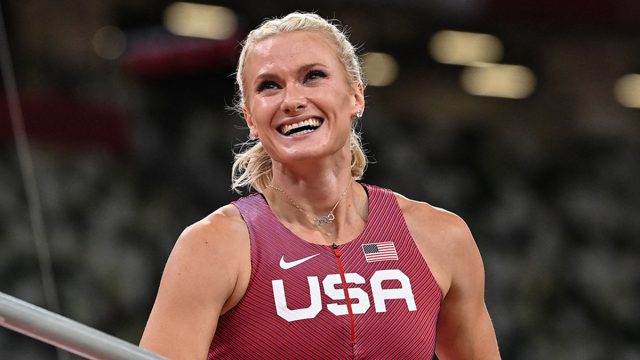 Pole vaulting is a sport that combines strength, speed, and grace to soar to impressive heights. This feature highlights the training regimens, personal stories, and commitments to fitness of 15 remarkable female pole vaulters from around the world, giving us a glimpse into the sheer determination and passion that powers their journeys to the top. From Jenn Suhr's dedication to fortifying her body through nutritional awareness and targeted exercise, to the fierce competitive spirit that drives Anzhelika Sidorova, every vaulter shares a unique path in pursuit of their goals. Join us as we take a closer look at the inspiring stories and fitness regimens of these incredible athletes. Stay tuned for tips, insights, and a dose of motivation straight from the experts themselves, as we delve deep into the worlds of these outstanding women.
Jenn Suhr shared some of her favorite workouts with Women Fitness. "I love lunges forward and backward.  I feel like they open up my hips and build strength.  What I like the most is they can be done anywhere!  To help combat injuries, I make sure I am fortified with the right nutrition.  I also make sure I layer when I warm up for practice.  I find heating my body up really well before I start impact helps loosen my muscles and joints.  I also am big on small intrinsic muscle exercises so at least twice a week I do a simple routine that makes sure I work the small muscles that often get ignored in major lifts.  A lot of elites get massages and therapy but it has probably been at least 6 years since I got a massage.  I have a hard time laying still for that long so I would rather do a strengthening and stretching routine myself to help my muscles relax and rebuild."
df44d9eab23ea271ddde7545ae2c09ec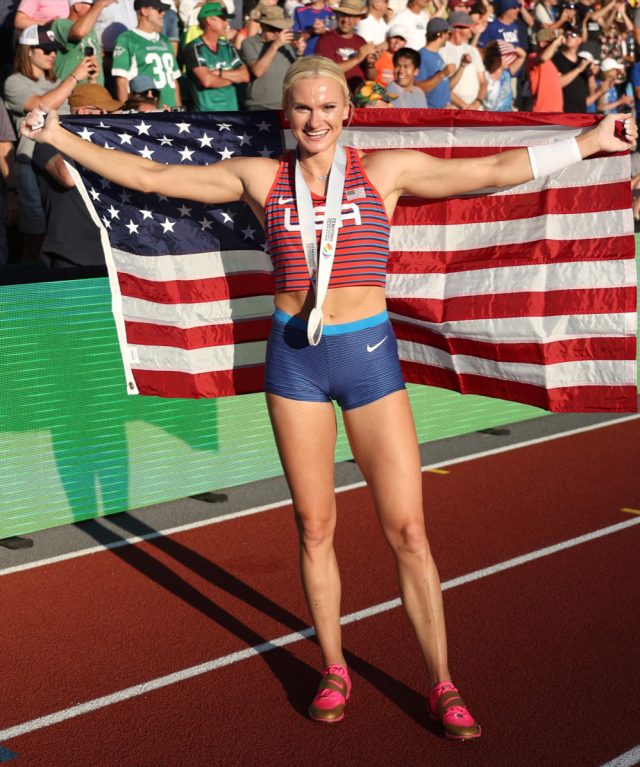 To keep herself in shape for pole vaulting, Katie Moon has to do full body workouts. "Legs — as we need to be fast and explosive on the runway and into takeoff," she explains to Oxygen Magazine. "Upper body — to press the pole up and away from you, and then shoulder strength to help swing upside down faster. Core strength is very important, as well."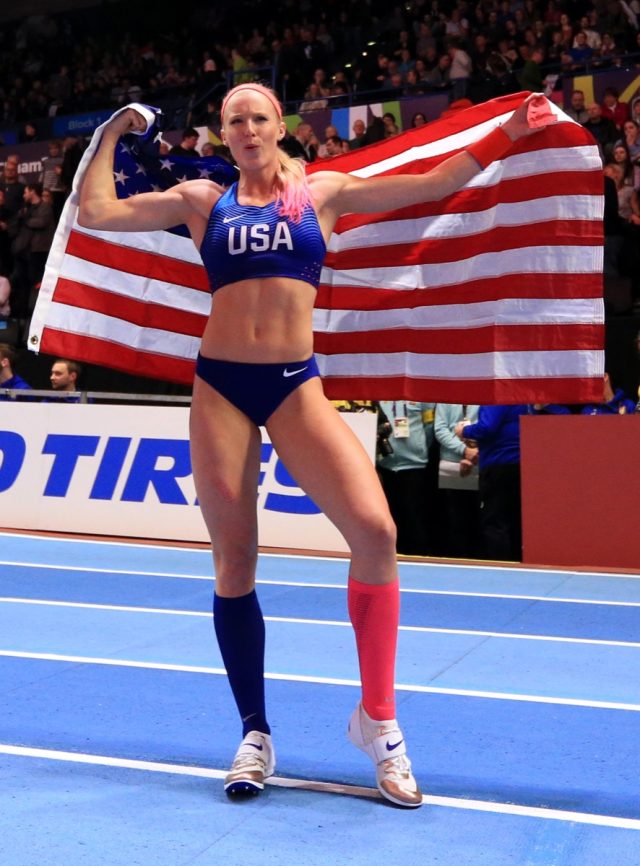 Sandi Morris shared how she stays motivated to compete in an interview with The Guardian. "We're motivated to keep competing and stay in shape because you can't lose it. Even taking a month off, that's a long time. It takes double that time to get back into peak condition, in my opinion and from my experience. So you take a week off, you need a couple of weeks to feel sharp again."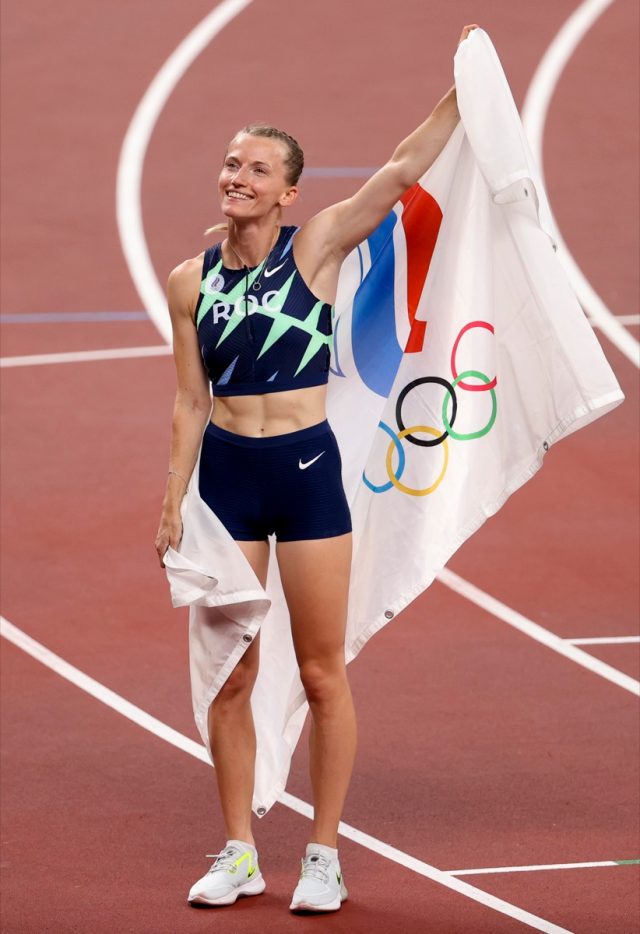 After winning gold, Anzhelika Sidorova talked about how she approached it in an interview. "I felt confident at every height," she said. "I set two outdoor personal bests of 4.90 and 4.95, but I even didn't think about that. I was focused to clear every height at my first attempt, because it was the only chance to win. A few weeks ago I cried when I lost the Diamond League final. Now I'm glad I was beaten there. It made me angrier, stronger and much more focused on the main season's goal."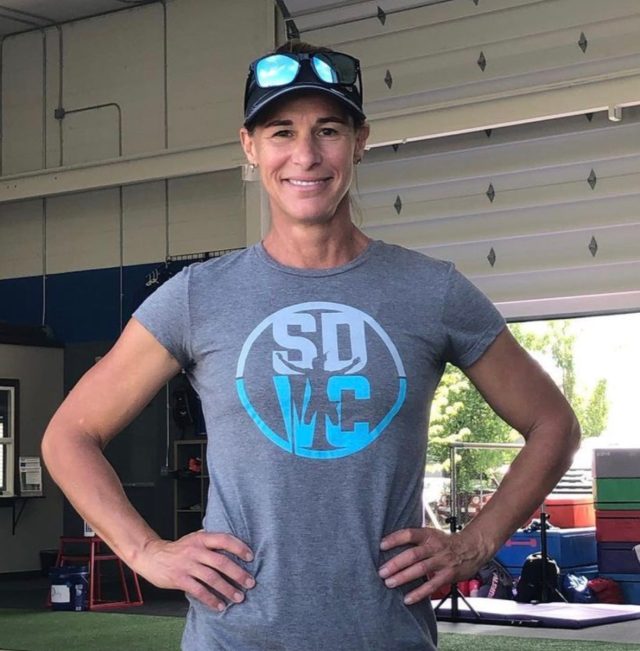 Stacy Dragilia might be retired from pole vaulting, but she's still staying in shape. She loves to ski, and goes on regular mountain trips with her friends. Dragilia shared these highlights from a trip on Instagram. She captioned the post, "Year 3 at Baldy with @mehldawg12 adventure friend! What a fun hill to ski. Quads are screaming tonight!!"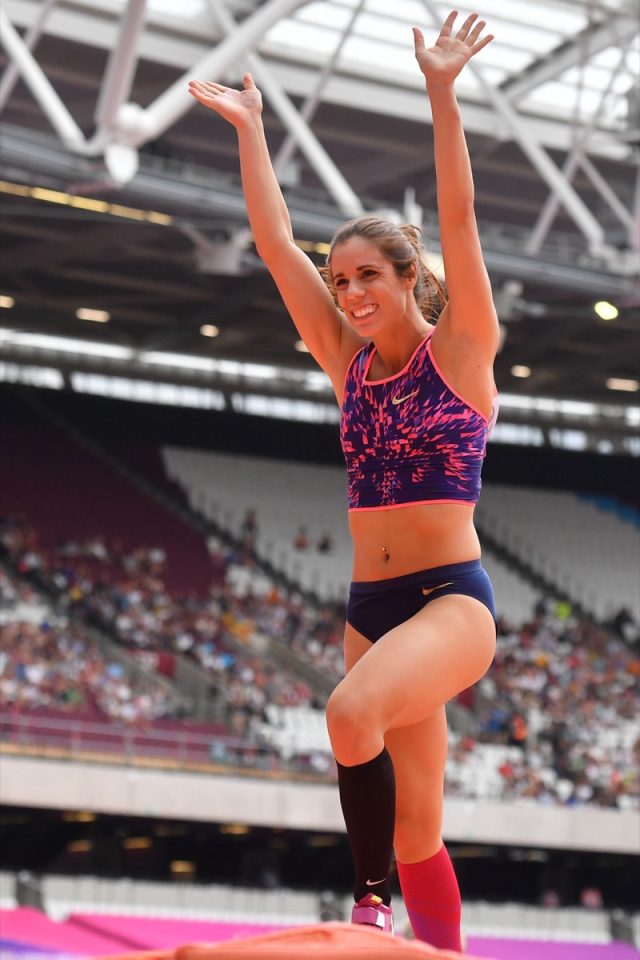 Katerina Stefandi shared her workout secrets with Women Fitness. "To be quite honest, I lift less and less weights every year. I noticed that created more injuries and less gain. We do a lot of core and functional strength exercises. I think people often forget that pole vault is an explosive event and they go crazy with their lifting and running. At the end of the day I don't care to just be fit, I care to be pole vault fit."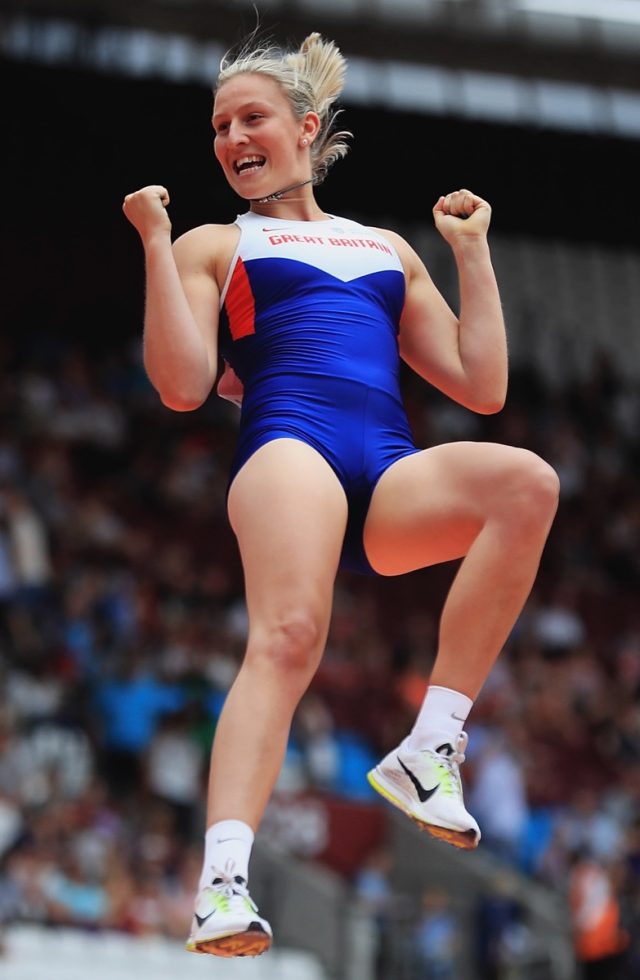 Holly Bradshaw made sure to keep training during lockdowns. In an interview with Athletes Weekly, she shared what she was doing at home. "My coach and I tried to come up with some quirky ideas," she says. "I've taped a tin of beans to the end of a cut pole to make it a bit heavier and I've been doing drills and pole runs in the garden to try and keep my brain ticking over.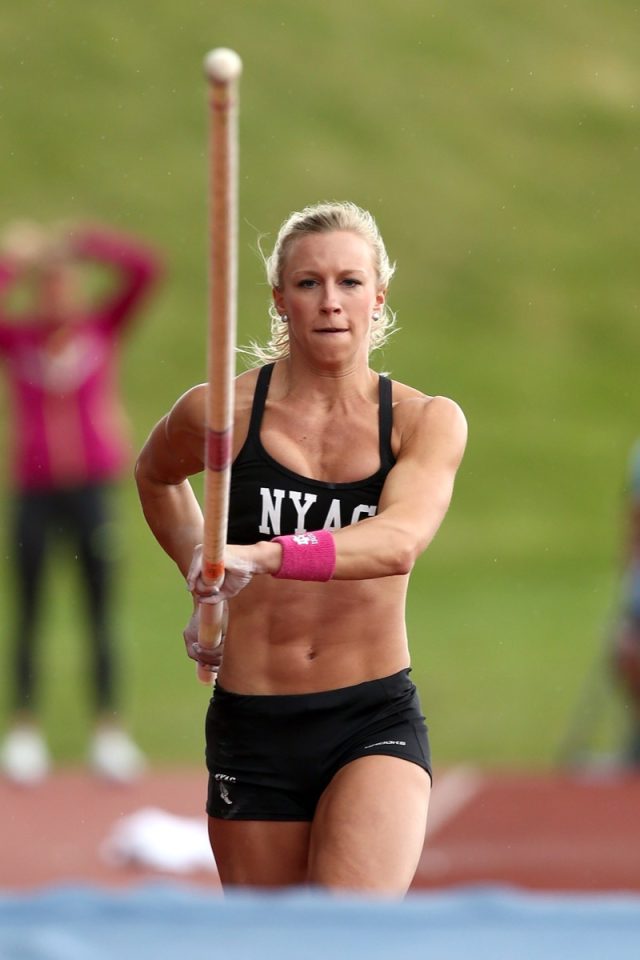 In a 2015 interview with Vaulter Magazine, Mary Saxer talked about how she trains for vaulting. "My training varies depending on the time of year," she says. "After my month hiatus in the fall, I begin training pretty hard.  Fall training consists of running workouts, such as short speed endurance in order to get the heart rate up, but without pounding my legs into the ground by running unnecessary miles on end.  I begin vaulting from short runs to overly focus on technique.  During this time, vaulting is high rep in order to really feel out body positioning.  Vaulting on the runway is complimented with drills off the runway.  Drills are often gymnastics based.  During the fall, the weight room is heavy in order to gain strength to withstand the training and long year of competitions ahead.  This time of year my workouts are usually several hours and sometimes twice a day."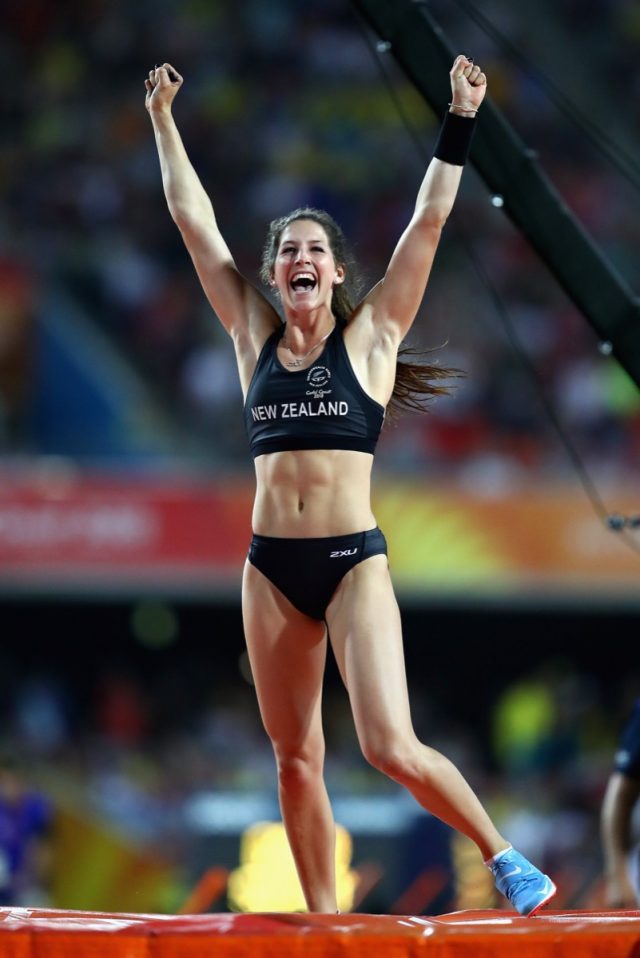 Eliza McCartney talked about her favorite outdoor workouts with Body + Soul. "My favourite is walking my dog, Daisy. We are lucky to live near beautiful beaches and parks, and I love that I get to be out there with her every day, rain or shine. Yoga outside in summer is another goodie. I like to do it in the shade of a big tree, so I can look up and see the light coming through the leaves and the birds singing away."
Alana Boyd talked about what she loves about vaulting in an interview with Sport For Women. "I love the feeling of completing a hard training session. But most of all I love putting all the hard work into practice in big competitions and seeing the hard work pay off with good performances. That feeling of getting a jump right and flying over the bar is like no other!"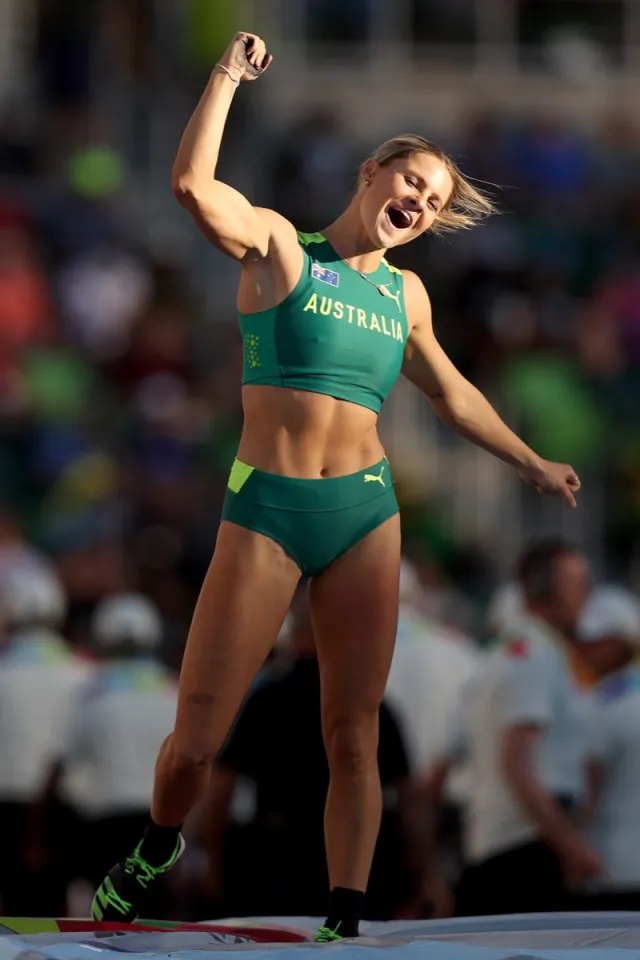 Nina Kennedy talked about her pole vaulting goals in an interview with The Sydney Morning Herald. "The plan is to just keep building. The girls that are winning medals and are up there are getting into their thirties. I definitely feel like I am one of the young ones coming through and I just want to continue this momentum."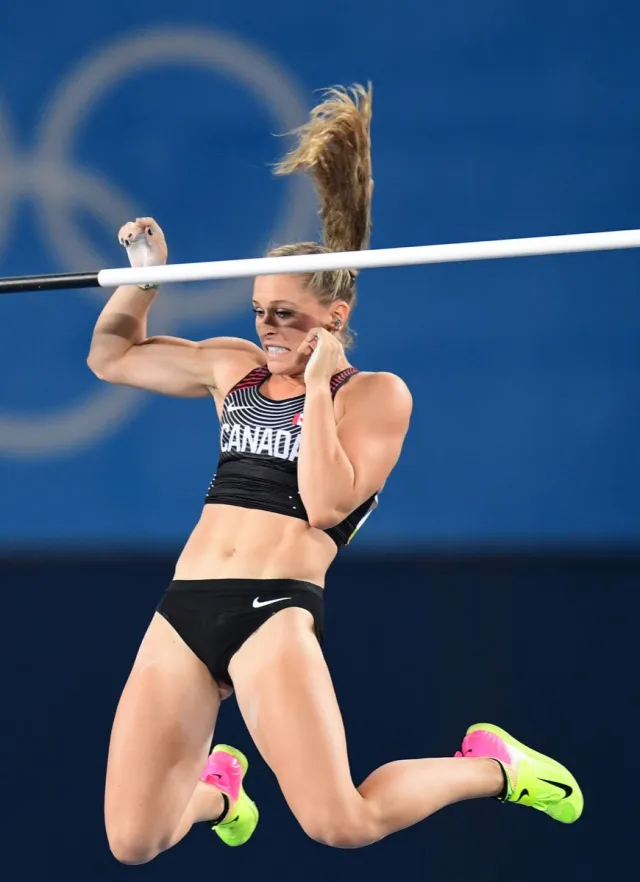 Kelsie Ahbe talked about how her marriage has helped with her vaulting to the Akron Beacon Journal. "It's nice to have a person in my corner. It makes training easier, I would say, to have that person supporting me. I don't feel like I'm doing it myself. But even in terms of that, moving forward, whatever happens, there are two of us now making decisions about what's best for us. So, in the long run, we'll see. In the meantime, I'm going to be out running hills and doing push-ups. That's all I can do."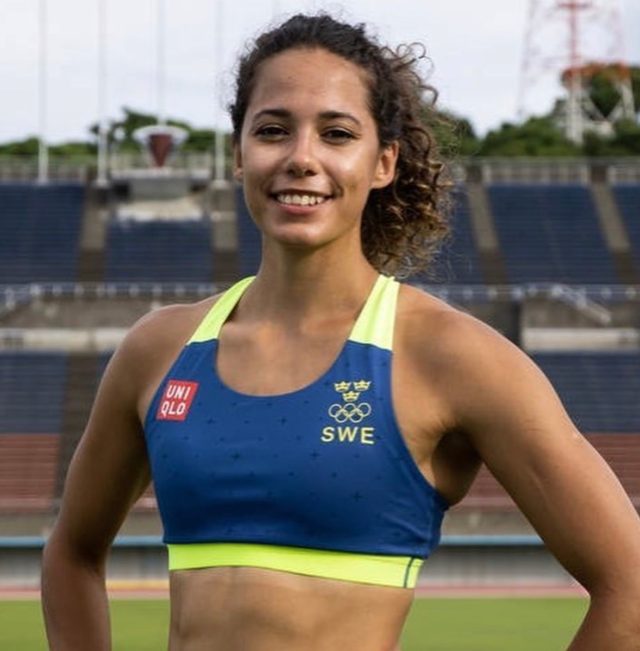 Angelica Bengsston talked about her fitness routine with Women Fitness. "I love all exercises that includes the arms. During the day, I do handstands anytime I have the chance, and before I go to sleep, I find that some pushups help to get tired enough to fall asleep faster. Other exercises I love are muscle ups in the olympic rings, straight pullovers (typical pole vault exercise) and jerk."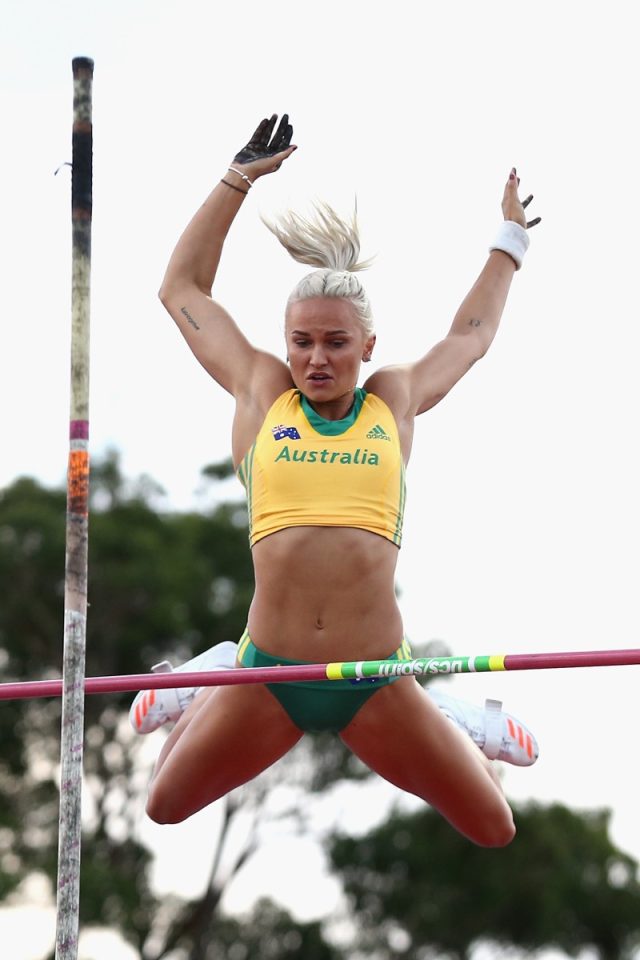 In addition to being a vaulter, Liz Parnov won the most recent season of Australian Survivor. She talked about her approach to the game in an interview with TV Week. "The one thing I said to myself before going into Survivor was that 'I just want to be myself'. I didn't want to change or try to be anyone different and the feedback I've gotten back from friends and family is that I have stayed 100% true to myself and I just love that because that is an authentic journey for me, and I honestly wouldn't change it for the world."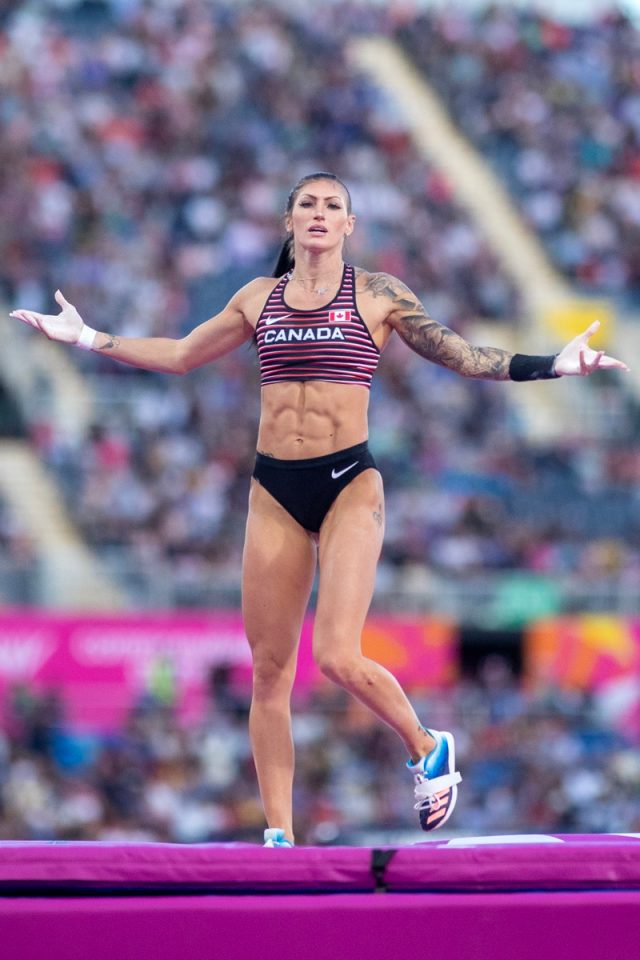 Anicka Newell talked about her favorite exercises with Women Fitness. "Abdominal and Core workouts are my favorite. I absolutely love the burn of a good ab routine. Some of my preferred exercises include; hanging leg raises on a high bar, Swimmer crunches, medicine ball sit up and throws, ab roll-outs, and variations of planks. There are so many different core exercises. I love trying out new routines on a daily basis to switch it up!"
Anna Bechtel is a freelance writer currently based in Hamden, CT.
Read more
---