Avengers: Infinity War Star Monique Ganderton Shares Swimsuit Photo From Summer
This is how the actor makes it happen.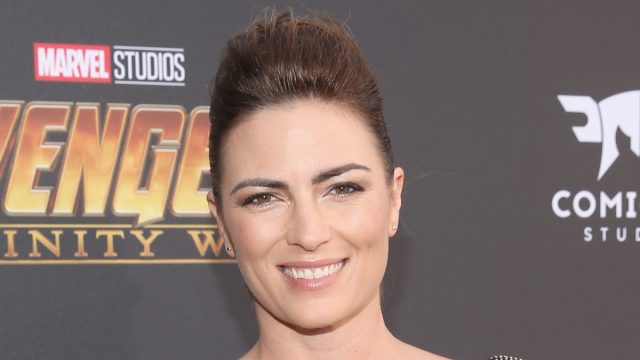 Monique Ganderton has worked on films like Avengers: Infinity War (as the on-set actress for Proxima Midnight) Avengers: Endgame (as an alternate Proxima Midnight), Suicide Squad, and Atomic Blonde. You may have also seen her in the new Netflix film The Killer, though Michael Fassbender's binoculars. Ganderton shared highlights from her summer vacation on Instagram. In them, she and friends are seen by the pool and riding in a river. She captioned the post, "What a great summer with friends and horses to find some joy during this strike time. While I do wish I could work, I'm also taking the time to reconnect with the world again. Finding balance is everything and the film industry needs this overhaul desperately. So for me the animals, Camping and finding local adventures has been everything. Hope everyone has found their joys again." How does she stay so fit? Read on to see 5 ways Monique Ganderton stays in shape and the photos that prove they work.
As you can see in her Instagram post, Ganderton loves to ride horses. She shares a lot of posts on her account of herself riding and spending time with horses. In this video, Ganderton is seen going on a trail ride. She also shared this set of photos of herself and friends going riding on a camping trip. Ganderton captioned the post, "The most awesome way to kick off Bday week! Camping with some of the most awesome ladies and the ponies! Everyone survived and I'm so grateful for these kinds of adventures. Itching to head out for a longer one!"
Ganderton does a lot of outdoor activities to stay in shape. She loves to snowboard. Ganderton shares a lot of posts on Instagram of herself on the slopes. She shared this set of photos of herself snowboarding in Crested Butte, captioning it, "Tbt Missing powder and ripper runs right about now! A true place of joy for me! Need to get my snow legs back soon!" She also shared this video of herself snowboarding. df44d9eab23ea271ddde7545ae2c09ec
3
She Likes the Mountains
Breathing in fresh air during a mountain hike is a revitalizing experience that combines physical exercise with nature's serenity. This activity strengthens the cardiovascular system, enhances lung capacity, and tones the body through varied terrain. The clean, unpolluted air at higher altitudes can be particularly beneficial for respiratory health. Furthermore, the tranquil environment of mountains, with their panoramic views and natural beauty, promotes mental well-being, reducing stress and anxiety. However, it's important to hike responsibly: stay on marked trails to protect the ecosystem, carry adequate water and supplies, and be mindful of weather conditions. This ensures a safe, enjoyable, and sustainable outdoor adventure.
Riding horses offers a unique blend of physical exercise, emotional connection, and outdoor enjoyment. It's an activity that improves balance, coordination, and core strength, as riders learn to move harmoniously with the horse. The bond formed between a rider and a horse can be deeply therapeutic, fostering empathy, patience, and a sense of calm. Being outdoors on horseback allows for a special perspective on nature, often accessing trails and areas not reachable by foot or vehicle. However, responsible horse riding involves proper training, respecting the animal's needs, and adhering to safety protocols. This ensures a mutually enjoyable experience for both the rider and the horse, while minimizing risks and promoting animal welfare.
Another outdoor workout Ganderton enjoys doing is going hiking. Hiking is a fulfilling activity that combines physical exercise with the beauty of the natural world. It's an excellent way to improve cardiovascular health, build muscle strength, and enhance endurance. The varied terrain challenges the body in different ways, making it a comprehensive workout. Beyond the physical benefits, hiking offers mental health advantages. Immersion in nature can reduce stress, elevate mood, and increase creativity. It also provides an opportunity to disconnect from technology and reconnect with the environment. However, responsible hiking is essential. This means following trail rules, staying on marked paths to protect natural habitats, carrying adequate supplies, and leaving no trace. These practices ensure a safe and environmentally respectful adventure.
Anna Bechtel is a freelance writer currently based in Hamden, CT.
Read more
---