Brooke Burke in Bathing Suit is "Inspired"
Here's how she stays so fit.
Brooke Burke is sharing all her diet and fitness secrets – in her swimsuit. The model and actress shows off her amazing body in a gingham bathing suit in one of her latest social media posts, teasing a new interview where she reveals her top tips for diet and fitness. "Just pure gratitude + a few summer tips to keep you inspired & rewored. Story link in my bio. Thx @dailymail for sharing our 21 Day Challenge," she captioned the post. How does she stay so fit? Read on to see 5 ways Brooke Burke stays in shape and the photos that prove they work.
`
1
She Does Intermittent Fasting
Brooke is a proponent of intermittent fasting, eating during an eight-hour window and then not eating for the remaining 16 hours in a day. "It's a simple yet powerful concept: confine eating to an 8-hour window and fast for the remaining 16 hours of the day," she told DailyMail.com. "For example, if you eat dinner at 7 pm, your next meal will be at 11:00 am the next morning. This timing cycle essentially tricks your body into burning stored fat. During a 'fasted state' – the hours when your body is not consuming or digesting any food – your body doesn't have a recently consumed meal to use as energy, so it pulls energy from the fat stored in your body instead. Intermittent fasting trains your body to consume food more efficiently and to burn fat as fuel. Fasting can leave you feeling hungry or fatigued, but by bridging the time with your regular sleep cycle, it is much easier to embrace."
2
She Has "Mindful Mondays"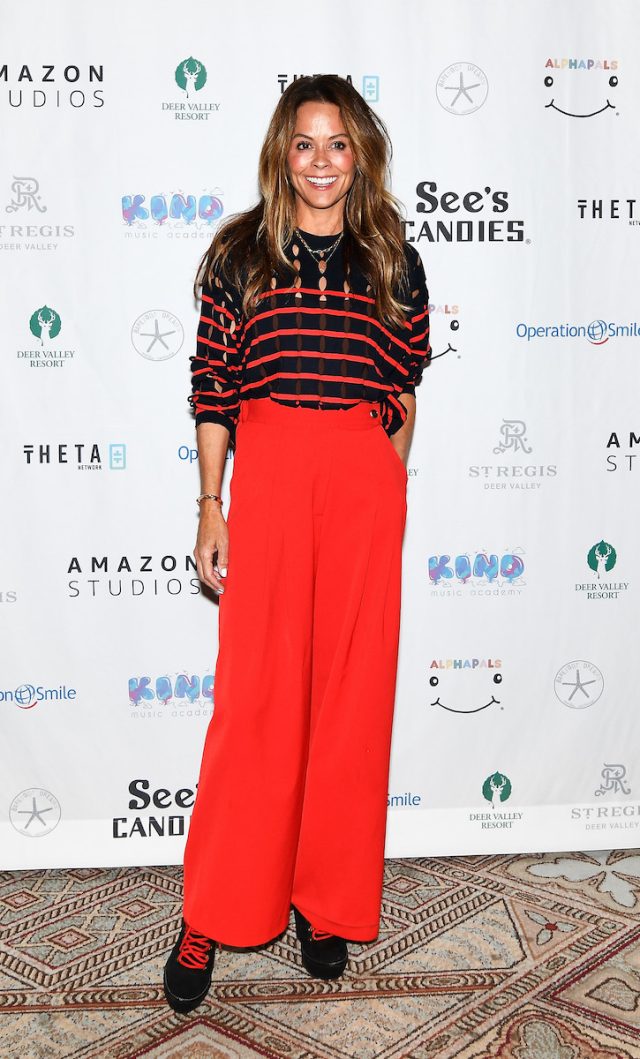 Brooke practices "Mindful Mondays," she told the publication. "Start each week by taking time – before your schedule gets busy – to calm and cleanse your mind as well as your body. Whether you practice yoga, meditation, or even simple breathwork, the important thing is that you find a way to center yourself, focus your intentions, and make conscious choices about the week ahead."
df44d9eab23ea271ddde7545ae2c09ec
"Mondays are the perfect days to "Go Green" with fresh, delicious, and nutritious veggies and fruits," Brooke added. "Check out your local farmer's market or organic food store and stock up. 'Here are just a few examples of mostly plant-based meals that are simple, fresh, and light. There's no reason to go hungry when you fuel your body with crunchy vegetables, healthy soups, hot green tea, and plenty of water. One of my favorite meals is a junks salad."
Another healthy habit of Brooke's? "A daily meditation practice. Trust me on this one, the mind and body benefits are incredible," she told Daily Mail. "Meditation is the practice of training the mind in order to induce a state of relaxation, focus, and inner peace. A daily meditation practice helps control our thoughts, emotions and inner dialogue to positively retrain our brain and elevate our well-being. "We meditate, not to find peace, but to meet reality. The practice of meditation can take many forms, including silence, prayer, visualization, and breathing exercises. The main goal of meditation is to stay present and focused on the current moment, rather than dwelling on past experiences or worrying about the future." She also suggests guided meditations. "Through this daily commitment, you will develop a deeper sense of personal awareness and spiritual connection. In the space of stillness, you will find your strength. Make meditation a habit. Forming new habits is easier than we think. We actually do it all the time. Perhaps the reason we so easily accommodate change for others, but not ourselves, is because we view self-care as optional. That's where we need to shift our mindset. Meditation helps decrease stress, control anxiety, and improve sleep.  It helps lengthen attention span, reduce age-related memory loss, and promote emotional health. It can even help manage pain, lower blood pressure, and support recovery. Most importantly, meditation fosters kindness.  And the world can always use more kindness!"
5
She Recommends Her 21-Day Fitness Challenge
Brooke strongly suggests committing to a 21-day program. "'We can reshape our bodies and reconnect with our authentic ourselves. We can fold fitness into our daily routine and discover the power of nutritious (and delicious) food. And we can embrace mindful meditation that will help us stay centered and focused," she said. The new 21-Day Fitness Challenge is the ideal program to reach your summer health and wellness goals, focusing on both fitness and mindfulness. It is about new beginnings and letting go of old patterns."
Leah Groth has decades of experience covering all things health, wellness and fitness related.
Read more
---