The Best Celebrity Swimsuit Photos—And How They Got Fit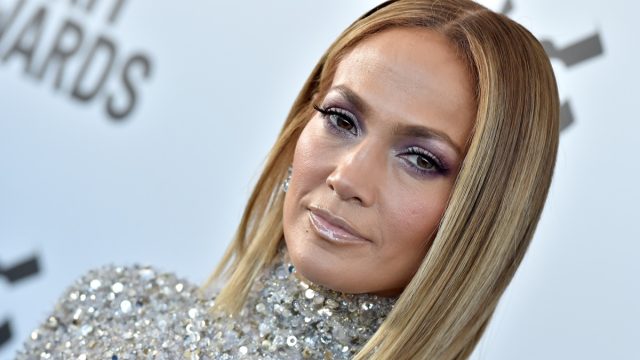 To prepare for bikini season, celebrities have to do the same thing as you or me—eat right, workout and stick to their goals. They just have more resources with which to do that. That's why Celebwell collated the top wellness advice from Jennifer Lopez, Selena Gomez, Brooke Burke, Carrie Underwood, rapper and newly minted Sports Illustrated cover model Megan Thee Stallion, Nicole Scherzinger and many others here in one easy-to-use resource. Read on for the best get-fit tips out there—and the photos that prove they really work.
Selena Gomez admits that she's not a fan of fitness, and that she prefers to work out at home with a trainer, rather than at the gym. "I don't love working out, but I find myself going on YouTube and doing workout videos," she revealed in a Marie Claire interview recently. "Anything from old-school workout videos to more current ones." Gomez posted a TikTok showing off some of her at-home exercises, like squats and presses, and the equipment she uses, like Bala Bangles ankle and hand weights. 
Pop star Lady Gaga told Good Morning America that she "works out a lot." "I do the VersaClimber and sing while I do it," she says. Gaga said this helps her with live performances, particularly her 2017 SuperBowl Halftime Show. Gaga's personal trainer, Harley Pasternak, told Shape magazine that the singer also regularly does bicycle crunches and Russian Twists to workout her core, as well as a weekly 25 minute cardio circuit. 
Jennifer Lopez's fitness routine has been coveted by many. But even she admitted that she struggled to stay active and healthy while quarantining. "I've never struggled more with my health and nutrition," she tells Yahoo Life, "and I'm a pretty motivated person. But throughout quarantine, I was just, you know, I just felt like some days I was motivated to eat well and work out. Others, I just didn't want to, I just didn't see what the point was." Lopez says simple activities with her kids helped her get moving. "The one thing that I tried to keep constant in our home was to dance and to play outside. Just turning on music and having a dance party," Lopez says. "Sometimes for, like, 15 minutes with the kids is all you need," she encourages. 
Pussycat Dolls frontwoman Nicole Scherzinger's diet and exercise plan is all about variety. She tells Women's Health magazine that her typical workouts are "running on the treadmill for 20 mins, then try to do some squats, some sit-ups on the exercise ball, some yoga stretches." Scherzinger also says that her location affects her workouts. "When I'm home I like to take a spinning class, or I like to do hot yoga, or hiking, and core power yoga." When Scherzinger is in the UK, she trains with Viking Method trainer Svava Sigbertsdotir. As for Scherzinger's diet, "For breakfast I love eggs and toast and smoked salmon or bacon, or porridge. For lunch I like maybe some soup or some sushi. For dinner, anything from pasta to rice, and meats and veggies, to sushi."
Rapper Megan Thee Stallion has recently launched her own workout and lifestyle series on her YouTube channel, called "Hottie Bootcamp." The episodes contain her doing a variety of workouts, from pole dancing, to HIIT weight training, to anaerobics. "That is about me simply getting more healthy typically and me seeing how I can rework my physique within the healthiest manner potential," she shared on Instagram. The second episode of the series involved her cleaning out her kitchen.  "I prefer to snack, and I prefer to eat no matter I wish to eat. And I simply really feel like recently, the issues that I've been consuming have been not so good for my physique," she defined in a video clip. "Throwing out thee junk meals ? Right this moment I cleaned out the fridge to the very best of my skills ? ps. Untouched meals was not proven and I'll donate it I simply needed to present y'all my dedication to eliminating the junk.
Singer and actress Aly Michalka credits Pilates for her figure. In an interview with Parade, Michalka says, "It's great for strength, for core. I love that there's no way to bulk with Pilates. That's impossible because you're using your own body strength. It feels great on your joints. My body always feels so good afterwards.  And warmed up." As for her diet, Michalka says she tries to "keep the greens up," but says doing so is "the hardest struggle." 
Similar to her sister Aly, AJ Michalka also does Pilates. "My balance and flexibility have never been stronger due to Pilates," Michalka tells Parade.com. "I sprinkle in yoga a little bit in my every day routine if I can, but Pilates on the Reformer, for me, is my main form of working out. I have the most fun doing this." When Michalka is touring, she uses the Wunderbar Pilates Movement online program from her trainer. "We'll bring discs, we'll bring a ring, we'll bring a ball, we'll bring bands." 
Dancing With the Stars' Kym Herjavec obviously credits her body to her Latin and ballroom dance training. However, Herjavec also owns and teaches at her own Beverly Hills workout center, The Bod. Herjavec also wrote a book about her diet, called the "The 5, 6, 7, 8 Diet," both an homage to her dancer background, and an explanation of the diet itself. "Five means you should have five sources of protein in your diet, six means the colors of the rainbow, seven is sources of anti-inflammatory foods, eight is to stay hydrated, eight glasses of water," Herjavec explained on Good Morning America. 
Rapper Doja Cat opened up about her struggle with body dysmorphia in Cosmopolitan. To help combat this, she says "I just try to focus on eating well." On a recent Instagram Live, Doja took her fans on a tour of her fridge. She says that she tries to incorporate staple foods in her diet. These foods include quinoa, tuna, and kale. When she's craving junk food, she tends to snack on kale chips. Doja also drinks green juices, fruit juices, and water. The rapper shared on Twitter that she also cooks for herself. "I eat two eggs and spinach tortilla with caramelized onions, pepper jack cheese and hot sauce and roll it up. I also eat a lot of seaweed."
Country star Carrie Underwood tells SELF magazine that she commits to a vegan lifestyle, "I saw a friend who looked amazing that had recently gone vegan, I thought 'What's holding me back?'" She says, "I'll never eat meat again, because I look and feel better without it." Underwood says she keeps a food journal, and uses the LifeStrong.com app to track her meals.
Underwood also has a unique fitness plan. "I have a game I love for when I'm working out on my own, without a trainer. I take a deck of cards and assign each suit a body area—say, diamonds for arms, hearts for legs, spades for core and clubs for cardio. I split the deck in half and write down exercises for each suit, a different one for each half."
Kim Kardashian is on a new diet plan." In a tweet in 2020, Kardashian revealed that she eats mostly bland based meals. In another tweet, Kardashian said she enjoys "oatmeal and vegan sausage for breakfast, vegan tacos are my fave for lunch, salads are great too!" Kardashian has also endorsed vegan brands BeyondMeat and Clevr Blends. Kardashian also works with trainer Melissa Alcantara. "Melissa is a trainer I found. She's super inspiring to me, and I really want to meet up with her and see if she could train me. She could help direct my food and really get me on an amazing path… If I were 10 percent like her, it would be life-changing. Like my whole arms and back. It's mostly food. I gotta have this lifestyle. I gotta try." According to this Instagram post, Kardashian's workout includes running on a treadmill to start, along with Pilates, cardio, and strength training. 
Khloe Kardashian told People that one of her tricks is cutting out dairy, and practicing portion control. "I used to eat nachos with artificial cheese, and too many sweets," she said, "I kind of eat what I want, but in portion control, which I never knew before. You have to train your body to eat less. Your eyes are bigger than your stomach." Kardashian told USA Today that she likes to have a variety of workouts. "I love Soul Cycle, hot yoga, circuit training, obstacle-type things," she says. "I don't like to do the same workout all the time."
Reality star Kourtney Kardashian is committed to fitness. Kardashian tells WHO Australia that she likes to avoid sugar as much as possible. She snacks on "fresh vegetables with avocado, hummus, raw almonds and a bit of fresh fruit." However, she says "it's really important to have something sweet" after a meal. Kardashian prefers a matcha seed pudding. Kardashian always makes time for exercises, even without going to the gym, or meeting with a trainer. Kardashian says she will work out in her home. "I'll do dips on my bathtub for my triceps. I'll try to do three sets of 25 a day," Kardashian says. "And then, no matter what, I always do 100 squats before I get in the shower because I won't forget it."
Fashion entrepreneur and reality star, Kylie Jenner, used to not be as passionate about working out, according to her family. However, after having a baby, Jenner started living healthier. In a video with Harper's Bazaar, Jenner says, "I never find myself in a gym. I find myself on the floor of my bedroom, looking up on like, Google or Pinterest, workouts — and doing abs, lunges, squats. All that good stuff." Jenner also says that she never eats the same thing for lunch or dinner, but she drinks peach tea, bone broth, raw celery juice, and a vanilla iced latte with oat milk for breakfast.
Model Kendall Jenner told Yahoo that she has low blood sugar and needs to snack a lot. "I definitely need things to keep me going (aka lots of food!) Here's what will forever and always make my list: Twix, Justin's Peanut Butter, chips and guac, and hummus and carrots. See, pretty simple—just feed me and I'm ready to go!" Jenner also admits that she's not the healthiest eater, "I love anything unhealthy," she said to Byrdie. Jenner says when she tries to eat healthy, she eats a lot of grilled chicken with rice. Jenner also hates working out. "I hate cardio," she said with a laugh. "I'd rather just stand there and lift some weights than run in place." She paused for a moment. "But I'll do it!" Jenner discussed how she and her trainer do exercises that work out her abs and her butt, like squats and planks. 
While filming Top Chef, Padma Lakshmi says she consumes "about 5,000 to 8,000 calories a day." To stay in shape, Lakshmi tells Women's Fitness that she "strength trains, uses the treadmill and elliptical, and boxes three times a week." Lakshmi says, "I plank and jump rope at home. I carry a jump rope with me everywhere."
Model Bella Hadid tells Vogue Paris that her workouts are a combination of cardio and strength, with a focus on boxing. "When time is on my side, I train with my coach for intensive sessions. I run non-stop for 20 minutes followed by a boxing session and finally a series of weights targeting the abs and glutes. We keep the routines varied, so the sessions are always fun." Hadid's sister, Gigi, also a model, will sometimes join her for a boxing session. "She's a bad-ass, who is strong and sturdy both mentally and physically," Hadid says. 
Model and TV Host Brooke Burke has been a fitness icon for years, and has her own fitness app, Brooke Burke Body. "I get on the treadmill, put it at a 15% incline and walk at about 3.5 miles per hour," she says to Shape. "I'm also crazy about Pilates Plus, which I do three times a week. The class is 55 minutes, head to toe. In that short amount of time, I've done everything I need to do." Burke also keeps a bucket list of goals she wants to accomplish. "Every woman should give herself an hour to dream and write down her desires," she says. "Once I started focusing on the things I wanted, they all started coming true."
Singer Normani tells Modeliste Magazine that "discipline is the number one thing" when it comes to diet and exercise. When she is on tour, she substitutes gym sessions with performances. "I would say my workout regime would be every night on stage performing hour-long sets," she shared. Normani also loves doing Zumba, even promoting their workouts while she was a member of the group Fifth Harmony. According to People, the singer says she drinks two cups of herbal tea, 16 ounces of lemon alkaline water, and 64 ounces of plain alkaline water every day.
Singer and fashion icon Rihanna has been reported to have two trainers at the same time. She told Doctor's Clinic, "Cardio is the key. I work out every day but I need a trainer to motivate me. I don't find it fun to work out alone." Rihanna told Vanity Fair in 2015 that one of the reasons she works out is to not have to worry as much about what she eats. "I have been in the gym every day this week because I am not willing to give up my food," she told the publication. "But I will sacrifice an hour for the gym." 
Rapper SZA, recently lost a lot of weight, which left many fans wanting her secrets. In a tweet, she stated that while she didn't follow a specific diet, she said her diet was "No red meat (mostly fish), no dairy, no wheat, no sugar, high veggie, complex carbs only (squash, avocado, sweet potato, etc.), hella water." In an interview with RollingStone, SZA says she committed to going to the gym daily, and does Pilates. 
Rita Ora tells Shape that discipline is key to her wellness routine. "I've been the girl on tour who eats when she can and goes along when the band wants to go out all the time. But you just can't keep that up. You start thinking, 'I miss feeling good!'" Ora explains. Ora says she commits to circuit-training "I usually work out for one or two hours, depending on how much time I have. I do three circuits and repeat that three times. I mostly focus on my thighs and my bum, so I do a lot of squats and weight lifting. And I do one circuit of cardio. What I've learned is that you can take your time with training. You don't have to beat yourself up as long as you get in the workouts that you need. I used to push myself until I felt sick. But I'm approaching it differently now. I enjoy working out. And I like the aftermath-that feeling of contentment."
Model Lily Aldridge tells Shape Magazine that she always tries to keep healthy food and snacks in her fridge. "I love avocado," she says, "It's my favorite snack. I eat it with rice cakes, plain, or make guacamole." Aldridge tells StyleCaster.com that she also loves LaraBars as healthy snacks, and that her favorite workout is Ballet Beautiful. "I do it three to six times a week," she says.
Pussycat Dolls member Ashley Roberts says that she loves to exercise. Roberts told The Daily Star, "I have grown up being involved in fitness because my mom was a personal trainer, and I do dancing. So, I really enjoy being active. I do spin, I do hot yoga, circuit training – I do a lot." 
As for Roberts' diet and eating habits, she says, "I try to eat really clean – tons of veggies. I eat a lot of avocado. I try to have juice that has been squeezed from a juicer and not anything that has been bottled up in a store."
Olympic gymnast Nastia Liukin tells HollywoodLife.com that she tries to workout every day, every season. "I love pilates, I love hot yoga, SoulCycle, just going for a run. If I can't get out to do a class, in my house, I do squats, pushups, a little circuit. There's really no excuse. There is no, 'I don't have access to a gym' — go for a run or a walk outside, do squats in your living room. It's really important to stay young, to stay healthy." Liukin encourages people to make their excercises fun, like going ice skating with friends. "It doesn't matter where you are, just get your body moving. Obviously, it's easier in the summer, but the winter is just as important." As for her diet, Liukin says "The biggest thing is to treat yourself, because if you tell yourself, you can't have something, that's all you want." Liukin says that her "number one thing is moderation. Indulge, but not every single day."
The Bachelorette star and host, recently made a big change to her diet. "I used to start my day with coffee. I looked forward to it every night when I went to bed,"
Adams tells Women's Health, "But I've been feeling like my body was missing something, so I started trying out celery juice and lemon water instead. I've noticed that my body really, really likes it." Adams also makes smoothies daily. "I do some milk, lots of spinach, fruit like pineapple or blueberries, a scoop of collagen or protein powder, and chia seeds," she said. 
Actress and Real Housewives of Beverly Hills star Lisa Rinna told People that she describes her diet as a "dirty vegan." "I'm mostly plant-based—but if I do need to eat some meat, I'll have it," she says. Rinna says that she is a believer in moderation when it comes to eating. "I don't like to use the word diet because if I do, I'll want to eat 10 times more," she says. On Rinna's website, she says her exercise routine is quite varied. "My one piece of advice though is finding more than one form of exercise that you love to do and then mixing it up." Rinna herself has done exercises like goat yoga and salsa. She even released a dance-based workout DVD. 
Actress and singer Hailee Steinfield says that her busy schedule actually helps her workout. Steinfeld told Shape Magazine "Touring is great because when I'm performing and sound-checking, I'm putting in more work than I realize. I'll still set aside extra time to work out, even if it's just 15 minutes of taking a walk or getting in a little bit of cardio after a day's work. If I'm in the gym I'll switch it up between the elliptical, bike, treadmill, or swimming. Even when I'm not busy, I always stick to my favorites: circuit training and kickboxing. Running isn't my favorite, but I'll still do it." 
Victoria's Secret Angel, Jasmine Tookes, tells StyleCaster.com that she carries protein bars while traveling as a healthy snack. "I don't like the airport food, so I always have those with me to get my protein," she says. Tookes says she cooks when she's "training hard and getting ready for the Victoria's Secret show." Tookes says she keeps her meals simple, "I'll just do grilled chicken with zucchini." As for exercise? Tookes follows an Instagram account called Motivation for Fitness. "Whenever I'm scrolling on the page, I'm like 'Ok, it's time for the gym.' It just motivates me." Tookes also says, "I do barre classes, I think it's really good and gives you a nice little bum, so I do it twice a week. I also do a lot of weight training filled with squats and lunges and all that fun stuff.
Swimsuit model and former Miss Universe, Olivia Culpo told HollywoodLife her workout and diet. For her exercises she says, "I really do like SoulCycle. I just feel like it's an easy meditative way to work out. I can really zone out during that workout. And then I like to run. It's a little harder in the winter because it's chilly. I also like Pilates. I think Pilates is also another almost meditative type of workout. You can just forget everything and go through the motions and breathe." Culpo admits that following a healthy diet can be difficult for her. "I try really hard. I really try to cut out carbs when I'm not working. When I'm preparing for something and being good, I cut out carbs. So my ideal good day would be egg whites, avocado, turkey bacon for breakfast. Then, for lunch, I would have a salad with protein, and for dinner, I would have veggies with protein."
Anna Bechtel is a freelance writer currently based in Hamden, CT.
Read more
---