College Volleyball Champion Sarah Franklin Shares Swimsuit Photo of "Quick Trip Home"
She's the Big Ten Player of the Week.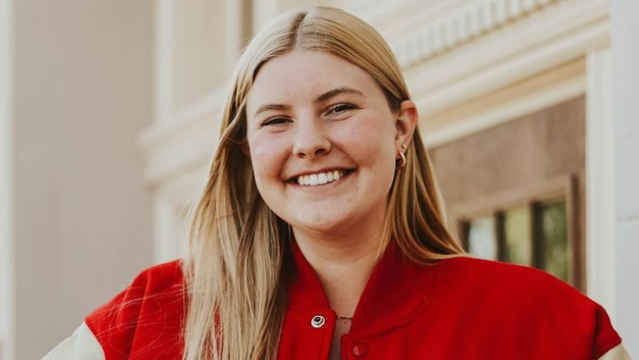 University of Wisconsin volleyball star Sarah Franklin spent summer back home in Florida, and even on her down time the athlete likes to stay active. Franklin shared a picture of herself paddleboarding in a green bikini top and shorts, looking vibrant and happy in the sunshine. "A quick trip home with adventures and sweet pea the baby goat🐐," she captioned the post. Here's how Franklin recovered from serious surgery to thrive in her sport and come back stronger than ever.
Franklin has a whole new appreciation for her sport after getting surgery earlier this year. "I just feel overjoyed every day that I get to walk on the court and do the things I love the most with the girls I love," she says. "It's crazy to think about what the summer was because this just feels normal, it feels right. It felt like a fever dream. I've said that a couple times. But I've definitely grown and learned a lot from those weeks and the unknowns."
df44d9eab23ea271ddde7545ae2c09ec
Franklin had no choice but to have surgery after blood clots were found in her arm, and appreciated the love and care she got from her coach Brittany Dildine and teammates. "It's nice to see that side of a coach, to know that they care for you that much and that they have your back as a human and not just as a volleyball player," Franklin says. "Britt and I got very close over that period of time, which is very special and I cherish that now."
Franklin was just named Big Ten Player of the Week after games against Rutgers and Maryland over the weekend. "Their entire team is just playing the game really well. It's been fun to see how cohesive they are, with that young group," Luke Fickell says. "It reminds me a lot of my 2017 team, but we weren't playing the game nearly as well as these guys. It's a little bit contrasting of styles, which should make it really fun and I'm sure the fanbases are foaming at the mouth on both sides– they should be! This will probably be one of the more anticipated and most-watched college matches probably in recent memory."
4
Motivation For the Next Year
Franklin is motivated for the future. "I feel that now I'm a lot more equipped to deal with any hardship, any little thing that gets in my way," she says. "I'm on a mission. I know what it's going to take to win a national championship, and I'm on a mission to complete that. Last year I didn't know what it took. I didn't know the habits, I didn't know the organization, the time management. Now I feel like I can see everything piecing together slowly. The experience I had this summer, I feel even closer with the team even though I missed them for two weeks. I feel like everyone has backed me up, has been there. I just feel so insanely thankful for everything that has brought me to this point. It's been a lot, but I think it was what I needed to feel ready for this season."
Franklin's love of paddleboarding offers many health benefits. "Core is where everything stems from," says Rachel Williamson, a physical therapist at UCHealth Medical Center of the Rockies. "It is our body's strong base. Back pain is a huge issue for a lot of people and not engaging the core well is often one of the major culprits of aches and pains. You may not get a six-pack (abs) from paddleboarding but you will strengthen those deep transverse abdominal muscles which act as your body's natural back brace."
Ferozan Mast is a science, health and wellness writer with a passion for making science and research-backed information accessible to a general audience.
Read more
---