Dua Lipa Shares Swimsuit Photo as Barbie
The singer's theme song went #1 in the UK.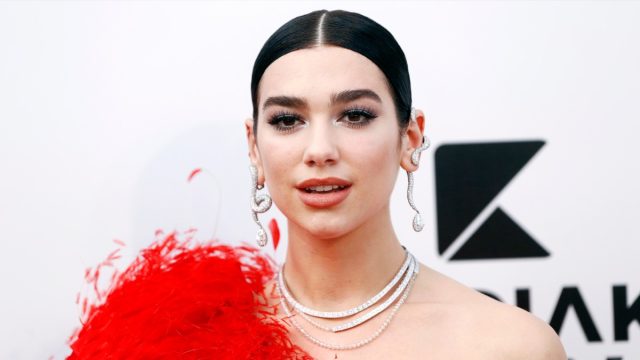 Dua Lipa just shared a swimsuit photo of herself wearing a crochet swimsuit in the same colors as the Barbie doll she's holding. The megastar knows all about the doll: she appeared in the film and recorded the theme song. "Dance The Night is Number 1 in the UK!!!! 💖💖 birthday week going strong @barbie @barbiethealbum !!! So much love to everyone listening and streaming," she caption the picture. (Her birthday is August 22, 1995.) How did she rise to fame? Read on for details about Dua Lipa you may not know, and to see the photos.
1
She Once Didn't Love Her Name
"My whole life I feel like my name's always been a little bit difficult to pronounce," she told Jimmy Fallon. It's not that she didn't like it, it's just "I just didn't appreciate my name as much. Growing up, living in London, being born in London, having a full Albanian name, like Dua, people pronouncing it….It means love in Albanian. Pronouncing it, I feel like I just wanted a normal name. I was like Sarah, Hannah, Chloe, anything."
Her first concert was Redman and Method Man, who she say while growing up in Kosovo. "Well, they were basically in Kosovo. People only really listened to hip-hop. It was so massive out there. And the only artist that I guess there was such a demand for were hip-hop artists. Going to the Method Man of Redman Show was kind of my first introduction to Wu-Tang. And then when I went to my second show, which was 50 Cent, I then read the book, watched the movie, really learned all the words. I went fully prepared," she told Fallon.
3
Here's How She Got Discovered
How did Dua Lipa get discovered? She told Wired: "It's a bit of a long story, but I'll try and shorten it a little bit. When I was young, I always wanted to make music. I started making YouTube covers and I started showing them to my friends in school, and then I used them as a form of portfolio to work with different producers and get in the studio, and I was like, I sing and I would love it if we could get in the studio and write together. I made a bunch of demos and then I basically Googled managers in London, and then I got offered a publishing deal. Then I had to find a lawyer, and then the lawyer was trying to help me. I was like, don't sign this publishing deal. Whatever you do, let me help you find a manager. And he introduced me to my manager, Ben, and so that was a really, really long story cut short."
4
On Her Musical Identity
"I think musical identity evolves all the time, and I think as an artist, you don't really want to keep doing the same thing over and over again. You want to find something that you love, obviously, and if you love it, you should keep doing. But I do feel like experimenting is always good. And even if it's rubbish, if you love it, put it out. You'll grow from it. I feel like every experience and every song and whatever you do, not even just in music, I feel like it's always just like a baby step to where you want to be or discovering yourself even further," she told Apple Music.
"Lauryn Hill was an artist that my parents loved so much. So her record was always played at home and I knew those songs before I knew who she was or was able to dive into the whole—I remember being in the car and just singing the Fugees' 'Ready or Not' and just that was always just something that I would sing, but not really know who the artist was or where it came from. It would just constantly be playing. And it's interesting and it's very unique for an album to soundtrack your life but be so timeless and every time you hear it feels like the first time. And that's how I feel about the Miseducation of Lauryn Hill. I really honestly feel like every time I listen to it, you hear it something different and it touches you in a different way and it meets you at a different point in your life. And if anyone was to have made one album and that'd be it. That's it. That's the pinnacle."df44d9eab23ea271ddde7545ae2c09ec
---