Influencer Hannah Stocking Shares Swimsuit Video of Her With Lele Pons
Here are her lifestyle habits.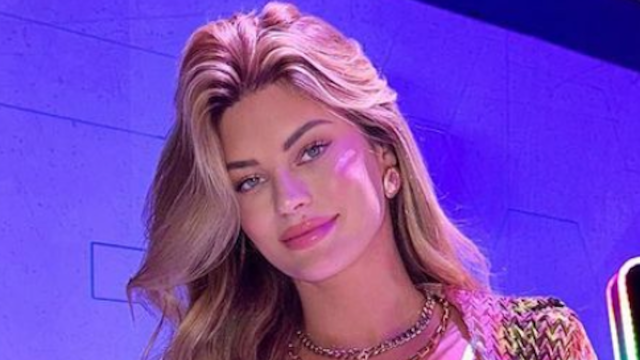 Hannah Stocking is doing what she does best, making people laugh – in her swimsuit. In a new social media video, the influencer and comedian shows off her amazing body alongside her best friend, Lele Pons, in a little spoof. In it, Lele falls asleep on the beach, her head resting on Hannah's booty. When she wakes up, Hannah suffers a major tan line faux pas. "Love you lele and Hannah," commented one. "This is incredible," added another. How does the internet personality maintain her amazing body? Celebwell rounded up her top health habits. 
Hannah is a golfer. A comprehensive review published in the British Journal of Sports Medicine found that golf's health benefits are extensive, including mind, body, and even lifespan. Benefits include improved longevity, decreased risk of developing heart disease or suffering a stroke, good mental health, and improved strength and balance.
Hannah also kicks around the soccer ball. Mercedes Carnethon, MD, told the American Heart Assocation that soccer is a great workout for many reasons. "It is a game of continuous running and with very little stopping," said Carnethon, an associate professor of preventive medicine at Northwestern University in Chicago. "It also has anaerobic elements – that high intensity where you're sprinting and then resting – you're constantly moving." Sports researcher Peter Krustrup, who has spent more than 15 years studying the health benefits of soccer, added that recreational-level play and soccer-related exercise drills can help reduce cholesterol and blood pressure. Soccer also can help shift body composition by decreasing fat and increasing lean muscle.
3
Her Leg Day Workout Is Intense
"Mindset is 🗝 Be stronger than your excuses," Hannah captioned a video of her "Intense leg day," on Instagram, adding "let's get after it!" Here is what she did:
▪️Box Jumps. This exercises, "lights up your full lower body using just your body weight! 3 sets of 20," she explained.
▪️Leg Press. This is "a beginner friendly exercise that helps to build your quads, hams and glutes. 5 sets of 10," she said.
▪️Goodmornings. "Work the muscle groups on the backside of your body. With proper form you can really increase your leg and back strength. 3 sets of 15," she wrote. 
▪️Prone Hamstring Curls: She explains that this exercise "primarily works your hamstrings, but also hits the glutes. A great exercise to do if you're quad dominant, and have a hard time isolating your hams," and does 3 sets of 10.
▪️Barbell Back Squats. "Another full lower body exercise, and one of our faves! Not only are you building your hams, quads and glutes, you're also strengthening your back and core. 3 sets of 10," she wrote.
Hannah also enjoys snorkeling. Surprisingly, putting on a snorkel and fins and swimming through the water is a great workout. In addition to being a great aerobic exercise and burning calories, other health benefits may include improved cardiovascular function, stress reduction, mood enhancement, and muscular toning. 
Hannah hikes. "Hiking is one of the best ways to get exercise. No matter what type of trail you find yourself on, hiking is a great whole-body workout—from head to toe and everything in between," says the National Parks Service. Some of the physical benefits include building stronger muscles and bones, improving your sense of balance, improving your heart health, and decreasing the risk of certain respiratory problems. It also offers many mental health benefits, according to a Stanford University study. df44d9eab23ea271ddde7545ae2c09ec
Leah Groth has decades of experience covering all things health, wellness and fitness related.
Read more
---