Kaliii Shares Swimsuit Photo and Ice Spice and Rubi Rose Love It
Here are 5 things to know about the Area Codes rapper.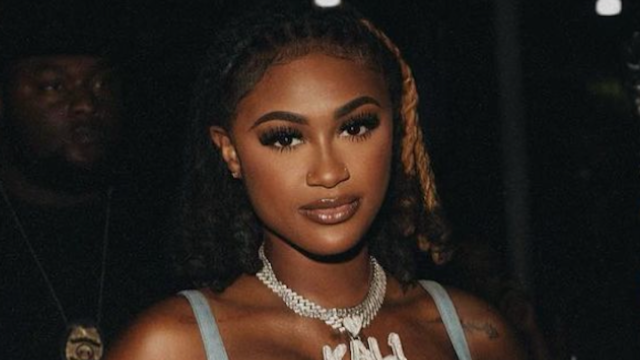 Kaliii is heating up social media in her swimsuit. In one of her latest posts, the Area Codes singer flaunts her famous figure in a tiny bathing suit. "i hate home," she captioned the Instagram photos with her million-plus followers. "Sexcy!" commented Rubi Rose, while Ice Spice added heart-eye emojis. How does the young musician approach mental and physical health? Here are 5 things to know about her. 
`
1
She Doesn't Want to Be a "Toxic Girl" Anymore
Kaliii explains that her next EP, Toxic Girls Need Love Too is "a play off" of her last EP called Toxic Chocolate. "And I feel like in Toxic Chocolate, that was my real Toxic Girl era. Me going through it with men, and just finding myself. And Toxic Girls Need Love Too, is me… I had my toxic phase, obviously, then I got in a relationship. I fell in love by accident, and then it didn't really work out, but instead of me going back to my toxic ways, I asked myself what do I want for me, and what do I want for my music and my career? And I just wanted to be outside with the girls," she told Uproxx in a recent interview. 
Kaliii was more interested in a soccer career than a rap one through high school. She even dreamed of making the US Women's National Team and playing in the World Cup. She told Uproxx that her parents were "really strict about" meeting those requirements of greatness and stressing the importance of achievement over having fun, as youth sports parents sometimes do, which was "the death knell" for her dream. "As a teenager, nobody wants to come to your soccer game," she added. "They want to be outside." That, combined with the "tough love" it all became "too much." "It's not that I was falling out of love with it," she insists. "There was just too much going on. I felt really sheltered. I felt like I couldn't be outside without soccer. My weekends were consumed with that." At 18, she quit, refocusing on her music. 
3
She Looks at Her Career as a "Team sport"
"Soccer is a team sport and you have to be working with your teammates to win," she told Uproxx. "I feel like that's everyday life, like me collaborating with other female rappers, working with my peers. That's how you create hits anyway: Working with other people, being able to collab with different producers and different writers. When you're playing soccer, you have to listen to the coach and you have to listen to people and your team. I have my team at Atlantic, my manager, everybody. I listen to them and their opinions and what they have to say. We're in this game together, and they know where they want to take me and I know where I want to go. So putting our heads together, there's nothing we can't win." df44d9eab23ea271ddde7545ae2c09ec
4
Barbie Is "Healing" for Her
Kaliii, who has a song in the Barbie movie, has great memories of the doll and loves the message of the movie.  "I know Issa Rae's in there. I'm really excited about that. She's hilarious. So I just know it's going to be hilarious too." Her take on the ongoing Barbie-mania is equally funny, but just as sharply insightful as the film itself appears to be in its trailers. "It's not for the little girls right now. It's for everybody that's super grown, and it's like, 'Oh my God, I need this for healing.'" 
5
Subhead Goes Right Here
Kaliii admits she still has a lot of growin up to do. "I'm not saying that I'm 100% not toxic. I definitely still have my toxic tendencies, but my mission is to be 100% healed and not be toxic. Because when I take it there, it's like, yeah, I'm really up there." But for now, she says she's 'grown,' asserting that "I know what I want to stand for now, and what I want my brand to be. And I really want girls to look at me and be like, 'She's so confident and she has this effortless beauty and confidence.' I just want to be everybody's homegirl," she said. "So that's what this tape represents for me," she continues. "I wanted to be more vulnerable and show girls that I go through things, just like y'all go through things. I've cried over men before. I've done the back and forth. But instead of blaming that relationship and going back to my toxic ways, I kind of want to grow from it and become the best version of me. So Toxic Girls Need Love Too is basically me showing that, being more vulnerable, finding my sound, and finding who Kaliii is, to build the best me."
Leah Groth has decades of experience covering all things health, wellness and fitness related.
Read more
---