Marvel Star Evangeline Lilly Floating In Swimsuit Says "No Hands!"
This is what self-care means to the actress.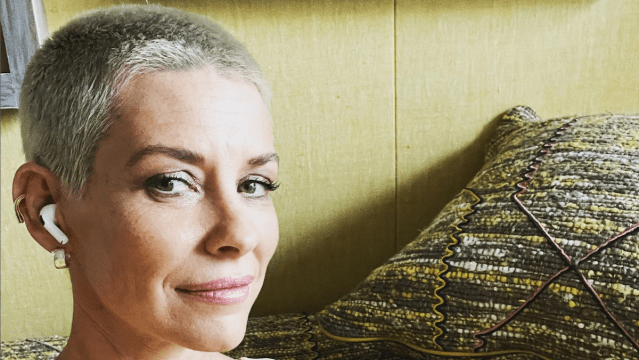 Ant-Man and the Wasp: Quantumania star Evangeline Lilly enjoyed a special summer beach trip in an exotic location, and posted some highlights on her social media. Lilly, 44, shared pictures of herself floating in the water in a beautiful white two-piece swimsuit. "Look mom! No hands!" she captioned the fun post. "That water is beautiful and that bathing suit will def make that tan look so good!" a fan commented. Here's what Lilly's approach to health, wellness, and happiness looks like.
1
Ant Man and the Wasp Diet
Lilly was forced to eat smaller meals while in her Ant Man and the Wasp costume. "I have to eat in very small quantities all through the day, instead of like a sit-down meal," she explains. "I'm a big sit-down meal kind of gal. I grew up in, you know, a blue collar home where you had three square meals a day and then you worked the rest of the day. I'm not that LA girl who's like, 'I'm just going to have a nibble and then I'll be back.' That's not my style, no, but yeah in this costume that's me."df44d9eab23ea271ddde7545ae2c09ec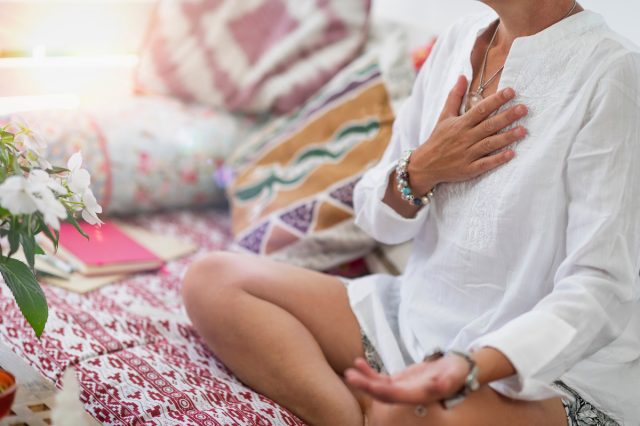 Lilly follows a meditative practice called The Presence Process, by Michael Brown. "There are kind of two large, broad categories [of meditation]," she says. "One is transcendental. I am going to, for lack of a better way of putting it, escape reality and go to another place, another plane where things are peaceful and calm, and I can regain my center and regain my perspective and then come back refreshed. The type of meditation you do in the Presence Process is all about actually getting really present with what is happening right now and what you're doing and what you're in and what you're feeling. Not in any way getting away from it."
3
Strong Female Character
Lilly appreciates portraying a strong character without worrying about being objectified. "I'm allowed to be a character when I'm not sexual or sexy, it's about if I'm capable and confident and able to do the job that needs to get done. That was a gift Marvel gave me and continues to give to me. They make all the men take their shirts off, but they don't make us take our shirts off." Lilly loved having an all-female battle scene in Avengers: Endgame. "It was a great day, being surrounded by women," she says. "It's the most comfortable I've ever felt on a film set. There was none of the stuff that goes along with being around a bunch of dudes. It was just me and the ladies."
Lilly emphasizes how important self-care is, especially when the world seems chaotic. "I think this is the hardest time in human history to keep your spirit in your body," she says. "We have constant distraction and choice, which can be very destabilizing and get in the way of experiencing life. So it's important to engage in activities regularly that reunite you with yourself. For some people it's prayer, reading, meditation, or a breathing practice. For others it's a dinner party."
Lilly says cutting her hair short took pressure off her to look conventionally attractive. "There's this pressure to maintain that, and make sure you're always pleasing the male gaze," she says. "And I found myself one day really waking up to that and going, 'I've never liked my hair. It's too pretty, it's boring', and I've always admired women who were cool and had cool hair. … I've never felt more empowered. I've never been better at advocating for myself. I don't feel I'm going to be put out to pasture, I don't feel like the end is near. I feel this is a new beginning of a second journey in my life and I love it."
Ferozan Mast is a science, health and wellness writer with a passion for making science and research-backed information accessible to a general audience.
Read more
---