50 Famous Women Proud of Their Bodies
These celebs work hard to look this good. Here are their wellness tips.
"Looking good" kinda comes with the territory if you're a certain kind of famous. People expect you to. It comes with the brand. But some celebrities seem to actually enjoy showing off their figures, posting frequently to Instgram shots from the beach, pool or gym. And we've collected them right here—from Lizzo to Kate Hudson, from Demi Lovato to Tyra Banks.
Singer Lizzo has always been about body positivity, and loves to show off her curves. In a recent TikTok, Lizzo reveals that she is now vegan, and is seen doing kettlebell squats and jumping rope. The singer revealed in another video that her healthy lifestyle is positively impacting her mental health. "Now let me tell you. I was always too insecure — well, not too insecure, but too self-conscious — to work out in shorts. Also my thigh meat chafes, so I was like, why do that?" she told her followers. "But today I'm working out in shorts and I'm gonna keep it real with y'all: not much has changed, physically, about myself, but a lot has changed here, mentally. Here, emotionally. I accept myself. These shorts are a little long so they won't chafe, but I'm doing it! Yay!"
Singer Demi Lovato has been open about their struggles with body image and an eating disorder. But Lovato has been embracing their body on their road to recovery, and is finding balance with diet and exercise. Lovato says to Self Magazine: "Typically, I do a lot of circuit training. I actually love training MMA, mixed martial arts. That's how I get a lot of my cardio in. I also love training jiu-jitsu. I incorporate cardio in my strength and conditioning so every time I work out, I do cardio and strength, too."
Beyoncé put herself on a strict diet to prepare for her Coachella performance, and documented the process in her Netflix documentary, Homecoming. "In order to meet my goal, I'm limiting myself to no bread, no carbs, no dairy, no meat, no fish, no alcohol. And I'm hungry," she said in the documentary. When she's not training, she has a more relaxed diet. "I always treat myself to one meal on Sundays when I can have whatever I want. Usually it's pizza, which is my favorite indulgence," she told Shape Magazine.
Singer and Cinderella star, Camila Cabello, recently posted a clip on TikTok celebrating her body. In the clip, Cabello says, "I was just running in the park minding my own business trying to be fit, trying to keep it healthy. And I am wearing a top that shows my belly, and I wasn't tucking it in. Because I was running and existing like a normal person that doesn't tuck it in all the time, and I was like, 'Damn.' But then I reminded myself being at war with your body is so last season. "I am grateful for this body that lets me do what I need to do," she concluded. "We are real women with curves and cellulite and stretchmarks and fat. And we gotta own that, baby."
Rapper Cardi B revealed what she eats in a day in this video from The List. "I only eat twice a day," she says. "I eat a big breakfast, and then I eat a big dinner." Cardi B also loves detoxing teas. "Twice a week, I do Teami, because I can't do it every day," she says. 
Singer Jennifer Lopez not only credits exercise to her amazing figure, but to her happiness and well-being. "I am 100 percent convinced that working out is part of what makes me so happy," Lopez said to Hello! "Dance has always been a huge part of my life and taking the time to move my body and do something that's so good for me is key to my happiness."  Lopez also stays hydrated when working out. "Drinking plenty of water, especially before a workout, can help you push harder and get more out of your exercise routine," she says.
Singer Halsey has been pretty secretive about her workout routine. But when preparing to perform at the Victoria's Secret Fashion Show, she did reveal one of her favorite exercises. "I definitely did a lot of sit-ups," she told HollywoodLife.com.
Model Bella Hadid tells Harper's Bazaar that she loves green juices. "I order a lot of green juices and keep them around on set. I have ginger shots in a cooler, and I'll drink one if I'm feeling low." As for meals, Hadid says "I'll usually have salmon or chicken and veggies. If not, then pasta. I like having a good protein meal because I get really tired if I eat too much, so I try to fill myself up with things that will make me feel good."
Model Gigi Hadid tells Harper's Bazaar that her motto is "Eat clean to stay fit, have a burger to stay sane." Hadid also has some go-tos from her favorite local restaurants. "I love The Smile," she said, "They have a little arugula salad that I could eat every day." As for exercise, Hadid loves to box at a local gym. "I need to have a sport that wakes me up and that I can get better at, and boxing does that for me," Hadid said. "When I walk in [to Gotham Gym], it's like my big brothers. They don't care about me as a model or what my body looks like. They care that I give a good punch, and that's how I want to be judged in my athletic space, because that's what I find pride in," she said.  
Model Martha Hunt tries to eat clean before a runway show. "I'll have Greek yogurt or eggs for breakfast, sushi for lunch, and salmon/chicken/or meat with vegetables and healthy carbs for dinner," Hunt said to The New Potato. "I eat more than usual, because the workouts burn so many calories. Most of my snacks involve peanut butter or almond butter. I'm bad about eating my biggest meal at night; I know that's not the healthiest thing to do."
While Madonna might have an amazing figure, the Queen of Pop says that she has to work hard to keep her figure. "I wasn't born with Gisele Bundchen's body," she tells Life&Style. "You have to really work for it." Madonna's go-to exercise is Ashtanga yoga, which she does six days a week. "Ashtanga is much more physical than other types of yoga," Madonna has said. "It's kind of like dancing." As for diet, Madonna says she eats a macrobiotic diet. "I eat a lot of fish," she says.
Rapper Iggy Azalea revealed her secrets for her flat abs to her followers on Instagram. "For me diet is what does the trick," she said, according to Metro.UK. "When I eat pretty basic/clean ie. Whole fruits, meat & veg that's when my abs start to show more."
Miss North Carolina and Bachelor star Caelynn Miller-Keyes is starting a vegan diet. In a YouTube video, Miller-Keyes says "I've been trying to transition to being vegan. I've cut out dairy, I've cut out meat, but fish has been so hard for me to cut out. I'm doing the same thing that I did with meat. Once a week I would allow myself to eat meat and I've been doing that with fish."
Singer Ally Brooke says her time competing on Dancing with the Stars helped her wellness routine. "I definitely try to balance," Brooke said to Women's Day. "But I notice when I eat healthier in the morning going into rehearsal, I perform better." Brooke says she loves to eat healthy carbs and fruit, like oatmeal with bananas, for her breakfasts, and tries to eat fruit throughout the day. df44d9eab23ea271ddde7545ae2c09ec
Singer Ariana Grande's love of animals inspired her to make a change in her diet. Grande told Mirror, "I love animals more than I love most people, not kidding. But I am a firm believer in eating a full plant-based, whole food diet that can expand your life length and make you an all-round happier person. It is tricky dining out, but I just stick to what I know – veggies, fruit and salad – then when I get home, I'll have something else."
Country singer Maren Morris tells Women's Health Magazine that she works up an appetite while on tour. "When I'm out there, I make it count. I know I'll feel awful if I don't eat right after burning all those calories in the show." Morris tells the magazine that a good example of her post-show meals is skinless chicken over spinach with lemon vinaigrette. Morris also works with a trainer virtually, while on the road. Morris' typical workout includes strength training exercises, like planks, pushups, and squats, though she doesn't enjoy all these exercises.   "Squat lunges are the worst," she says. "They're so hard because that's the area I need it most—my thighs and butt."
Actress Rebel Wilson recently reached her goal weight, thanks to her decision to make 2020 her "Year of Health." Wilson revealed to Today that she did a lot of walking, and was surprised at how much she enjoyed it. "Weirdly, I never thought I would like hiking, walking uphill," she says. "Like, who would have thought that'd be a fun activity? But frick it's good. To be out in nature, get that air into your lungs. I really really love it and so I do that now all the time." Wilson also said that she loved weightlifting. "Ladies, don't be afraid of weights, I frickin' love lifting weights. It just makes you feel like really strong," she said.
Rapper Nicki Minaj says she is on a low sugar and starch diet, and has a low GI diet plan. In an interview with Allure magazine, Minaj said "I'm naturally petite, but I definitely struggle with keeping those extra pounds off. And I hate working out. I can't stand being on a treadmill. That mentally irks me. When I need to lose a few, I just cut out sugar and starch."
Model Behati Prinsloo told The Cut, "My workouts are usually scheduled out. People can't just come whenever, so I have to alter my mood to the workout I'm doing. If I'm really committed, I'll do it three or four times a week. If I'm not doing anything, I'll do it twice a week, or at least once a week if I'm really being lazy — even if it's just going to the beach and walking." She also revealed that she had cut some food out of her diet after watching the documentary What The Health. "I will never eat bacon again. I will never have a hot dog again in my life. I'm going to think a lot about where my food comes from."
https://www.instagram.com/p/CRG9qNpMVqT/
Kim Kardashian likes to keep her workouts simple. In an interview with E! News, Kardashian admitted, "I work out about an hour-and-a-half every single day, heavy weights. I don't do a lot of cardio." Kardashian also tries to keep a balanced diet. "I've kind of been trained to just eat a lot healthier than I used to. I used to just eat anything and everything and I loved it," she said. "And so I really do control that now."
Khloe Kardashian says to People that she likes to stay hydrated, and is encouraging her sisters to do so as well. "I had to train myself to drink more water. I drink like 5 liters of water a day. I yell at [Kylie] and Kendall [Jenner] to drink more water." Kardashian also makes sure she has healthy alternatives available to her. "I have a protein shake on the car ride home from the gym," she says. 
Model, reality star, and socialite Paris Hilton shared her at home workout on TikTok. The video shows Hilton doing pull-ups, hammer curls, sit-ups, and biking, all with unique equipment. "I thought it would be a fun video to post of how people could work out at home—with of course my Paris twist to it," she says. Hilton also says she considers her day-to-day life enough of a workout. "I never really work out in real life, because I am constantly so busy that my life is like a work out."
Singer Tinashe told the NYPost that she takes the motto "an apple a day" very seriously. "I'm a big fan of apples with a little bit of peanut butter," she says. "It's quick, convenient and you can get both of those things pretty much everywhere." Tinashe also loves running. "People underestimate the overall effects of running on your body," Tinashe says. "Bursts of high-intensity running or running uphill are best."
Singer Rihanna says that one of the reasons she works out is so she doesn't have to make any crazy changes to her diet. She told Vanity Fair: "I have been in the gym every day this week because I am not willing to give up my food. But I will sacrifice an hour for the gym." Rihanna says to Become Gorgeous that she focuses on living a healthy lifestyle. "It wasn't so much losing weight as being fit and toned and healthy. I just didn't feel great. Now I'm working out and trying to eat healthy. That's making me lose weight without even thinking about it."
Singer Mariah Carey admits her weight-loss process doesn't involve a scale. Carey told Shape.com that she would try on old clothes to see if she'd lost weight. "I'd ask myself, 'Does this dress fit better than it did three years ago?' Then I'd be like, 'Ok, I'm good!'" Carey also told People that she also works with a trainer. "I have a wonderful trainer whose name is Patricia, she lives in St. Barts, poor girl," she said. "People say, 'Only you would fly someone from St. Barts to New York to work out.' We do water aerobics mostly."
Rapper Megan Thee Stallion has documented her fitness journey , called "Hottie Bootcamp," on her YouTube and Instagram accounts, and she has a good reason for doing so. "I feel like you will hold me accountable. And I feel like if I'm going on it with y'all, then I will feel more motivated to do the right thing," she told her followers. In one post, Megan revealed that one of the things that has helped her get in shape is drinking more water. "One thing that has helped me a lot is drinking a gallon of water a day," she said. 
Rapper Saweetie tells Women's Fitness that she loves working on her legs. "I would say squats and leg presses. Even, mixing in some dance moves like squatting and dancing. I've been trying to practice it more and more, It's a really good exercise!" Saweetie also loves to cook her meals. "I feel like if I'm not going to go on a strict diet, I can do my due diligence by cooking as much as possible and controlling my portions by measuring ingredients so my meal is healthy," she says. "And my any time favorite food would definitely be crawfish with a yummy Cajun sauce, extra spicy, and a side of rice."
Model Gisele Bundchen and her husband, NFL player Tom Brady, eat a plant-based diet. However, Bundchen does not like the word "diet." In her book, Lessons: My Path To A Meaningful Life, Bundchen wrote, "I don't call my nutritional regimen a diet, but rather healthy eating habits, so I can maintain a high level of vitality and the mental clarity to have a productive and enjoyable life." Bundchen also wrote in her book that she loves to do yoga and Pilates. Yoga is so serene that I can be in a state of meditation while I practice … Whether it involves music or mantras or breath work or meditation, yoga is a powerful beautiful spiritual practice. Yoga gave me back my life."
Model Candice Swanepoel prioritizes balance in her diet. She told InStyle, "One meal in the day will be lighter than others, probably during lunch I will eat something heavier so that my body has time to burn it off. Night-time is something lighter, and I will always have a big breakfast."
Singer Christina Aguilera has had a struggle with her weight, but has started to embrace her body.  In an interview with L'Officiel Italia, Aguilera says, "I have often clashed with my anxieties and with being hypercritical towards myself, but I have never stopped looking for new ways to push myself further, without neglecting to protect myself." Aguilera has also sworn off dieting. "I'm not going on a diet, get over it. Each of us is an individual and people judge you based on your differences, on what makes you unique," she said. "You have to accept that beauty and to hell with everything else."
Singer and American Idol judge Katy Perry loves hot yoga, specifically the CorePower Yoga program. Perry told Prevention.com, "I have had a dance with depression, and hot yoga helps clear it all out. If you have a healthy body, you have a healthy mind." Perry also revealed that she loves apple cider vinegar, and incorporates it into her diet by adding it to water, and rinsing veggies with it. "My mother made me drink it every day, but now it's a staple for me," she says.
Actress Nina Dobrev told Shape that she loves strength training. "I actually did not do a lot of strength training in the past; I only did yoga and ran in terms of training. Strength training with weights and such a regimented schedule has been new to my life, and now that I understand the way it all works, the science behind it, it's changed everything for me. I eat so much more than I used to, and I feel so much leaner and stronger than I ever imagined I'd be."
In a video with Harper's Bazaar, dancer and actress, Julianne Hough, reveals that she is now vegan and gluten-free. "I sound so L.A. right now," she said. "Because trust me, do I love flour, I love sugar, I love cookies, I love all the things. But I'm really just trying to focus on my health from the inside out." Hough also drinks lemon water each morning, that she prepares the night before. "The reason why I take it first thing in the morning is we've just been laying down, we're sleeping, and anything that was kind of left—residue from the night before—I can take that lemon water and feel like I'm cleaning my system out, starting with a fresh palette for the day."
Singer Dua Lipa told Vogue that she does 15 minutes of exercise each day. "It's high-intensive interval training, but it's so quick, it's over before it's even started!" she explained. Lipa does have some favorite exercises. "When I have a tiny bit more time on my side, I love mixing up lots of different training, finding different workouts in whatever city I'm in, whether it's yoga, Pilates, boxing or spinning," she told Marie Claire.
Singer Selena Gomez tells Vogue that she always makes sure she's staying hydrated, even when things get busy. "I always have water, tons of water," she says. "It's even in my bathroom because I used to be so bad at drinking water and I want to stay hydrated. I have a juicer I'm staring at right now, so I always have my vegetables and my fruit for the juicer. I do two carrots, ginger, I do one piece of celery—I know, that's lame, but one—and then half of a beet. Those are the things I always keep around." Gomez also tries to keep her workouts exciting, saying, "I was doing Pilates, SoulCycle, every form of yoga. Basically, I wanted to mix things up because I get bored easily. I just try to keep it fresh."
Singer Cher is careful about what she puts in her body. In an interview with Closer, Cher said, "Being healthy has always been part of my life. It just works for me. There are things I don't like that are unhealthy, like drugs and drinking, so I never got into them to begin with. I smoked cigarettes for a while and I'd have done drugs had I liked them, but they didn't agree with me. I'll only drink three of four times a year too." Cher is also a vegetarian and loves eating healthy foods. "I don't like meat and most of the things I like are healthy for you," she told Hello!
Vanderpump Rules star and author Lala Kent told BravoTV.com, "My diet is non-existent," after welcoming her daughter this year. Kent did say that she is exercising. "As far as exercise, I play pickleball." Kent and her fiancé, Randall Emmett, even have a pickleball court at their home. Kent also tries to love her body as much as possible, and advises others to do so. "Be easier on yourself. We are trying to come out of a worldwide pandemic. Be thankful for what your body has done for you and is capable of, rather than what it looks like," she said.
Model Jourdan Dunn opened up about her favorite exercises to Harper's Bazaar. "At the moment, I'm doing a lot of barre training," she says. "Barre exercise is a mixture of yoga, Pilates and ballet. It uses really small movements but you are using muscles that you never knew existed, so it's really intense. It's all about sculpting and feeling stronger and more toned. Dunn also says that she loves boxing. "My brother introduced me to boxing at Kobox, which is such a fun environment. I step into the ring, get my sweat on and feel more energised. It's a fun way for your mind and body to let out stress."
https://www.instagram.com/p/CRF3QGNpFPq/
Singer Jessie J loves working out, but not because it helps her lose weight. "It's about the longevity of your life, not how you look in the morning," she said to the Huffington Post.  "Working out really makes me feel positive," she told Women's Health UK.  "It releases endorphins—and I never really used to believe in that until I started working out. You do really get this sluggish feeling before a workout where you're like, 'Oh, I don't want to do it,' and you might feel a little low. But you do a workout, and it gives you that pickup. It makes me feel alive."
Actress Zoey Deutch has a simple motto when it comes to wellness.  "I'm not going to give up salt and sugar because I want to look like Adriana Lima," she says to Teen Vogue. "But I am going to work out to make myself feel good in my own body."
Actress Kate Hudson loves to do Pilates. Hudson told Women's Health "I know I'm at my strongest is when I'm doing my Pilates because it never gets easier. The more you do Pilates the harder the things you can do become. "I love how flexible I feel and I like what it does to the shape of my body."
Model Tyra Banks has been open about her struggles with her weight, infamously telling people to "kiss her fat" you-know-what on an episode of her talk show. Banks has also been open about her love of certain junk foods, mainly whipped cream and cream cheese, and her hatred of diets. "I have a very interesting relationship with food. I have to say that it is one of the most important things in my life," Banks said in a video with Harper's Bazaar. Banks told UsWeekly that she doesn't deny herself when it comes to food, and embraces her changing body. "I think a lot of it had to do with my mother. You know, me being really, really skinny and awkward at one time and feeling unhappy about that. Her helping me to get through that and saying that my whole worth is not this skinny body and one day it will gain some weight and you know, everything's gonna be okay."
Big Brother star and YouTuber, Christina Podolyan, recently opened up about her weight loss in a YouTube video. "The first step I took was to educate myself," she said. "I've been through every fad diet and back, but then I actually did all the research I could. What I noticed was the quickest, most efficient way to lose weight is a calorie deficit." 
Model Alexis Ren tells Women's Health Magazine that she likes eating a plant-based diet. "I've been dabbling in plant-based diet for the past four years," she says. "I realized that there's such an abundance, you don't have to sacrifice taste or quality of food when you're vegan." Ren is also working on repairing her relationship with food, after years of struggling with an eating disorder, starting with introducing carbs into her diet. "Bread was always a trigger. I gauged how much I've healed off of my eating disorder based on if I can eat a piece of bread and be okay. Bread's not the enemy, and I know we need carbohydrates," she explains. "The last six months, I've been loading bread into my diet and being okay. I'm at peace with it."
Actress Megan Fox has a pretty strict diet. Fox told E! that she stays away from processed foods. "I cut out all sorts of breads and those carbohydrates. No crackers, no pretzels, no chips, anything unhealthy." Fox also is on the Five Factor Diet, and makes sure that she does not cheat on her plan. "I don't have splurge foods. I either do something or I don't do it at all, and I'm doing this right now, so I have no cheat days," she says.
Country singer Kelsea Ballerini recently opened up about her wellness routine to Shape. "I've worked out with my trainer, Erin Opera, for five years," she says. "We're on Zoom three days a week and do a lot of strength training intervals." Ballerini also says she fell in love with cooking during lockdown, and that she and her husband do a lot of vegetarian meals. "We cook a lot of lentil Bolognese, or we'll do Mexican bowls with tempeh instead of chorizo," she says.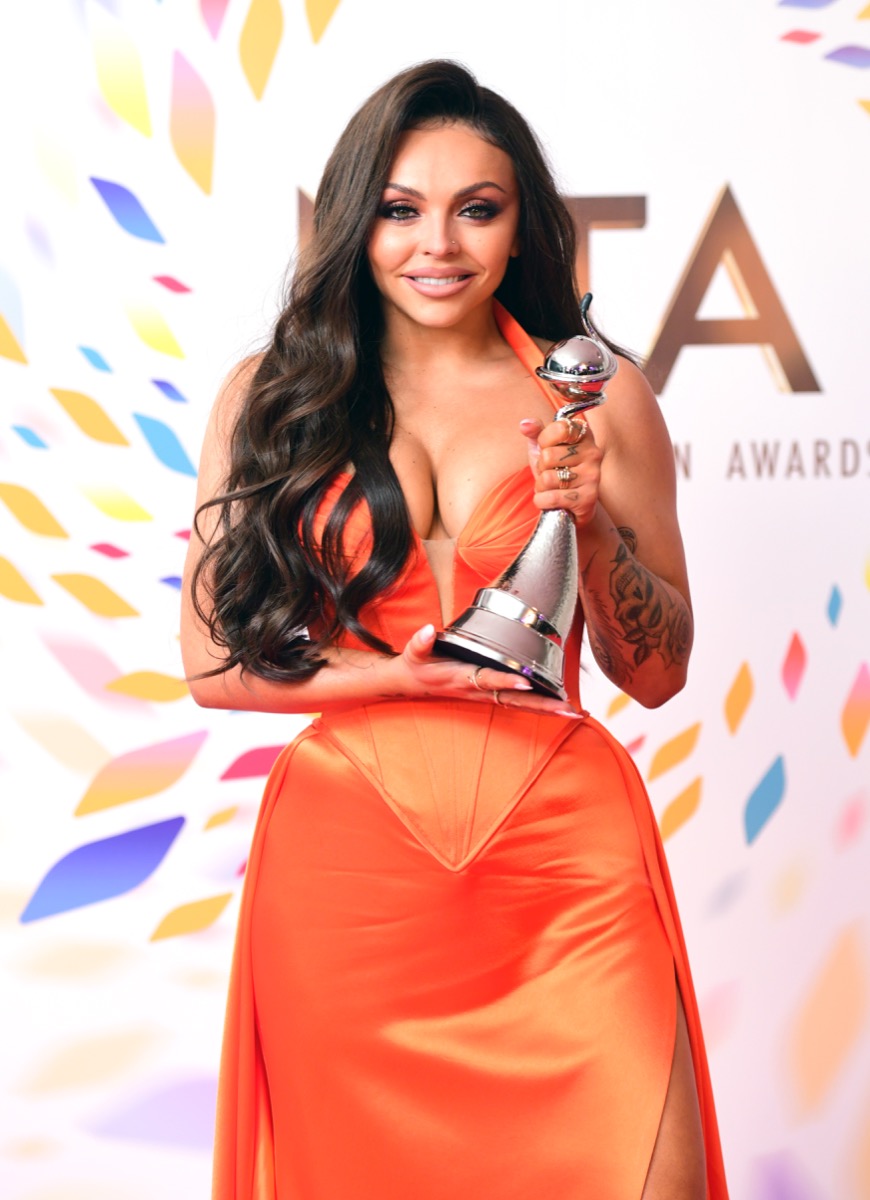 Singer Jesy Nelson has struggled with her body image. Nelson made a documentary detailing her struggles with body image and online trolls. These days, she has embraced her curves, and has a better outlook when it comes to her health. Nelson told Glamour Magazine "When I start feeling rank, when I know I've indulged too much, then I start exercising. Boxing is my absolute favourite, I love it because it makes me feel like I'm not exercising."
Singer Hayley Kiyoko revealed her morning exercises in a video with Elle magazine. Kiyoko works out with a trainer virtually, where she does squats, uses weights and a resistance band, does the elliptical, and jumps rope. "I've been really trying to get my health right," she says. "It's been really good to be able to work out and not leave my house, because when I did leave my house, I'd be like 10-15 minutes late. Now I have to hold myself accountable."
Top Chef host Padma Lakshmi revealed to Health.com her diet after filming a season of the cooking competition. "It's no sweets, no red meat, no wheat, no alcohol, no fried food, no dairy except for cottage cheese or low-fat yogurt. But this is a milder version—like, I can fall off the wagon one day a week." Lakshmi reveals that she also does two workouts a day. "Like Pilates and boxing, or Pilates and weights," she explains.
50
Katie Maloney-Schwartz
Vanderpump Rules star and podcast host Katie Maloney-Schwartz has been open about her struggles with body image and body shaming.  However, she also opened up to BravoTV about another health issue that forced her to change up her diet. "I thought it was a thyroid thing, so I was going to the doctor and getting blood work done. I think it's really important to also check up on your health because even though it wasn't a thyroid thing, I did discover that my glucose levels were pretty high and that could've let to some maybe pre-diabetic problems. So from there, I met a really great nutritionist, who helped me understand how to eat for my metabolism, especially with being insulin resistant or insulin-sensitive. So now I just have a great understanding on nutrition and what kinds of food I should and shouldn't be eating. And I'm not dieting, but I just have a wealth of knowledge on what kind of foods to be eating." 
Anna Bechtel is a freelance writer currently based in Hamden, CT.
Read more
---