Health Influencer Cassey Ho Shares Swimsuit Photo Saying "I Hope You Love It!"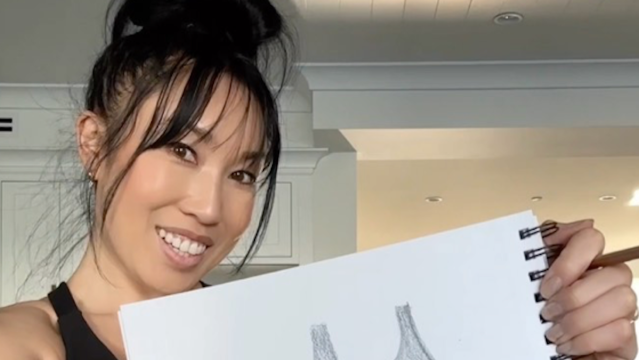 Fitfluencer Cassey Ho is showing off some new swimsuit designs she just can't live without—and they're perfect for people who want to be active rather than lounge in the sun. Ho shared a video of one of her strapless bikini tops that she swears will stay put even while taking part in water sports. "I've had NUMEROUS occasions where my bikini has come totally undone while going down a slide, while diving, while snorkeling, while swimming or just by being hit by a wave! And the terrible part is that some of these bikinis actually had straps 😭😭😭. I hope you love this top! It's seriously my favorite for tanning and for being active!" she captioned the post. Here's how the entrepreneur makes sure she has the energy to juggle so many balls in her busy life.
Ho loves Pilates, and incorporates it into many of her workout routines. "[My favorite Pilates move is] the earthquake!" she says. "You begin seated with legs straight and a tall spine, roll shoulders back and down, and lean back at the hips. You'll feel your core shake like crazy! It doesn't look like you're moving that much, but, oh boy, this move is powerful and great for a strong core."
Ho's all time favorite workout is a program she developed called PIIT28. "I developed this workout program that combines high-intensity cardio exercises with total-body-strengthening Pilates moves," she says. "One round is seven minutes and 10 seconds, and for a full workout, you'll need to do four rounds for a total of 28 minutes and 40 seconds. I love this style of workout because you burn fat and build muscle and endurance in a short period of time with zero equipment."
3
Protein and Healthy Fats
A typical breakfast for Ho is "an omelet at 8 a.m. with two eggs, one cup of spinach, half a cup of mushrooms, one chicken sausage, and one cup of pico de gallo." Lunch consists of "a chicken salad at 12:30 p.m. with five ounces of roasted chicken breast, four ounces of butter lettuce, two tablespoons of raw sliced almonds, half a cup of cherry tomatoes, and two tablespoons of strawberry vinaigrette… At 7 p.m. I had six ounces of miso-flavored tilapia with one cup of quinoa, one cup of sautéed spinach, one cup of roasted butternut squash, and two tablespoons of Sriracha."
Ho keeps track of her diet by recording every meal. "Journaling what you eat is important," she says. "It doesn't matter if you have the memory of an elephant or need to jot it down, keeping track of what's going into your body can help you make changes and tweaks along the way. My food diary not only lets me see the choices I'm making throughout the day, but it gives me something to celebrate at the end of a busy day and helps me plan meals for the week."
Ho sees the silver lining in every setback. "I always define my 'why,' whether it's with fitness, business, or anything — if you have a really strong 'why,' you need to let it guide you," she says. "I find that when I'm not motivated, it's because I don't have a purpose, or it's a weak purpose that I don't really care about… Failure is going to happen, and failure is learning. But failure is actually necessary because it is the best teacher. I've learned my hardest lessons and have become a better leader, a better designer, a better creator because of my failures."df44d9eab23ea271ddde7545ae2c09ec
Ferozan Mast is a science, health and wellness writer with a passion for making science and research-backed information accessible to a general audience.
Read more
---