Sommer Ray Shares Swimsuit Photo "Tuuubin'"
Here's how this fitness influencer stays in shape.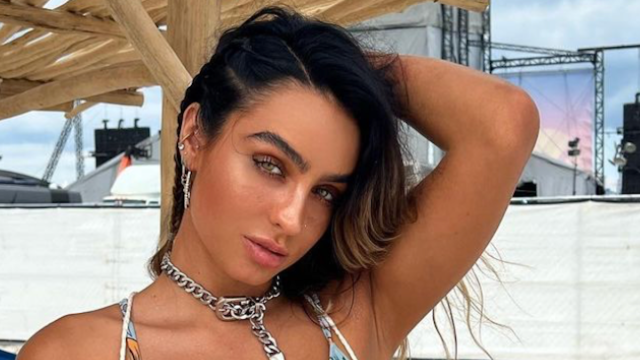 Fitness model Sommer Ray is enjoying summer fun and activities on a trip to Colorado. Ray, 26, shared pictures of herself posing next to two inner tubes in a black and white cheetah-print bikini, against a background of mountains and trees. She completed the look with a hat, sunglasses, and tank top over her swimsuit. "Tuuubin'," she captioned the post. How does she stay so fit? Read on to see 5 ways Ray stays in shape and the photos that prove they work.
Ray keeps her protein intake high to fuel her workouts. "I try to eat 70 grams of protein a day to maintain my glute muscle mass by starting most mornings with a protein shake, my first of six small meals throughout the day," she says. "Sometimes I'll prepare grilled chicken, veggies and steamed white rice for each of these meals, but more often I'll eat out. I love In-and-Out Burger! I take my burger without the bun. Then I get my starch later from starchy veggies and whole grains."
Ray works out five times a week for 90 minutes at a time. Two of those workout sessions are focused on her glutes. "If my glutes are sore, I tell myself, 'I probably shouldn't work them today,'" she says. "I just listen to my body. There's not a certain exercise or specific workout that's beneficial. I switch it up every day and try to make it fun, because as soon as it feels like a job, you don't want to do it."df44d9eab23ea271ddde7545ae2c09ec
Ray doesn't believe in working out for short-term benefits, instead emphasizing how important it is to have a healthy lifestyle. "I feel that people lose motivation when they get motivated for the wrong reasons," she says. "Girls may want to workout for that summer bod, or after going through a bad breakup. But I always make sure my motivation comes from the intent of my wanting to better myself."
4
Self-Confidence and Competition
`
Ray says she only competes with herself these days. "I started competing in the NPC [National Physique Committee] when I was 16 years old," she says. "I stood next to girls in their 20s/30s and was being compared to them, yet nothing was comparable—we were simply at different stages of life (muscle doesn't mature until you're in your 20s). So believe me, I know what that feeling is like. But honestly, I never compared myself, so it didn't matter that the judges did. I was confident in the hard work and the dedication I put in for myself. So at the end of the day, I know myself and I'm content in the woman I am. And when you are, you are incomparable. My only competition is myself and wanting to better myself everyday."
5
Relaxing on the Weekends
Ray works hard and knows how important it is to relax and reset. "On the weekends, and on some weekdays, too, I also like to have a drink — typically, tequila — and whatever else I'm craving," she says. "If I want a slice of pizza, I have a slice of pizza. I want to look good, but I also want to enjoy life."
Ferozan Mast is a science, health and wellness writer with a passion for making science and research-backed information accessible to a general audience.
Read more
---