Speed Skater Alexandra Ianculescu Shares Swimsuit Photo of "Pool Party"
Here's how she stays in shape.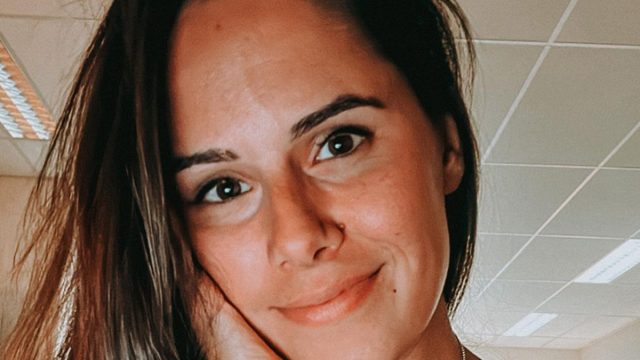 Speed skater Alexandra Ianculescu, isn't afraid of showing off her figure. Her Instagram is full of revealing photos and she even has an OnlyFans. Ianculescu shared a new reel on Instagram this week. In them, she wore different swimsuits while doing different activities. She captioned the post, "Some of this week's bikini choices ✨ I have a few others I haven't posted yet but might post photos with them eventually. Which one do you like the most?" How does she stay so fit? Read on to see 5 ways Alexandra Ianculescu stays in shape and the photos that prove they work.
Ianculescu shares a lot of her favorite workouts on Instagram. One thing she likes to do is surf. She shared this video of herself surfing in the ocean. Ianculescu captioned the post, "Summertime love coming slowly to the end." Better Health states, "Surfing provides many health benefits including: Cardiovascular fitness – from paddling. Shoulder and back strength – these muscles will strengthen from the paddling. Leg and core strength – once you're standing up on the board, strong legs and a strong core will keep you up."
Ianculescu is an avid biker. She shared a bunch of posts on Instagram of herself going on bike trips or using a stationary bike. In these highlights she posted from Palma de Mallorca, Ianculescu is seen biking in the mountains. She also shared this video of herself using a stationary bike, captioning it, "On days when you don't have access to riding at altitude, you simulate Stelvio's altitude feels inside an altitude chamber which allows you to simulate putting your bike on top of some of the tallest peaks. Working out in the altitude chamber improves metabolism, fitness and body composition in a relatively short period of time. No better prep when you only have access to flat lands in the Netherlands."
Ianculescu makes sure to be consistent with her workouts. She talked about this in the caption of this Instagram post. "Not 100% yet but using this opportunity to continue being consistent with the little things that my body can handle, before I turn things up on both the bike and in dry land training next week. Patience is the key. And consistency is what's going to get me to where I want to go."df44d9eab23ea271ddde7545ae2c09ec
One thing Ianculescu does to stay in shape is weight train. She shared this video on Instagram of herself lifting a barbell. Ianculescu captioned the post, "Training to improve, not to impress. Working on myself, for myself. With this new training program coming up, I'm pretty excited to keep the same goals, same grind, same routine, but with a different attitude. Realizing that I made some progress, but not satisfied with how it's all coming along. I know I'm capable of so much more, and know my body well enough to know when to push it, and when to back off. I've burnt out 3 times before while training with a different program that rushed my progression & I felt the red flags yet refused to listen to when I needed to back off. I am now In complete control of my training program off the bike, and I'm so grateful that as a personal trainer I can write myself a mix of training blocks to help build what you can't get on the bike."
Speed skating isn't the only winter sport Ianculescu likes to do. She also likes to go skiing. Ianculescu shared these photos on Instagram of herself in Chamonix, France. In one, she is seen skiing on a mountain. Skiing has a lot of benefits. According to a study in Frontiers of Physiology, "Results indicate that downhill skiing, especially when performed on a regular basis, may contribute to healthy aging by its association with a healthier life style including higher levels of physical activity."
Anna Bechtel is a freelance writer currently based in Hamden, CT.
Read more
---