Swimmer Andreea Dragoi Shares Swimsuit Photo From Swim Week
Here's how she stays fit.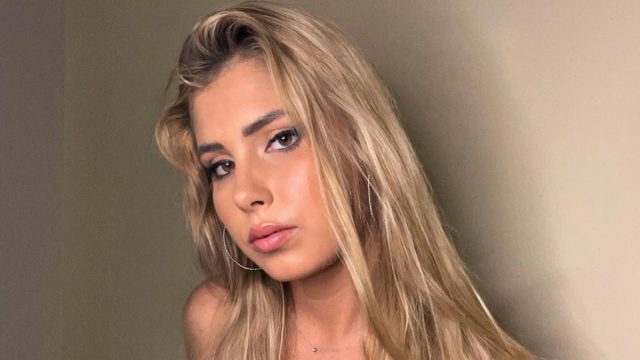 Andreea Dragoi has become a big name in swimming. This has led to her getting many other opportunities. She recently got the chance to model for New York Swim Week. Dragoi shared a video of herself on the runway on Instagram this week. In it, she modeled a white one piece. How does she stay so fit? Read on to see 5 ways Andreea Dragoi stays in shape and the photos that prove they work.
Swimming is naturally the main way Dragoi stays in shape. Swimming.org states that the sport has a lot of benefits. "Swimming uses all the muscles in the body so whether you swim a gentle breaststroke or hammer butterfly, you will get a full body workout. Plus, exercising in water makes your body work harder so 30 minutes in a pool is worth 45 minutes of the same activity on land."
Being an athlete means Dragoi has to spend a lot of time in the gym. She shared some of her favorite exercises in this video she posted on Instagram. Dragoi doesn't skip leg day. In the video, she is seen doing standing back kicks and squats with weights. Dragoi captioned the post, "Gym highlights from the past week." Having strong legs are important, especially for swimming. 
Dragoi makes sure to do core workouts as well. In her Instagram video, she is seen doing push-ups. Harvard Health states that push-ups have a lot of benefits. "How many you can do at one time offers a real-time measurement of your strength and muscular endurance and is an easy tool to help you improve," says Dr. Edward Phillips, assistant professor of physical medicine and rehabilitation at Harvard Medical School. "You can do them anywhere and at any time. All you need is your body weight and a few minutes."df44d9eab23ea271ddde7545ae2c09ec
In her Instagram video, Dragoi is seen using weights to help with her exercises. Strength and weight training have a lot of benefits. Better Health states that these exercises can result in, "Improved muscle strength and tone – to protect your joints from injury. Maintaining flexibility and balance, which can help you remain independent as you age. Weight management and increased muscle-to-fat ratio – as you gain muscle, your body burns more kilojoules when at rest."
"A major source of vitamin D for most humans is synthesized from the exposure of the skin to sunlight typically between 1000 h and 1500 h in the spring, summer, and fall. Vitamin D produced in the skin may last at least twice as long in the blood compared with ingested vitamin D. When an adult wearing a bathing suit is exposed to one minimal erythemal dose of UV radiation (a slight pinkness to the skin 24 h after exposure), the amount of vitamin D produced is equivalent to ingesting between 10,000 and 25,000 IU. A variety of factors reduce the skin's production of vitamin D3, including increased skin pigmentation, aging, and the topical application of a sunscreen. An alteration in the zenith angle of the sun caused by a change in latitude, season of the year, or time of day dramatically influences the skin's production of vitamin D3," says the NIH.
Anna Bechtel is a freelance writer currently based in Hamden, CT.
Read more
---