Track and Field Star Queen Harrison Claye In Swimsuit Says "Sun Is My Filter"
No filters for this athlete.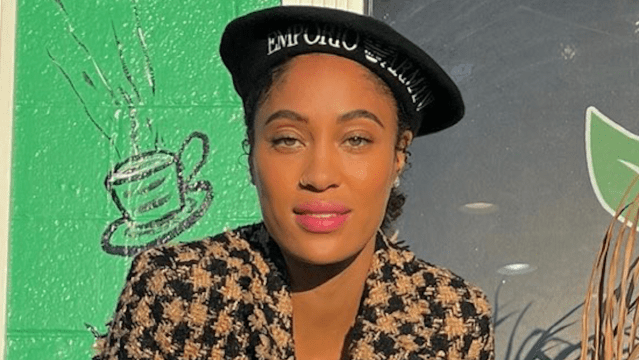 Olympic athlete Queen Harrison Claye doesn't need fancy filters and photo editing to look her absolute best, judging by some recent social media updates. Claye shared a picture of herself posing in the pool in a blue bikini, showing off her glowing skin and enviable physique. "A Summer in Hotlanta ☀️ 🌊 💙👙☀️ #thesunismyfilter," she captioned the post. The 34-year-old hurdler and sprinter is passionate about working out, incorporating a variety of different exercises into her regimen and even training as a dance instructor. Here are 5 ways Claye approaches health, wellness, and staying strong.
Claye enjoys fast and furious HIIT workouts like the one she shares in this video:
Jump rope for 30 seconds

Split jump for 30 seconds

Rest for 20 seconds

High-knee jump rope for 30 seconds

Mountain climber for 30 seconds

Rest again for 20 seconds

Jump rope for 30 seconds

Bodyweight squats for 30 seconds

Rest for 20 seconds

Double-bounce jump rope for 30 seconds

Finish with isometric squats for 30 seconds
2
Certified Dance Instructor
Claye lifts weights and does dance-based workouts on top of her usual running workouts. "I love to stay active. I do a lot of lifting in the weight room, which helps with my sprinting and hurdling. I love dynamic movement, but I also love to dance, which is a little-known fact about me. I'm a certified Zumba instructor. I love to express myself through dance… Whether it's the release of endorphins on a leisure run, or a competition that I've won, I love that I get to put forth my best effort," she says. "That feeling of accomplishment has done wonders for my emotional and mental health. I also like the simpler, physical aspects of it. I mean, how else am I going to get hamstrings and glutes like this, other than running my butt off?! Really though, I love it for all the things it's brought to my life and to myself. Running introduced me to my husband, and it's helped me support my family, so there are just so many great things about being a track athlete."
Claye does at-home workouts with her sisters, a habit started during the pandemic lockdowns. "Five days a week, my five sisters and I get on Zoom and we work out together," she says. "We all have a day—for example, on Monday I'll lead the workout and we'll do a high intensity interval type of training. And then on Tuesday, my baby sister leads the workout, so we'll do Pilates or yoga. And then on Wednesday, maybe a cardio day; and Thursday dance or something like that. What's been cool is staying connected to family and friends through working out. So that's what working out looks like to me now."df44d9eab23ea271ddde7545ae2c09ec
Claye has become diligent about protecting her skin from the sun over the years. "I won't lie and say that I've always used sunscreen," she admits. "I used to be that person that was like, 'I'm a Black woman. We really don't need sunscreen,' which is a falsity. Sometimes the issue with sunscreens is they'll leave a white cast on my complexion, but IMAGE Skincare PREVENTION+ Daily Matte Moisturizer Oil-Free SPF 32 works very well. It doubles as a moisturizer and sunscreen, so I'm not piling more stuff on my face when I have to work out and sweat. It's a two-for-one!"
Claye tries to focus on the positive when it comes to competing and not always winning. "In a perfect world, it'd be great to motivate myself to keep pushing no matter what, but sometimes I have to understand there will be defeat," she says. "Sometimes I won't feel my best, and I need to know how to navigate that. During those times, I try focusing on being the best version of myself. As a runner and hurdler, there are so many different aspects that I can improve: I can get faster on the track, I can get a better start out of the block, I can get over the hurdle faster, I can get stronger. So I just try to focus on something else, versus obsessing over how my hurdling is not going well on any given day."
Ferozan Mast is a science, health and wellness writer with a passion for making science and research-backed information accessible to a general audience.
Read more
---