Nick Kyrgios's Girlfriend Costeen Hatzi Shares Swimsuit Photo Saying "You'll Find Me Here"
Here are 7 ways she stays in shape.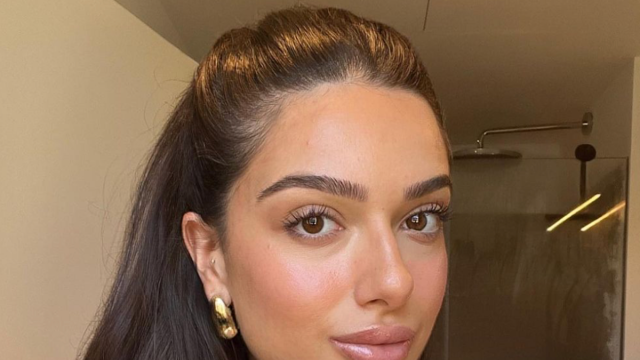 Costeen Hatzi is heating up Greece in her swimsuit. In one of her latest vacation posts, Nick Kyrgios's girlfriend shows off her amazing figure in an orange bathing suit while lounging on the beaches of Kos. "You'll find me here," she captioned a series of snaps shared with her Instagram followers. "Beauty," commented one. "So so hot," added another. How does the tennis star's gal pal maintain her fit physique? Read on to learn about 7 ways she stays in shape. 
When your boyfriend is a top tennis star, it is inevitable that you play as well. "Hitting the courts," Costeen captioned this photo of herself playing tennis. According to ACE Fitness it blends together cardio and aerobic exercise, as there is a lot of running around, and hand-eye coordination. "While tennis provides numerous health benefits—improved aerobic fitness and anaerobic endurance, muscular fitness (grip strength and endurance), flexibility, multiple skill parameters (balance, speed, agility and quickness), reactivity, and power—it also is psychologically demanding," they say. 
During a recent trip to Nassau, Costeen showed off her paddleboarding skills. "Paddle board series," she captioned the gorgeous snaps.  The American Council on Exercise (ACE) agrees that paddle boarding is great for the core and also a great form of cardio. The water sport can burn an average of 385 calories for a 140 pound male and 436 for a female the same size, per a study conducted by Arizona State University.
Costeen walks a lot, especially while she travels. "Exploring," she captioned an Instagram photo of herself taking a walk in Venice Beach. Going for a daily walk can be a game changer in terms of exercise, especially at a brisk speed. One study published in JAMA Internal Medicine found that walking at a brisk pace for about 30 minutes a day led to a reduced risk of heart disease, cancer, dementia and death, compared with walking a similar number of steps but at a slower pace.df44d9eab23ea271ddde7545ae2c09ec
Costeen likes to do Pilates. "Anyone else in love with Reformer Pilates and what it can do for your body? It's my new obsession, " she revealed in a post. Why is pilates a good workout? According to the Mayo Clinic there are lots of benefits to the workout, as it "strengthens the body's inner core while increasing its flexibility resulting in improved overall health. It can also promote longer, leaner muscles, injury prevention, relief from stress and back pain, enhanced athletic performance, and heightened mind-body awareness.
When Costeen needs to unwind, she picks up a book. "My new favourite read. Can't put this book down," she captioned a post. One Harvard study published in Social Science & Medicine found that people who read books regularly had a 20% lower risk of dying over the next 12 years compared with people who weren't readers or who read periodicals. 
Another healthy habit of Costeen's? She rides bikes. The Cleveland Clinic explains that biking, a low-impact aerobic exercise, is great for building muscle, improving strength and flexibility, and improving balance. It can also boost mental health and help other health conditions, including arthritis. 
Costeen enjoys the perks of coffee. In the summer, she prefers her daily cup of Joe on ice. According to the Cleveland Clinic, there are several benefits of drinking coffee in moderation. "It acts on your brain to improve memory, mood, reaction times, and mental function," they say, citing a study finding that caffeine can improve endurance and performance during exercise. It is also antioxidant-rich, can ward off diabetes, prevent neurologic disease, lower cancer risk, and ward off depression, they point out.
Leah Groth has decades of experience covering all things health, wellness and fitness related.
Read more
---