Olympian Haleigh Washington Shares Swimsuit Photo From "Camera Roll"
"Healthy habits pair nicely with self-love."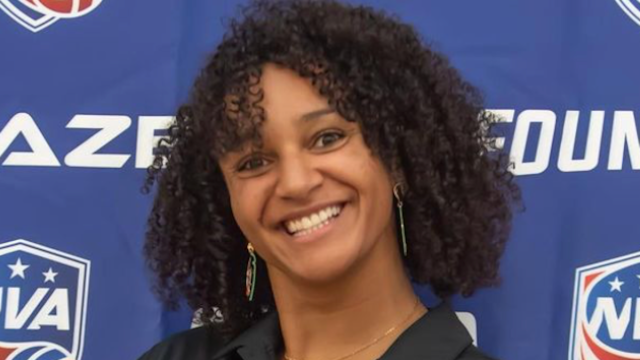 Olympian Haleigh Washington is sharing the contents of her camera roll with friends, fans, and social media followers. The volleyball player, 28, posted a selfie where she's posing in front of a mirror in a white swimsuit and black skirt. "Idk. I need to clear out my camera roll," she captioned the post. "Do I need to bring you some clothes? Signed gma," joked her grandmother in the comments section. Washington is refreshingly honest about what it takes to be a champion—here's how she does it.
Washington admits it's not always easy training as a professional athlete. "As athletes, we're constantly reminded of the importance of nutrition, hydration, sleep, etc," she says. "It's ingrained into our lifestyle to try and be as healthy as we can to improve our performance. We're lectured on calorie intake, when to eat, the importance of sugars, carbohydrates, and protein. We're taught that it's important to drink water every day and stay hydrated. Plus, we're constantly reminded that sleep is the best way to recover faster. Through all this reminding, we begin to build this image of what it is we want to look like once all is said done. Soon fit, sexy, and strong athletes will look back at us in the mirror. From then on, it'll just be about maintaining that physique. Sounds easy enough. News flash, it never is."
Washington is determined not to become obsessive about diet. "As I too strive to be the best athlete I can be, I'm learning that the best way to ensure that I'm adhering to my health habits is to cut myself a break," she says. "When I opt to eat a rice cake with Nutella on it instead of honey, I can't go nuts over the extra 10g of sugar. If I miss going to the gym for a day, I shouldn't mope around at home. Instead, I should stretch a little and set a reminder to get my butt there tomorrow. On the path to creating healthy habits I'm realizing there is no flawless journey. Everyone is going to slip up. The key is to allow the slip up to happen, forgive yourself, and improve."
Washington tries not to be hard on herself when she isn't being healthy. "While I'm chasing healthy habits, I can't cut myself too much of a break," she says. "I should, of course, be focused on what it is I want to achieve and be committed to the habits I want to form. I set goals for myself, both long term and short term. I do what I can to make it easier to achieve said goals. For example, I try to avoid buying junk food and sugary drinks. But, I also need to remember to be compassionate enough to realize that I'm only human and chocolate cake is too damn good to pass up. That's ok. Healthy habits, like diet, sleep, and hydration, pair nicely with self-love. If I can focus enough on achieving my health goals while also loving myself throughout the entire process it becomes a lot easier to get to where I'm trying to go."
df44d9eab23ea271ddde7545ae2c09ec
Washington was philosophical about recovering from injury. "Volleyball-wise, each day I'm feeling stronger," she says. "If any of you have experienced this, coming back from injury can be very very hard, both physically and mentally. But it's great to be back in the gym. It's definitely very different from playing in Penn State, (if I ever finish writing South Gym Soldiers you'll understand what I'm talking about) but it's still like any other work day. You go as hard as you can! Here, in Ravenna, it's important to remember that quality can be better than quantity. So I try to do my best every single time I'm in. The funniest part, I'll make some kind of stupid mistake and hear Russ in the back of my head chirping about how that can't happen and I'll see him making a note in his book. Some things never change." 
Washington is passionate about literature. "There's something about being able to turn to a dog-eared page that has a coffee stain on it from when you were reading in a café three months ago that just makes the book so much closer to your heart," she says. "It's marked-up, it's dog-eared, it's burnt, the spine is broken because you use it all the time. Even if you were to lose that copy tragically, you'll get a new one, and you get a new adventure with this new book that still speaks to you, but now you get to mark it up."
Ferozan Mast is a science, health and wellness writer with a passion for making science and research-backed information accessible to a general audience.
Read more
---