Pro Boxer Holly Holm Shares Swimsuit Photo From Santa Barbara
This is what she eats every day.
Professional boxer and MMA star Holly Holm took a break from her incredibly intense training regimen to enjoy the sun, sea, and sand on a trip to beautiful Santa Barbara, California. Holm, 41, shared a picture of herself soaking up the sun on a boat, wearing a white one-piece swimsuit with shorts and dark sunglasses. The athlete looked serene and calm, a world away from her usual high-energy competition attitude. "Legend/ one of the greatest female fighters ever," a fan commented. Here's exactly what Holm does to earn that accolade.
Holm says she relies on body weight to get her powerfully sculpted arms. "I do some strength training but most of what I do as far as arms is bodyweight," she says. "I'll do pull-ups, pushups and dips. Of course with fighting, we're constantly using our arms punching. In the clench you're wrestling around with other people so they're constantly being worked. I don't ever use really heavy weights with my arms."
2
Strength Training Workouts
Holm shares videos of her workouts on social media. "'What do you do for strength training?' Is always a common question," she says. "I do a variety of many different workouts. A big majority of them are just using body weight. Pull ups being something I do frequently… we change them up… some on the rings, some on the bar, some chin ups, wide grip, narrow grip, some kipping some strict, some with a slow tempo, some explosive and fast. Today we finished with strict pull ups focusing on bringing the bar to my chest instead of just getting the chin to the bar. Thank you @teamturningpoint for your constant push."df44d9eab23ea271ddde7545ae2c09ec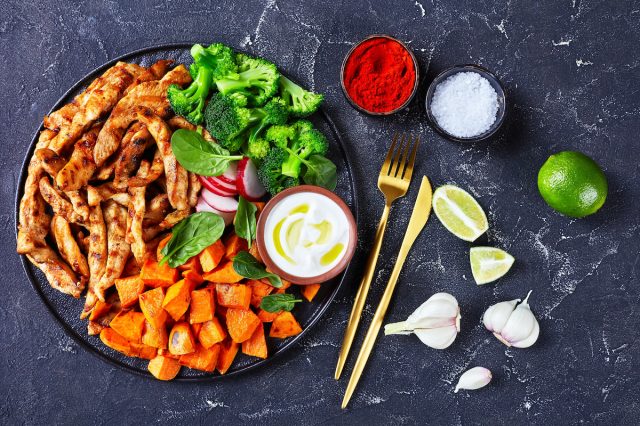 Holm's enjoys a healthy diet with a strong focus on quality protein. "[For breakfast] I eat a bit of protein (eggs, protein shake, protein bar, chicken, beef) and some almond butter in the morning," she says. "Sometimes I'll make a mixture of coconut milk, chia seeds, hemp seeds and flax seeds to eat as well. It depends on the morning. Lunch usually consists of chicken breast over salad with light dressing. I love a good salad with greens and nuts, maybe some berries as well. [Dinner is] any kind of protein (beef patty, lean pork loin, grilled fish, grilled chicken) and some kind of side with it, like salad or asparagus or Brussels sprouts. Sometimes I dice up sweet potatoes and bake them with a bit of olive oil."
Holm likes peace and quiet before a fight. "I just like to be in my own peace and quiet," she says. "I don't listen to music or have any music on in the locker room. I just focus and zone in. If I feel like I need music it's because I'm needing the distraction and worked up too much. So I figure if I can't focus long enough to think about the fight, maybe I shouldn't be doing it anymore. I'm fine with my own peace and quiet."
5
Importance of Confidence
Holm emphasizes how important confidence is for a fighter. "I think it's good to have confidence in yourself with what you do in life," she says. "You need to feel like you can accomplish things or else, how are you going to get there? If you don't feel like you can do it, then how are you going to do it? You have to have confidence in yourself, but I definitely want to be very honest and real with myself at the same time. I'm trying to keep a good balance. I want to have confidence that I can accomplish these things. I don't think there's anything bad about it."
Ferozan Mast is a science, health and wellness writer with a passion for making science and research-backed information accessible to a general audience.
Read more
---