Gymnast Rebeca Andrade Shares Swimsuit Photo as "This Wonderful Woman"
Here are the lifestyle tips she swears by.
Olympic gold medalist Rebeca Andrade is getting a very sweet shout-out on social media from boyfriend Luiz Cleiton, who posted a video of the athlete. Andrade, 24, is seen posing in a purple and green bikini next to a pool, stretching in the sunshine. "Post to honor this wonderful woman next to me. Happy 1.4 to us. 🥳 Thank you for everything you have done and do for me. I am very grateful to have you as my life partner. I love you too much ❤❤❤ ," Cleiton captioned the post. "Happy day baby, I love you! ❤️I'm thankful to share life with an amazing man like you!" Andrade responded in the comments. Cleiton's video showed just how muscular and fit Andrade is—here's how she does it.
`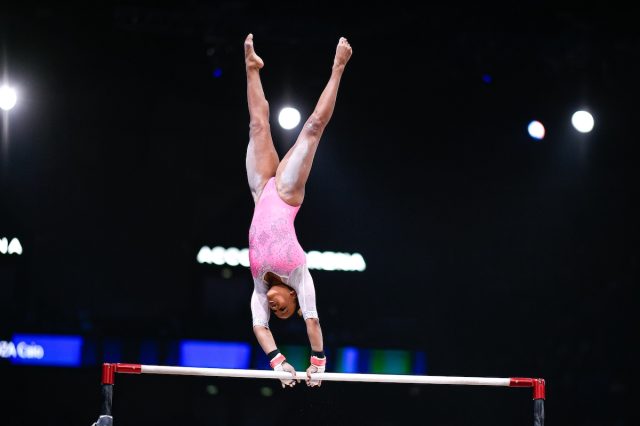 Andrade says there is one piece of equipment she will never get bored of. "What gives me the most individual pleasure are the parallel bars," she says. "They are my favorite. I love it. If I could, I would work with them my whole life. But what I imagine doing best is jumping. I believe that coaches, teachers and people think the same way. After all, I won Olympic gold on this device, right?"
2
Relationship With Coach
Andrade says a good relationship with your coach is essential for success. "I talk a lot with my coach and we trust in each other," she says. "We always try to be really safe, and do floor in the correct moments. He believes in me. I'm never going to lie to not do it. So, when I really tell him that I can't do it, it's because I cannot and he always respects that… The main goal is to be healthy and happy."
Andrade reminds herself to be grateful for everything she has achieved so far. "I remember when I first stepped into the Olympic Village in Japan, I said to myself, 'Oh my God, help me because all I want in life right now is to leave here happier and more gratified than I am right now, on arrival'. And so it was," she says. "We had colleagues on the team, like Flávia, who were in trouble. In her case, she felt her foot. But we were united, all looking for the best, showing the team's potential, and that's what we saw."
4
Dancing In Her Downtime
Andrade loves dancing in her down time. "[I love] going to the beach, I love cinema and I really enjoy singing, dancing and playing my keyboard," she says. "I sing everything: country music, pagode, samba, MPB, foreign music… I'm also very happy in the moments when I'm calm in my singing with Luiz Ramos, my boyfriend. He is also an athlete, bodybuilder. He pulls some irons. We help each other and exchange incentives."df44d9eab23ea271ddde7545ae2c09ec
5
Happiness and Health First
Andrade is philosophical about the reality of winning and losing. "I want to be happy. Happy and healthy," she says. "Like I always say, the result is a consequence of what I did before. Sometimes, the best you wanted doesn't happen, you know. But if I'm happy, if I've been sure that I did my best inside on the floor, if I'm sure I wouldn't change anything, do anything differently, if I did my best technique, if I gave my best smile, if I was on my best day of joy and everything, I think it's worth it for me. Life is made of wins and losses. It's part of it, and I'm prepared for whatever may come. So, I really want to be happy. I want to be healthy to be able to do my best and show as much as I can to the world once again and be proud of the athlete that I am."
Ferozan Mast is a science, health and wellness writer with a passion for making science and research-backed information accessible to a general audience.
Read more
---