Rick and Morty Star Cassie Steele Shares Swimsuit Photo of "Boyfriend Effect"
Here are her lifestyle tips.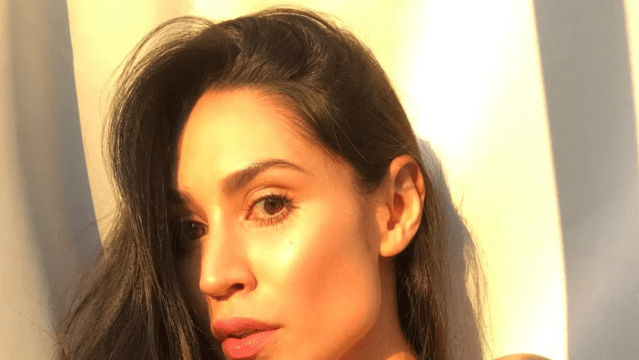 Rick and Morty star Cassie Steele is joking about how her style has changed since getting into a relationship. Steele, 33, who plays Tricia Lange on the Adult Swim show, shared a video of herself with a before and after—before in a bikini, and after with her hair in a messy bun—joking that "The BF effect is REAL and can be permanent." "The Evolution of Cassie! 😍" a fan commented. Steele has been acting for years—here's how she balances her life.
Steele loves to read and journal. "I started writing a journal when I was in grade school, and I've filled about 40 since then. I love to write—whether it's songs or poems or dishing on people who bug me," she says. "It's nice to have something that's so physical and present. It's not like working on a computer. The Dirt, Mötley Crüe's autobiography, is one of my favorite books. I've read it so many times I feel like I know the band. I used to be in love with them. They were my teen crushes. I still want to date Tommy Lee."
Steele moved to Colorado from Los Angeles and loves it. "I needed a change and I had some working opportunity here, so I made the move and I just really love it," she says. "I just wanted a change of scenery and I was going through a divorce at the time, and I didn't plan to live of here full time, I just fell in love with it and just happened. I feel like I've done my time in L.A."df44d9eab23ea271ddde7545ae2c09ec
Steele is a singer as well as an actor/voice actor. "I always knew I loved to sing, but the idea of it being a career didn't come to me until AFTER I made my first album at 14, which I had done for fun, as I loved to write and sing," she says. "Some lyrics are meant to be metaphorical, but the songs themselves are all based on my own relationships and emotions. [Mad] represents so much of my teen years up until not long ago. I'm so happy to share it with everyone. I believe it's an anthem for my generation; it lets every one of them know it's okay to be themselves and [that they can] break through the mold that was shaped around us by the fear of what others think of us."
Steele deeply appreciates the impact her role as Manny Santos on Degrassi has had on her life.  "It's very hard to say because when you grow up with it for so long, it's hard to quantify what a cultural big deal is," she says. "It's hard to quantify what it is. So I feel I'm still a little removed from it, but it's always really fun to see people's reactions. When I was doing a lot more music in my life, I had a lot of people who were coming to my shows and on some of the tours with me that were big fans who had seen me through Degrassi. And I was always really thankful that they had taken such an interest in me that they wanted to follow me on a tour or go to my shows and buy my music."
Steele loves connecting with her fans. "You definitely want your fans to see the real you and not something that's written for you, not someone who's tweeting or Tumblr-ing for you," she says. "They want to know you and I think they deserve it. For all their time watching you and supporting you, they deserve it. I just like to really connect with them. But there definitely is a large part of my life that I keep private and that's what you don't see on there. So, you can imagine all the private secrets I have! [Laughs.] I'm just joking."
Ferozan Mast is a science, health and wellness writer with a passion for making science and research-backed information accessible to a general audience.
Read more
---