Softball Star Danielle Lawrie Shares Swimsuit Photo of "Cuddles and Cliff Jumps"
Here are her lifestyle tips.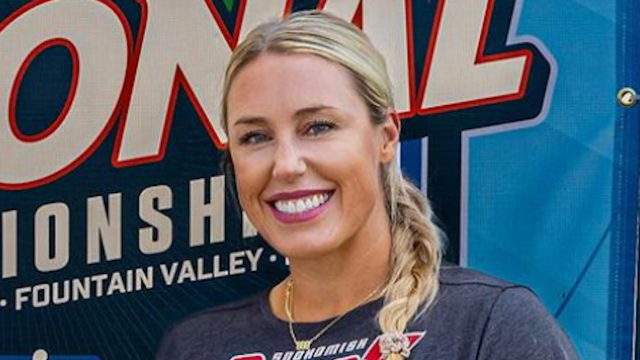 Olympian softball star Danielle Lawrie had a magical trip to Chelan, Washington with friends. Lawrie shared snaps from her trip on social media, including one of herself wearing a swimsuit and green hat while on a boat in the sunshine. "Cuddles, cliff jumps & solid hangouts with @htarr22 and the crew in Chelan! Days that will forever be engrained in my mind 🥹," she captioned the post. Lawrie worked hard to get to the Olympics—here's how she trains, has fun, and stays so fit.
Lawrie practices intermittent fasting and enjoys protein-filled bowls for healthy meals. "I fast from 8 PM until 12 PM the next day .. so around 16 hours!" she says in a video posted on Instagram. "I do have coffee and creamer in the morning so if you seem to think that breaks the fast totally fine but I need coffee pre-workout ! Today's workout was a 45 minute hit still cardio and I did a 20 minute upper body lift at home."
According to coach Heather Tarr, Lawrie being a mother has made her an even better athlete. "It's interesting, because she has that little X factor of, she's given birth. It gives you so much strength and power, but also perspective," Tarr says. "She's as competitive as she ever was. She's as strong as she always was. Now, she hasn't pitched in competitive games. You can't do anything about that. But I think that's going to be for her like riding a bike, where she has all these other strengths she's gained by getting married, having kids, balancing being a mom, all that stuff you don't get to be and do in college."df44d9eab23ea271ddde7545ae2c09ec
Lawrie loves training with her kids, and has gone viral for a video where she is pushing her daughter during a workout. "I love that a video like this is gaining some momentum because to me raising strong kids is the best way," she says. "The world is already tough, so why not make our kids even tougher to be able to handle whatever is to come? Pushing through adversity and not allowing your children to give up is pushing them to believe in themselves even when they didn't think it was possible… I'm so proud that she's gotten to see me grind the way I have because it's opened that door for her. If momma can do it… you surely can."
Lawrie no longer obsesses about winning or losing. "I have these two amazing, loving kids and this husband and this life that I created for myself that allowed me to realize that softball isn't life," she says. "And this sounds bad, but I am no longer determined by a win or a loss, right? It's how I choose to go about my business every day. It's how I choose to spread kindness. It's how I choose to grow this game."
Lawrie has the respect of her teammates, who appreciate her honesty. "She doesn't care about being liked," says Jenn Salling. "What she cares about is being respected, and what she cares about is the team winning. People might not always love how DL says things — because it can come off very aggressive and harsh and brash. But what makes it so good is that there's never any room for gray areas. You don't walk away going, 'Oh, what did she mean?'"
Ferozan Mast is a science, health and wellness writer with a passion for making science and research-backed information accessible to a general audience.
Read more
---