Southern Charm's Madison LeCroy Shares Swimsuit Photo From the Beach
Her is how she stays grounded and fit.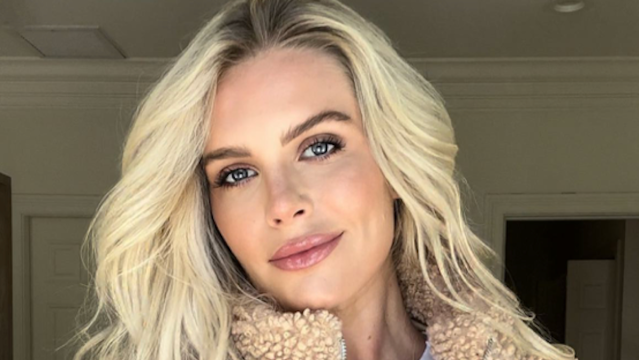 Madison LeCroy is a cast member of the hit Bravo series, Southern Charm. She is also unafraid to show off her figure on social media. LeCroy shared a revealing new photo on Instagram this week. In it, she walked by the ocean wearing a white swimsuit. LeCroy captioned the post, "Sometimes, you need to step outside, get some air, and remind yourself of who you are and who you want to be." How does she stay so fit? Read on to see 5 ways Madison LeCroy stays in shape and the photos that prove they work.
1
She Uses A Stationary Bike
LeCroy shares a lot of her favorite workouts on Instagram. She shared this video of herself doing workouts at the gym. In it, she is seen using a stationary bike. LeCroy captioned the post, "Shinin' all over my body." Biking is a great workout, and using a stationary bike is just as good. Penn State PRO Wellness states, "Riding a stationary exercise bike is an efficient and effective way to burn calories and body fat while strengthening your heart, lungs, and muscles. Compared to some other types of cardio equipment, a stationary bicycle puts less stress on your joints, but it still provides an excellent aerobic workout."
2
She Uses A Rowing Machine
In her Instagram gym video, LeCroy is seen using a rowing machine. Rowing is a great workout to keep yourself in shape. "Rowing has both an aerobic aspect to it and also a strength aspect," exercise physiologist Chris Dempers says to The Cleveland Clinic. "You can adjust the tension of the machine for a heavier pull and you're still driving through your legs. There's a postural aspect, working on the strength in your upper back. That's a big thing as we see so many people staring down at computers or phones all day. Improving that upper spine posture is important."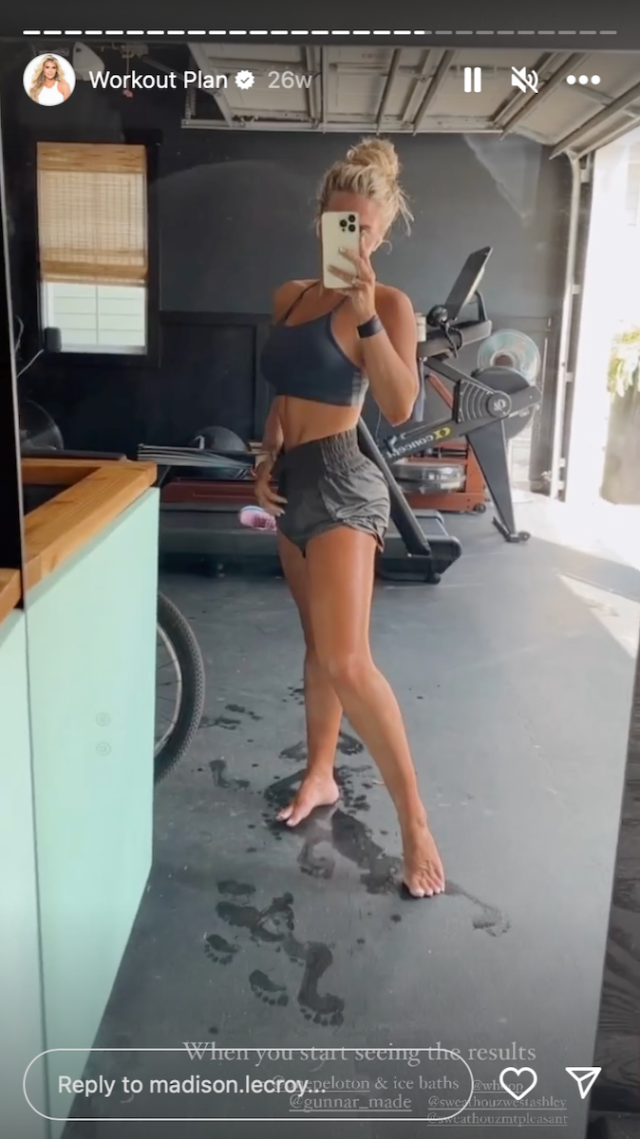 In her Instagram gym video, LeCroy is seen doing a lot of lower body workouts. She is seen doing Bulgarian split squats, hip thrusts with a machine, donkey kicks with a weight machine, and forward kicks. Harvard Health states that having strong legs are important. "Legs are the foundation for most activities," says Vijay Daryanani, a physical therapist at Harvard-affiliated Spaulding Rehabilitation Hospital, to the website. "They're home to some of the body's largest muscles, and building healthy legs can improve one's performance, reduce injury, and increase endurance."
LeCroy likes to run to stay in shape. She shared this video on Instagram of herself running with her trainer, Gunnar Made. LeCroy captioned the post, "Not only is he a coach, but he's my accountability coach. @gunnar_made mad-made program drops this Monday around two baby." Running has a lot of benefits. Better Health states, "The difference between running and jogging is intensity. Running is faster, uses more kilojoules and demands more effort from the heart, lungs and muscles than jogging. Running requires a higher level of overall fitness than jogging. Both running and jogging are forms of aerobic exercise. Aerobic means 'with oxygen' – the term 'aerobic exercise' means any physical activity that produces energy by combining oxygen with blood glucose or body fat."df44d9eab23ea271ddde7545ae2c09ec
LeCroy loves to golf to keep herself in shape. She shared this video on Instagram of herself on the course. She captioned the post, "Beginner's luck might be a thing." Golf has a lot of benefits. Better Health states, "Walking an average course for a round of golf can be between five to seven kilometres. If you walk 18 holes three to five times a week, you'll get an optimal amount of endurance exercise for your heart. If you pull your clubs or carry them, you'll burn even more calories each round and benefit even more."
Anna Bechtel is a freelance writer currently based in Hamden, CT.
Read more
---