Tennis Star Aryna Sabalenka Shares Swimsuit Photo From Mallorca
Here's what her workouts look like.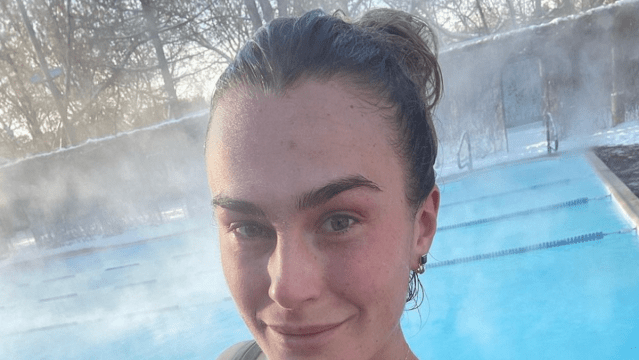 Belarusian professional tennis player Aryna Sabalenka took some time over the summer for some much-needed rest and relaxation in Mallorca, Spain. Sabalenka, 25, shared pictures of her trip, including ones of her posing in a cheetah print bikini, standing on rocks by the ocean. She also shared a video of herself paddleboarding in the water. "Few days off🤩 #good #recovery #isthekey," she captioned the post. "Well deserved! Enjoy life! 🙏😎🙋🏻‍♂️🧞‍♂️🎾" a fan commented. How does Sabalenka have the edge over her competition? Here's how she trains hard—and plays hard.
`
Sabalenka has learned to focus on playing her best, no matter how she feels. "I've been really aggressive on court since a very young age," she says. "And sometimes when you're not feeling your best, someone from outside could watch your match thinking, like, Oh, my gosh—she's crushing it, she's playing amazing, but you're feeling like, No—the ball is not going the right direction. When you're just not feeling your best, this thing can just destroy you inside, and you'll start going crazy, missing a lot for no reason. So it's really important just to do your job and not care about the feelings—to learn how to play your best when you're not feeling your best. If the ball is going in, it's okay for today."
Sabalenka shared a typical workout via her social media. "And we start over again 💪👌🤞," she captioned the post, which shows the following movements:
Knee Tap Toe Squat
Split Stance UL OH Rot Press (Heels Up)
OH Anti Rot 1
OH Anti Rot 2
OH Anti Flex 1
OH Anti Flex 2
Stick T-Spine Rot (Tension)
Kneeling T-Spine Rot (Resisted)
UL Hip Rot
Sabalenka shared a circuit workout via her Instagram:
"Another CIRCUIT for you guys🙂
Open – Activate – Stabilize Hit the Floor, the Pelvic Floor😉
Rotational Shift to OH Swing X30sec each

Kneeling Rotational Row X30sec each

Wall Sit OH MB Swings – Right to Left Hips Alternates X30sec

Lat Weighted Hip Shifts X30sec

RFE Heels Up Rot Swings X30sec each

Breathing Sit up w/ Towel X 30sec

Wall Sit- OH Swing Wide Base- Center Swing X30sec

Cable Reverse Woodchop – Standing with Weightshift X 30sec each
Do as many rounds as you like🙂Have fun 😎
Sabalenka is adamant about living a balanced life. "In the days after I've finished a tournament, you definitely need that time to relax," she says. "Of course, that's the perfect time to go for dinner and either finish with a drink or have some with dinner. That can create such a fun, amazing atmosphere. I think it's really important to have that good balance where you're professional, working hard, but also where you can have those days where you completely forget about the tennis life, switch off, and do something to chill and enjoy."
Sabalenka allows herself to relax with tequila and steak. "It depends on the mood—if I'm not in a good mood, I'll just go for a shot," she says. "If I'm in a good mood and just want to enjoy my night, I'll go for a margarita. I'm pretty good at controlling myself—I'm stopping myself after a couple of shots—but I do like tequila, especially a good one. To the vegetarians who are going to read this, I'm so sorry—but I really love eating steaks."df44d9eab23ea271ddde7545ae2c09ec
Ferozan Mast is a science, health and wellness writer with a passion for making science and research-backed information accessible to a general audience.
Read more
---