Top Chef Star Padma Lakshmi Shares Swimsuit Photo, Stunning at 53
This is the workout she says transformed her body.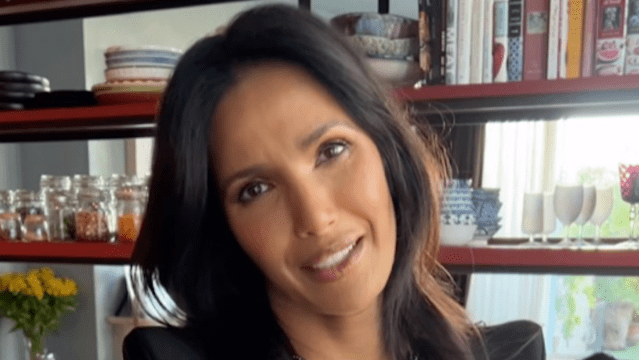 Former Top Chef star Padma Lakshmi turned 53 in September, and she has never looked or felt better. Lakshmi shared stunning pictures of herself posing in a variety of bikinis on the beach, looking confident and gorgeous in her skin. "This year I was so blessed, with family and friends who were there for me, cradled me, uplifted me, made me laugh, and reminded me of how rich a life we can live- if we are open to change. I won't say it's been all roses, there have been moments of serious anxiety, insecurity and just feeling lost and low. But then even in those moments, I realized there was a benefit to be had. A muscle to be strengthened. My heart is open and I am so very grateful. What a glorious year of growth and gratitude. These pics were of course a milestone, but just the tip of the iceberg. I love you all for being here with me, thank you for following along. I really like your company. 💖," she captioned the post. Here are the simple lifestyle rules Lakshmi lives by.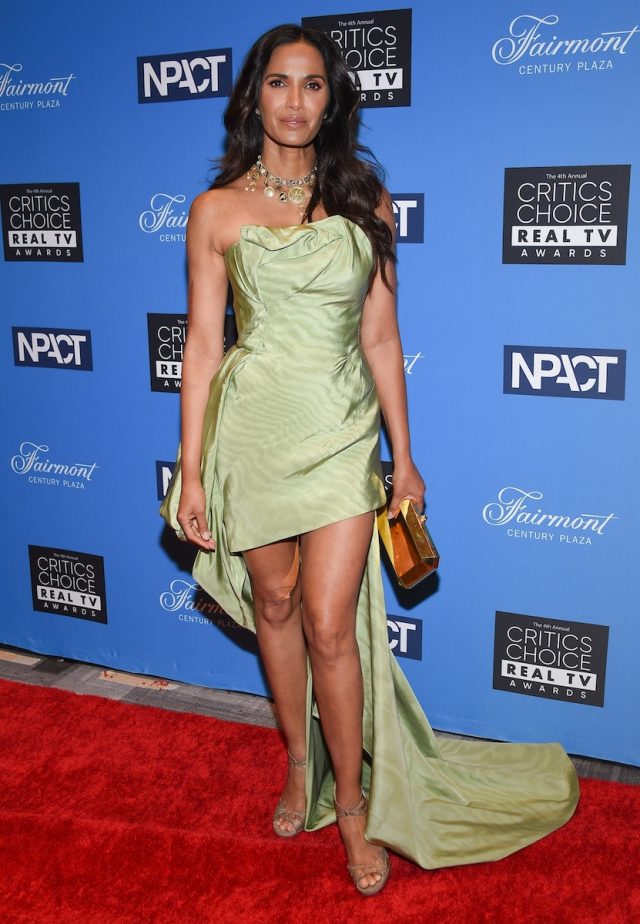 Lakshmi swears by Pilates, saying it transformed her body. "I do everything. If I think it'll help, I do it," she says. "I box, I jump rope, I do calisthenics—old-school pushups, and mountain climbers, and sit ups. Things you can do on the floor without any help. But I also go to the gym—the grungier the gym, I find, the better, because they're the ones that have the real machines. I also do a lot of Pilates. I've found that in the way that boxing transformed my body 15 years ago, Pilates has really done that for me now."
Acupuncture sessions have been part of Lakshmi's wellness routine for years. "I do acupuncture—[my acupuncturist's] name is Maryanne Travaglione," she says. "She's been my acupuncturist, gosh, I would say for at least a dozen years. She was with me in the hospital when I gave birth, because I wanted to have acupuncture for pain control. I had a very difficult pregnancy, and I wanted to be lucid when my child was born. It is not a substitute for something that is chemically imbalanced—it's not going to revolutionize your life. But it can help something like a stiff back, or menstrual cramps, or insomnia."
3
Lots of Fruit and Vegetables
Lakshmi eats a diet heavily focused on whole foods. "I'm much more simple about my food choices as I've gotten older and become a mother," she says. "It's also just what's happening in food, right? We're all eating more whole, less processed foods. I've actually gone back to eating a lot like I ate when I was a child, which is really mostly plant-based. Once in a while some bacon or veal, but mostly it's just poultry and fish. A lot of lentils, a lot of beans—50% of my diet is fruits and vegetables. For breakfast today I had a big bowl of pomegranate, and then I had a big bowl of avocado. I had one egg, and one piece of sourdough toast. So, there is protein and starch, but it's mostly fruit and vegetables. I try to do that every meal."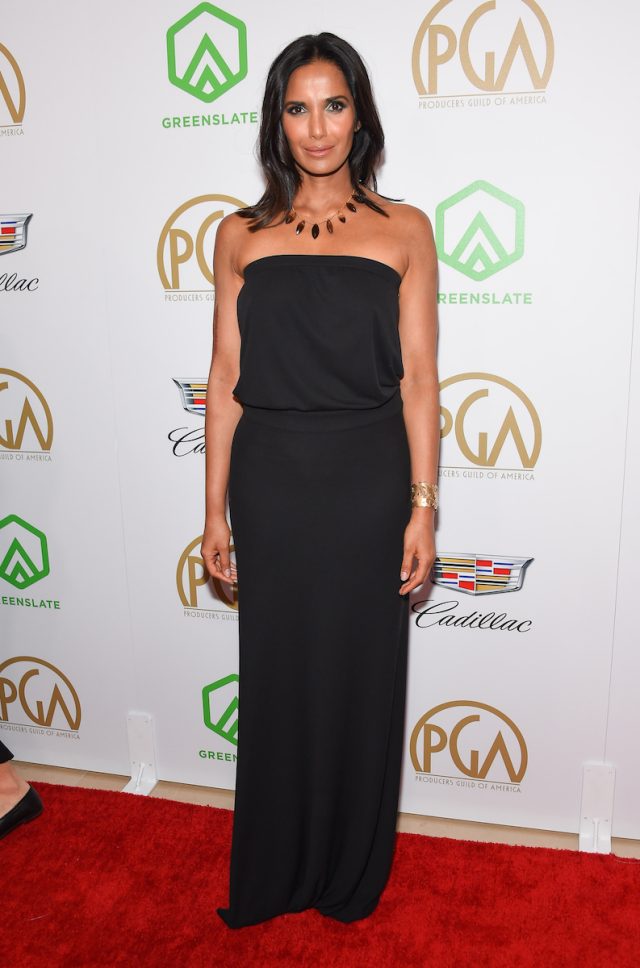 Lakshmi loves using tea tree oil for her skin. "You can get it at Whole Foods or even Trader Joe's sometimes," she says. "Get a little bottle and keep it with your other skincare. You know, when I'm doing Top Chef, I'm putting on TV makeup every day, and all day they're adding powder, so my skin can get clogged and I can break out. So I always just ask for a big bowl of boiling water (you can just make it with a kettle), and I put five or six drops of tea tree oil in that boiling water. Then I take a big towel, put it over my head, and I steam my face. Just like you'd do with Vicks VapoRub if you had a cold. And it can sting—even the steam can sting your lips sometimes. But it's really good because it gets that antiseptic in there gently."df44d9eab23ea271ddde7545ae2c09ec
Lakshmi drinks 2-3 liters of water every day and eats plenty of yogurt. "When I'm home, I make sure that half of my diet is fruits and vegetables," she said in 2021. "I'm 51 and I think that's why my skin now looks good because I've nourished it properly. People always ask me what I put on my skin and sometimes it's not what you put on your skin topically, it's really what you put in your body."  Lakshmi uses a DIY honey mask on her skin as part of her beauty routine. "It has anti-inflammatory properties; it's a smoothing agent and exfoliant," she says. "The suction pulls out all the impurities… When I'm going on camera, I make sure my face is extra even but when I'm not on camera I don't really wear that much makeup. I try to let my skin rest."
Ferozan Mast is a science, health and wellness writer with a passion for making science and research-backed information accessible to a general audience.
Read more
---