Comet the Gladiator Shares Swimsuit Photo of "Happiest Version of Me"
She's a personal trainer and social media star.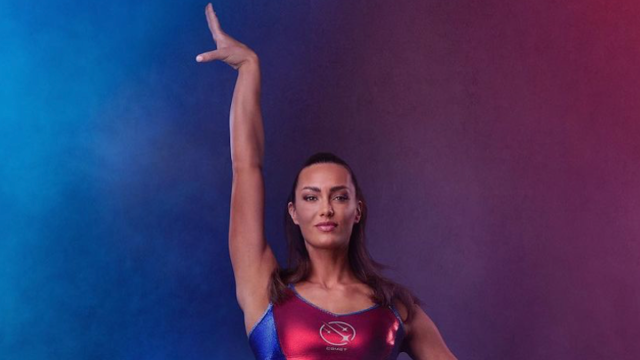 Comet the Gladiator, real name Ella-Mae Rayner, is showing fans and followers just what a difference muscle makes when it comes to body composition. The Gladiators star posted a side-by-side picture of herself wearing a swimsuit to explain how weight doesn't matter—health and strength does. "It's important to see these together and understand that the SAME weight on the scales can represent two totally different physiques. The reason for this is because scales do not tell us our body composition, which means they can't scan us to show the ratio of fat, muscle and bone mass we have. This is why bodies can sit at the same weight but have a totally different aesthetic, muscle and fat have different densities, fat takes up more space whilst muscle is denser and more compact so our visual look differs depending on the ratio of these even if the weight is the same. Here's to the strongest happiest version of me and a reminder to not let weight determine how far you have come 🤸🏽‍♀️☄️💫," she captioned the post. Here's what Rayner does to get that incredibly powerful physique. 
1
Background In Gymnastics
Rayner has a solid background in athletics. My background in sport and fitness began when I was 5 years old and my parents introduced me to gymnastics," she says. "I competed for my county, region and country on several occasions for 8 years. At 13, I decided to give it up but continued my love for sports through coaching. I naturally progressed to diving where I competed for 6 years. When I reached 18, I undertook a sport and exercise science degree at the university of Birmingham graduating with a 2:1. At uni, I competed for the cheerleading team and in my final year coached the squad."
Rayner was forced to reassess her future plans after shattering her ankle. "Upon leaving [university], I wanted to be a stunt woman, but whilst training I sustained a life changing injury preventing me from any high impact sports and leaving me with arthritis," she says. "So I switched to fitness, and over the past 4 years I have transformed my body and my life. In lockdown 1 I got my PT qualification so that I could officially start training people. After seeing my own transformation and the impact it had on my life, I knew I wanted to help others do the same. My goal is to help as many females as possible either begin, or progress on their fitness journey, so they can make healthier choices, increase their confidence and live a happier life."
Rayner loves how a good routine simplifies her life. "Most people say I'm mad but I love my routine now," she says. "I've always been someone who's pretty regimented and structured and if I didn't have a routine I think I'd go insane. So I like to treat the gym like a job Monday-Friday. I get up at 5 am Monday to Friday (Saturdays around 7 and Sundays is a lay In – although my body clock never lets me plus I hate wasting a day and like to be up and about early doors). I eat as soon as I'm up. If I don't before a workout I can feel really sick. I have my coffee, get dressed, and am usually in the gym for about 6:30. I do my workout and get content then cardio. I get back at about 8:30/9 shower then I am ready for the working day. I always make sure I go for a 30 min – 1-hour walk as well."
4
Supplements Within Reason
Rayner takes supplements but insists they are not a replacement for diet and exercise. "Let me make it clear that unless your training and diet is on point supplements won't do anything," she says. "They are there as an aid and not a solution. Everything I use is from BULK and they have the best tasting and most diverse range of products. I take multivitamins, probiotics, and omega 3's In the morning (vitamin c In the winter) then I have protein powder and glutamine too."df44d9eab23ea271ddde7545ae2c09ec
5
Discipline, Not Motivation
Rayner focuses on developing discipline rather than relying on motivation. "One of my most asked questions is how I stay motivated all the time because I have such good willpower and I never skip a workout," she says. "The truer answer is that I don't and honestly I don't think anyone does, like seriously we are all human and no one can say they are motivated 24/.7 it's just not a thing. The real answer to this is discipline, it's making yourself do the things you don't want to do over and over again until you begin to form habits. It's knowing that all the things you are doing are getting you closer to the things you want in life."
Ferozan Mast is a science, health and wellness writer with a passion for making science and research-backed information accessible to a general audience.
Read more
---