Abbey Clancy in Bathing Suit is "Oh So Beautiful"
Here is how the model stays fit.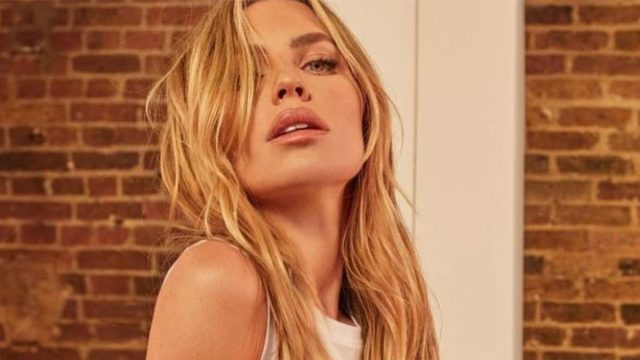 Abbey Clancy is throwing out some major tropical vibes. In her latest Instagram post, the 36-year-old mother-of-three flaunts her famous figure in a palm tree print swimsuit. In addition to lots of fire emojis, her followers unanimously agreed that she looked stunning in the swimwear. "Oh so beautiful," wrote one. "Stunning. Wow," commented another. How does the WAG keep herself in such fabulous physical form? Read on to see 9 ways Abbey Clancy stays in shape and the photos that prove they work—and to get beach-ready yourself, don't miss these essential 30 Best-Ever Celebrity Bathing Suit Photos!
`
Abbey's go-to workout is pilates. "I'm definitely not a runner, but I love doing Reformer Pilates and aerobic classes. Whenever I finish a session I always have more energy and my body feels really toned," she told Health & Wellbeing. She even makes her pilates workouts social. "As everyone's so busy, it can be hard to arrange a catch-up with my friends, so we often go to a Pilates class together and grab a healthy breakfast afterwards – it's the perfect way to motivate each other and we squeeze in a gossip whilst working out," she added. "There are always new exercises and fads that come and go, but I always end up going back to Pilates-based activities, because they give me everything my body needs."
Abbey maintains an active lifestyle. "I don't work out a huge amount but I try to include exercise in my everyday life somehow and I'm lucky that I've got an active lifestyle," she added. "I admit that genetically I am very fortunate (all of my family are tall and lean) but my body really enjoys a good workout." One way she stays fit is taking long walks with her kids. "I'm up early with my daughter every day, we walk to school and then I'm busy working all day, sometimes into the evening."
3
She Pays More Attention to Diet and Workout When She Has a Job
"I'm like every other woman and get insecure about my body from time to time – it's only natural. Modeling swimwear and lingerie means that I'm on show in front of a lot of people, a lot of the time, so I need to be mindful of what I eat, otherwise, I won't feel my best and it'll show in the pictures. Because of that, I'm really conscious of training enough, looking after myself and making sure that I still keep a womanly shape with curves in all the right places," she said. "If I know that I have a photoshoot or event coming up I make sure that I watch what I eat a bit more and take an extra class or two to give me a confidence boost."
Abbey is an experienced equestrian. "I've always been a very active person and love to get up and be outside as much as possible," she revealed. "There's nothing better than riding my horse in the countryside – I can't wait to get back in the saddle this summer."df44d9eab23ea271ddde7545ae2c09ec
Abbey maintains that when she went on the show Strictly Come Dancing her body changed dramatically."We were training for seven hours a day, almost every day, so I did drop weight and became seriously toned, but I also lost my boobs, which I hated! It was great to see what my body could do but I missed having curves and a more womanly figure. It's only when I look back at pictures from that time that I realize how different it looked, six-pack and all! I loved my time on the show so much that I didn't realize it was also a really intense workout, which is the key to keep exercise interesting," she said. 
6
She Believes in Moderation
"My fitness mantra is to do something you enjoy but don't push yourself too hard," Abbey said. "It's great to eat as healthily as possible and to give your body everything it needs but at the same time, try not to be too strict with yourself because you have to enjoy your life. If you want a piece of chocolate, don't beat yourself up about it. And if that glass of wine on a Friday night makes you happy, drink up – everything in moderation."
7
This Is What She Eats in a Day
Abbey has a  "huge appetite" and has to eat first thing in the morning. "Today I've had muesli followed by poached eggs and smoked salmon but it's usually toast, cereal or something hot," she said. She also loves to cook. "I love to be in the kitchen and enjoy making hearty, home-cooked food for my family at mealtimes. My husband's 6'7" and my brother (who lives with us) is 6'4", so I've got these big, burly men in my house who need their plates to be piled high," she continued. "I often make steak with a salad, jacket potatoes, fajitas, a massive fish pie or a big roast dinner on a Sunday. Being married to a footballer helps with my diet because he needs a lot of protein and the right nutrients to nourish his body, which rubs off on me."
Abbey is all about the occasional cheat meal. "I have a real sweet tooth. I love cakes and biscuits with a cup of tea but I try to limit how often I have them," she said. "When I indulge I usually go for a pizza at the weekend. I don't have it every day but now and again I really fancy one and don't hold back. If I deny myself anything it can put me in a really bad mood and I think about it all the more."
"I can't start the day without making a green juice," Abbey confessed. "I throw in any fruit, vegetables, nuts and super powders that I have in the fridge and I've noticed such a difference in my energy levels, my skin is really clear and my hair feels stronger. Without one I feel sluggish, tired and crave unhealthier foods, so I always make sure I've stocked up on healthy ingredients. I feel better knowing that I've had my vitamins and minerals for the day, so anything extra is a bonus."
Leah Groth has decades of experience covering all things health, wellness and fitness related.
Read more
---