Bella Hadid in Bathing Suit Has "Morning Jump"
Here are the supermodel's rules for staying fit.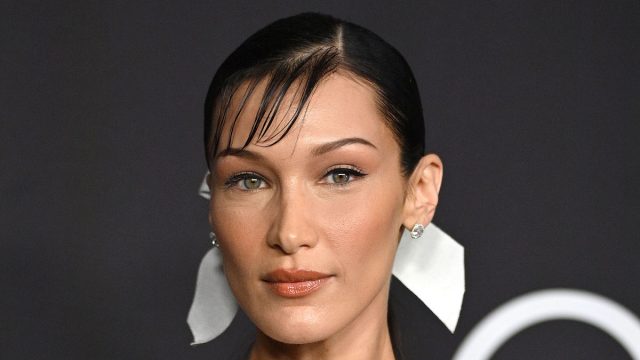 Bella Hadid is taking the plunge…in her swimsuit! The supermodel shows off her famous figure in a silky swimsuit set while diving into the ocean from a cliff via her latest Instagram post. "Morning jump," she captioned a series of photos and videos. How does the 25-year-old maintain her fit physique and prioritize her mental health? Read on to see 10 of Bella Hadid's top rules for staying in shape both mentally and physically and the photos that prove they work—and to get beach-ready yourself, don't miss these essential 30 Best-Ever Celebrity Bathing Suit Photos!
`
1
Rule #1: Drink Healthy Beverages
Bella refuses to drink sugar-filled beverages. Instead, she opts for healthy, nutritious drinks. "I order a lot of green juices and keep them around on set. I have ginger shots in a cooler, and I'll drink one if I'm feeling low," she told Harper's Bazaar. "I'm also a big coffee drinker. I'll have three espressos before noon."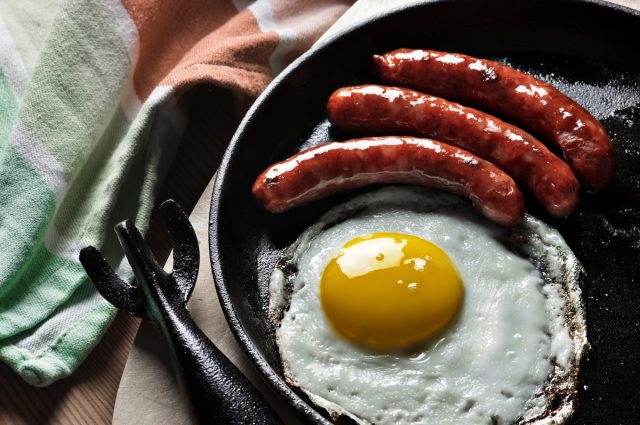 Bella is not an intermittent faster. In fact, she loves breakfast. "If I have the morning off, I'll either make eggs and sausage, and eat breakfast at home, or go to the bagel store below my apartment," she told Harper's Bazaar. Her order? An egg sandwich on a plain bagel.
3
Rule #3: Listen to Hunger Pangs
Bella has "really low blood sugar" so she makes sure to "eat all the time," to avoid her blood sugar crashing. "I like having a good protein meal because I get really tired if I eat too much, so I try to fill myself up with things that will make me feel good," she told Harper's Bazaar. 
4
Rule #4: Fuel Up Before a Workout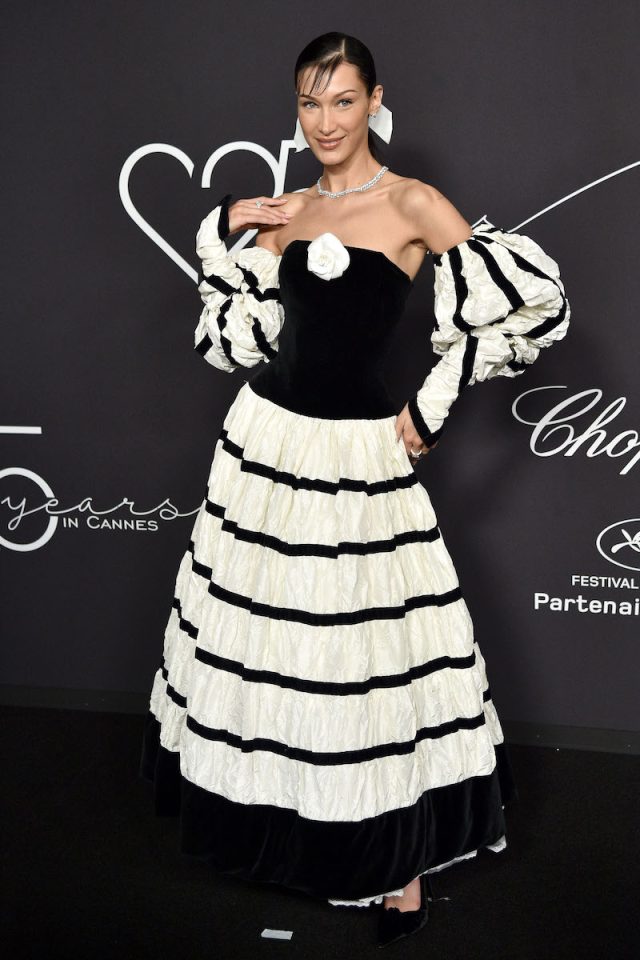 Bella fuels up before and after exercise. "I count on a smoothie, a juice or a protein drink 30 minutes before the session," she told Vogue Paris. "After the session I eat something full of protein like chicken and wholegrain rice. It's ideal to strengthen the muscle mass and to increase the effects of the session."
5
Rule #5: Make Your Exercise Sessions Count
Bella is serious about fitness. The model trains at The Dogpound and Gotham gyms, doing muscle-building strength training and HIIT workouts. "I train and I work out hard for two hours — I don't like to do the whole yoga thing. I think yoga is calming, it's amazing, but if I'm going to go for it, I'm going to go hard," she told E! News. "Put in 100% from the start to the end of a workout. There is nothing better than to push yourself to the limit, while making the most of it. Going to the gym for two hours with only 50% motivation is the best way of erasing the feeling of accomplishment and well-being that boosts self-confidence that you get from a workout," she added to Vogue France.
6
Rule #6: Fight for Your Body
Bella enjoys boxing. "I train with my coach for intensive sessions. I run non-stop for 20 minutes followed by a boxing session and finally a series of weights targeting the abs and glutes," she told Vogue France.  
7
Rule #7: Think Positive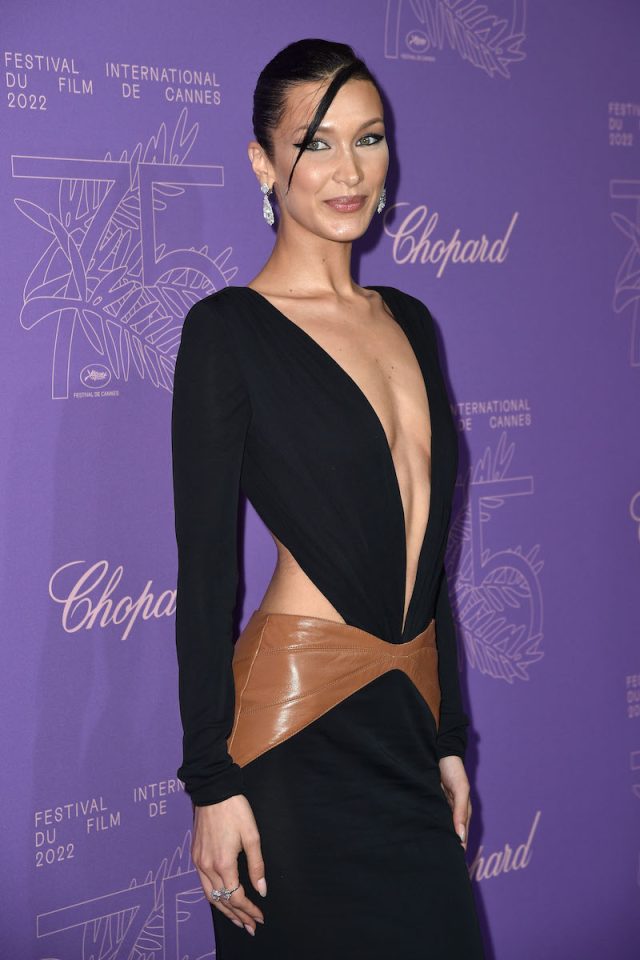 Bella recently revealed to Vogue one of her feel-good tricks, which involves sending herself positive affirmations nearly every hour. She uses an app called I Am. During her interview she received this one: "I'm dissolving old patterns and letting new patterns emerge." 
8
Rule #8: Don't Pay Attention to the Numbers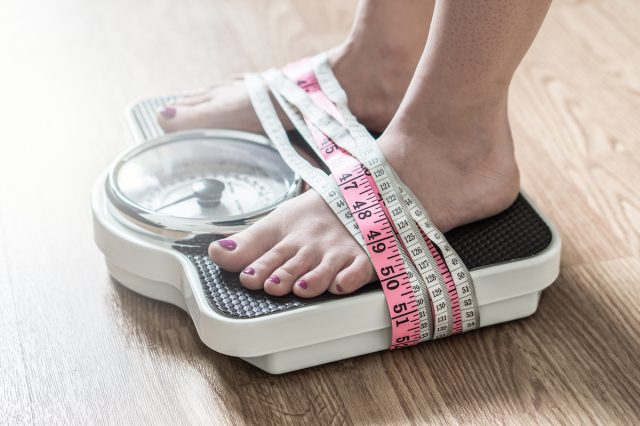 Bella battled an eating disorder in high school after a psychiatrist prescribed extended-release Adderall for her inattention, thinking it might simply be ADHD. The drug suppressed her appetite and eventually led to her anorexia, she told Vogue. "I was on this calorie-counting app, which was like the devil to me," she said. "I'd pack my little lunch with my three raspberries, my celery stick. I was just trying, I realize now, to feel in control of myself when I felt so out of control of everything else." She still battles body dysmorphia. "I can barely look in the mirror to this day because of that period in my life."
9
Rule #9: Embrace Your Face
When Bella was just 14 she went under the knife and got a nose job, which she now regrets. "I wish I had kept the nose of my ancestors," she told Vogue. "I think I would have grown into it." However, she claims that is the only tweak she has made to her face. "People think I fully fucked with my face because of one picture of me as a teenager looking puffy. I'm pretty sure you don't look the same now as you did at 13, right? I have never used filler. Let's just put an end to that. I have no issue with it, but it's not for me. Whoever thinks I've gotten my eyes lifted or whatever it's called—it's face tape! The oldest trick in the book. I've had this impostor syndrome where people made me feel like I didn't deserve any of this. People always have something to say, but what I have to say is, I've always been misunderstood in my industry and by the people around me."df44d9eab23ea271ddde7545ae2c09ec
10
Rule #10: Prioritize Mental Health Issues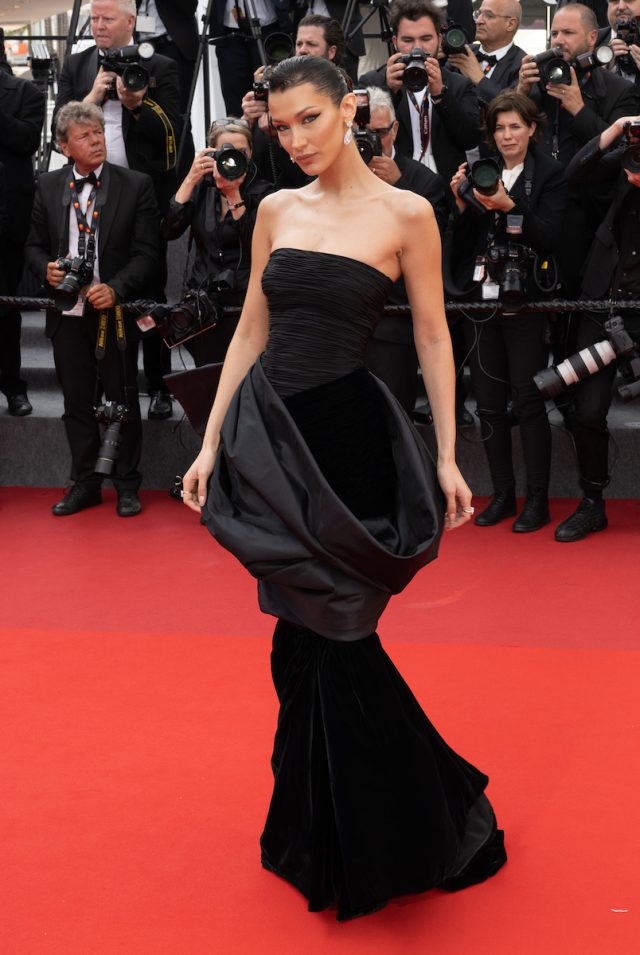 Bella battles mental health issues. In her Vogue interview she revealed that she suffered "burnout" in 2021 which led her to near-suicide before she opted to get help. For treatment, she checked into a treatment program in Tennessee for over two weeks and added talk therapy and medication to her holistic regimen. She currently takes Wellbutrin to treat her depression, and maintains therapy has been the best gift she has given herself. "For so long, I didn't know what I was crying about. I always felt so lucky, and that would get me even more down on myself. There were people online saying, You live this amazing life. So then how can I complain? I always felt that I didn't have the right to complain, which meant that I didn't have the right to get help, which was my first problem," she said. 
Leah Groth has decades of experience covering all things health, wellness and fitness related.
Read more
---