Evangelina Anderson in Bathing Suit Says "Asiiiiiii"
Here's how she stays fit.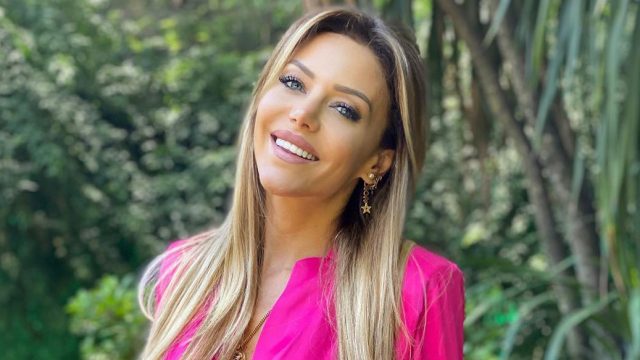 Evangelina Anderson, the model and wife of former footballer Martín Demichelis, radiates healthy energy. The proof is in a new photo of her on a luxurious boat, as she beams ""Asiiiiiii," she captioned it. How does she stay fit? Read on to see 5 ways Evangelina Anderson stays in shape and the photos that prove they work—and to get beach-ready yourself, don't miss these essential 30 Best-Ever Celebrity Bathing Suit Photos!
`
1
She Does Yoga and is Certified to Teach It
Evangelina Anderson is a certified yoga instructor. "Ahora si… Oficialmente profesora de yoga 🧘 La práctica del yoga me da diferentes herramientas que apoyan no solo a mi salud física sino también a la felicidad.En una armoniosa y balanceada relación que trasciende el nivel personal para abrazar a la humanidad, alcanzando una relación fuerte con la naturaleza y con todo lo que es vida. Estoy tan feliz de seguir enriqueciéndome en este hermoso camino. Enseñando con amor y compasión ♥️ #yoga #yogainspiration," she wrote. Roughly translated: "Now yes… Officially a yoga teacher 🧘 The practice of yoga gives me different tools that support not only my physical health but also happiness. In a harmonious and balanced relationship that transcends the personal level to embrace humanity, reaching a strong relationship with nature and with everything that is life. I am so happy to continue enriching myself on this beautiful path. Teaching with love and compassion ♥️ #yoga #yogainspiration."df44d9eab23ea271ddde7545ae2c09ec
Evangelina shared a photo while she was "hiking." "Cardio machines in the gym can provide numerous benefits, but doing the same movement pattern over and over again could potentially cause an overuse injury. Walking, hiking or running on terrain that is constantly changing teaches the body how to adapt to a changing environment. In addition, a constantly changing surface can enhance the strength of your connective tissue, which may help you avoid certain injuries," says ACE Fitness.
3
She Has a Dog and Pets are Great For Your Health
"Nosotras ♥️ #pouppée," she captioned a photo of her and her pup. "Exercise improves heart health because it helps you maintain a healthy weight and controls blood sugar. And dogs can be great mood boosters," says the Mayo Clinic. "Dogs almost universally will have those traits of loyalty, love, cheerful attitude, living in the moment, and expressing affection," says Dr. Francisco Lopez-Jimenez, a Mayo Clinic cardiologist. "What we found was that those who own a pet, particularly a dog, were healthier from the cardiovascular standpoint," says Dr. Lopez-Jimenez.
"Strength training that focuses on the major muscle groups in the legs, especially those used in skiing, can help skiers stabilize and control their bodies. Core exercises to help link upper and lower body movements are also important, as are balance exercises that emphasize stability," says the Mayo Clinic. "'Ski-specific' exercises can help train for the side-to-side motions required by the sport. One simple but effective exercise to prepare for skiing is to practice jumping from side to side over a line of tape on the floor, using both feet and then using one foot at a time."
Evangelina shared a photo of her with her bicycle. "Cycling has many benefits for your body, too. You'll get an amazing cardio workout that challenges your legs and core muscles with minimal stress to your joints. If your joints cannot take the impact of walking or running, cycling can decrease pain while increasing aerobic capacity," says the Mayo Clinic.
---