Freema Agyeman in Bathing Suit Says "Dare to Have a Life"
Here's how she stays in shape.
Freema Agyeman is celebrating her birthday this week. She shared a stunning new set of photos on Instagram for the occasion. In them, Agyeman posed in a light blue bathing suit, showing off her figure. She captioned the post, "Annual unapologetic personal appreciation & self celebration beeday suit post!" Agyeman also shared some musings in the caption, writing, "So when I heard this lyric the other day, it reinforced the notion in my mind that WE have to be ones to shift our own narrative: '…dare to have a life, while you make a living.' We ain't here long. So. Choose yourself." How does she stay so fit? Read on to see 5 ways Freema Agyeman stays in shape and the photos that prove they work—and to get beach-ready yourself, don't miss these essential 30 Best-Ever Celebrity Bathing Suit Photos!
`
1
She Makes Time For Herself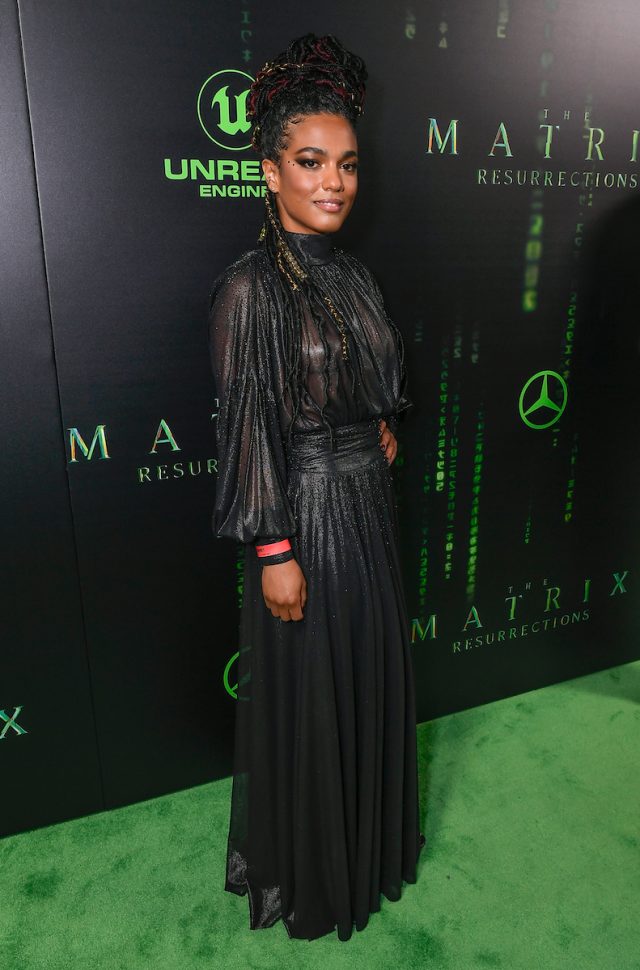 In her recent post, Agyeman talked about making time for herself. She says that she is prioritzing her self-care more. "What I have come to realise is this. No one is gonna grant me time out for self care. I, have to actively take and carve that time out ~ FOR ME. Without feeling selfish. Without feeling guilty. It's not just okay, it's necessary. And I can feel my whole being thanking me for it. And self care, in my book, sees wholesome discipline alternating the wheel with exuberant pleasure filled enjoyment. Do the work and then get at some plaaay!!!! It's okay for us to be happy with our lives! Cos we may only get this one. But of course, life can be tough, and the hustle is real. And we don't always feel like there's any time to prioritise ourselves amidst the rat race of survival."
df44d9eab23ea271ddde7545ae2c09ec
Agyeman is learning how to practice yoga, and is documenting her progress on Instagram. She shared this photo and video of herself doing different poses. She captioned the post, "We can't always control everything. I legit just fell out of that pose, 😝 ~ but no self chastisement here cos I'm still learning, still developing – and I guess that's why it's called a 'practice' cos we're never perfect. Which is kinda wonderful really – not just for Yoga, but for life. Cos if we never turned any new corners, we'd literally just be walking in circles. So my development practice for this week – continued core strengthening and better framing on my videos so I don't chop off my feet… Lol. You?"
One thing Agyeman does to stay in shape is EMS. She revealed in this Instagram post that she is doing sessions with a trainer. Agyeman captioned the post, "FITNESS TRAINING LEVEL UP with @fitlifebymo ~ This cat is training me like a goddamn athlete‼️ 💪 This is what the sporting world calls an EMS workout ~ where you are basically electro shocking your muscles while you work out to increase the intensity‼️😱⚡️⚡️⚡️ The machine delivers 85 muscular contractions per second activating over 90% of your muscle fibres!! Fire👏me👏up👏!!!"
One exercise Agyeman likes to do is box jumps. She shared this slow-motion video on Instagram of herself doing the exercise at the gym. She captioned it, "'In every job that must be done, there is an element of fun. You find the fun and – SNAP – the job's a game!' ~ Mary Poppins. Being taught to fly by @tariksc24." Box jumps are a great lower body workout, and can help with your core. 
Agyeman likes to go on walks to stay in shape. She shared these photos of herself walking her dog on a beach pier on Instagram. She captioned the post, "Champagne N Dog-hair. Is what I think my drag queen name would be. Also sums up my weekend perfectly! Happy Monday people! Hope yours were filled with magic moments!"
Anna Bechtel is a freelance writer currently based in Hamden, CT.
Read more
---