The 10 Best Celebrity Costumes of Halloween 2021
Here is what your favorite stars wore on the spookiest night of the year.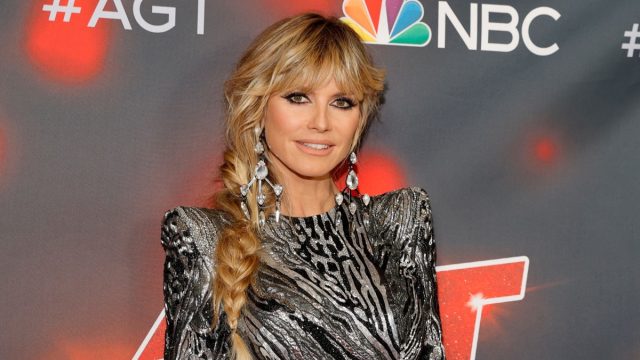 Heidi Klum, Kendall Jenner, Hailey Bieber, and more were dressed to thrill for all their Halloween festivities this year. From movie inspired characters to sexy-everythings, they flaunted their fabulous figures in some of the most creative costumes, and Celebwell has rounded up the ten best looks along with tips on how your favorite stars get fit. Read on to see the ten best Halloween costumes of the year and learn about the stay-fit secrets of the celebrities who wore them—and to get beach-ready yourself, don't miss these essential 30 Best-Ever Celebrity Bathing Suit Photos!
`
Jenna Dewan looked straight outta Moulin Rouge with her Lady Marmalade getup. One of the ways the actress stays so fit? She eats healthy, most of the time. "I believe in eating 80/20," she explained to Us. "I do 80 percent as healthy as possible — vegetarian and vegan, as healthy as I can." Her diet consists of "lots of vegetables and lots of smoothies" most of the time, allowing herself a little room to cheat. "And then 20 percent I'm eating Mexican food if I want it," she added. "You know, I've gotta be able to indulge and have a glass of wine and feel good in that way, so that helps me not be so strict and so focused in one way."
While one of the most popular couple's costumes of the year was the loved up "Kravis" (Kourtney Kardashian and Travis Barker) the couple's costume was inspired by the 1993 movie True Romance, starring Patricia Arquette and Christian Slater. In addition to healthy eating and intermittent fasting, the reality star makes exercise a priority. "I think I take time for myself to work out every day, which I never did—especially having three young kids," she explained to E! News. "I just never made it a priority, and now it just makes me feel so much better—mentally and physically." Hard core strength training, jump roping, running, weights, stairmaster cardio, Pilates and floor exercises are a few of her go-tos. df44d9eab23ea271ddde7545ae2c09ec
"Stay safe guys," Katy Perry captioned her "Stand with Fauci" Halloween post, dressed up like the COVID-19 vaccine and joined by her "DILF" Doctor baby daddy Orlando Bloom. She also tagged the CDC, Moderna, Pfizer, and Johnson & Johnson in her post. Aside from being vaccinated, Perry stays in shape by eating healthy most of the time and exercising. "I have had a dance with depression, and hot yoga helps clear it all out," Katy told Prevention about one of her favorite workouts, CorePower Yoga. "You always know what you're going to get. If you have a healthy body, it helps you have a healthy mind." She also practices Transcendental Medication. "It clears my head completely," she added. "And it ignites something in my brain. I get some of my best creative ideas when I'm TM'ing. For me, TM has been anxiety-reducing, depression-reducing, great for jet lag, hangovers, mood swings. Anytime I'm in a funky mood, I'm like, 'give me 20 minutes.'"
Meow! The Queen of Halloween Heidi Klum dressed up like a sexy feline. One of her surprising health tips? She eats a lot. "The myth that models don't eat is totally not true," she told Shape. "I just think that because we're in this business, we have to choose more wisely." Her diet consists primarily of fruits, vegetables, and lean proteins. "It's important to keep a balanced diet, but I'm not a fan of deprivation. If I want a cheeseburger, I am not only going to eat that cheeseburger, but I'm going to enjoy that cheeseburger."
Kendall Jenner's creative costume was inspired by the 1996 Tim Burton cult classic flick Mars Attacks!. In addition to healthy eating and working out with a trainer, Kendall loves to hit the pavement. "I love running outside," she told People. "You can go on a run on a treadmill but it's really not the same. I used to be the most athletic kid. I was always outside. I was super outdoorsy running around in the mud and doing that kind of stuff. I don't do that ever [now]. You're always like stuck inside, you're always in a gym, or you're always in your phone or whatever. So to actually to get outside and run outside … I enjoy it."
Supermodel Hailey Bieber treated fans to a sampling of costumes, all inspired by different looks of Britney Spears. "The first concert I ever went to was the queen @britneyspears and I've been shook ever since," she explained in the caption. Hailey boxes, does strength training, and also pilates, but she also attributes her fantastic figure to healthy eating, packing in as many plants into her diet as possible. "I tried a plant-based diet for two months during quarantine," she recently told Harper's Bazaar. "I felt great and I had a lot of energy, but it was not for me. I don't eat a strictly plant-based diet and I do still eat meat. I just don't eat a lot of it. I've picked up more fish, greens, and lentils." You will find her eating "a lot of vegetables and fish, not much meat, minimal dairy," she added to Byrdie. "I just feel better when I eat that way." 
Dua Lipa rocked a leggy and bloody Elvira costume, flaunting her incredibly toned stems. Dua swears by short but intense workout sessions. "It's high-intensity interval training, but it's so quick, it's over before it's even started," she told Vogue about her HIIT workouts, which last about 15 minutes. Jumping jacks, mountain climbers, and burpees are a few of her go-to moves.  
One of the many costumes rocked by Halloween devotee Vanessa Hudgens? An ab-baring sexy cheerleader look. She even did a little routine with BFF GG Magree, which the duo shared on social media. The star recently revealed to Shape that she traded in her cardio routine for intense weight training sessions at a trendy gym. "During the pandemic, when everything was paused, I created a little community. I'd get my friends together over Zoom and we would do Isaac Boots's live workout classes. As the world started to reopen, I found myself obsessed with Dogpound," she revealed. "I go with my best friend; we're extremely competitive. We have the best time — the amount of dancing we do between sets is ridiculous. Everyone knows when we're at the gym. They say they hear us before they see us." One of her favorite moves? Squats with a rack, "and I love to see how much weight I can add to the bar," she said. "That's empowering. 
Olivia Rodrigo channeled the other Elvira (Hancock) from the film Scarface, rocking a high-slit and slinky blue gown with a blonde wig. "not your baby," she captioned the images. The Driver's License singer is a longtime vegetarian, and during an interview with Teen Vogue, revealed that she likes to go on jogs and does ab work. "I am a terrible runner but it's the thought that counts," she said. 
Only Jessica Simpson could take a look from Caddyshack and make it sexy! The songstress steamed up social media, flaunting her legs in golf getup inspired by the movie. The mother-of-three trains with Harley Pasternak, and refuses to step on the scale. "I have no idea how much I weigh," she said. "I just want to feel good and be able to zip my pants up. If I don't, I have another size. I have every size." One number she does keep track of? Her steps.
Leah Groth has decades of experience covering all things health, wellness and fitness related.
Read more
---