Track and Field Star Clara Fernández Shares New Swimsuit Video From Spain
The pole vaulter stays fit.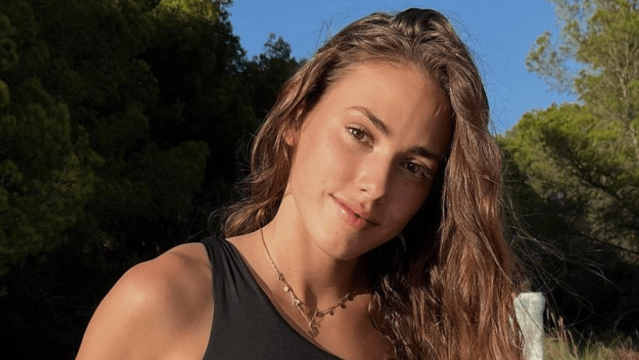 Track and Field Star Clara Fernández, master of the pole vault, shared some amazing swimsuit images over the past few days. "Mi isla favorita con @calallongahotel tenéis un código de descuento con mi código CLARACLL23 🫶🏻," she captioned one video montage. She also shared a gorgeous photo of herself on a scenic rock from Menorca, Balearic Islands, Spain. The athlete, who is also a skilled triathlon participant who cycles swims, and runs long distances, knows exactly how to stay fit. Here's what she does to maintain her figure and how she shows it off.
"Even if you're unlikely to start flinging your body to amazing heights anytime soon, there's plenty to learn from watching Olympic pole-vaulters," says Adventist Health, which interviewed Dr. Gail Jones, a cardiologist at Northwest Regional Heart & Vascular and former pole vaulter. "Dr. Jones suggests watching the incredible core and upper body strength of vaulters, as well as their unique running style and power," says the website. "This is very different from distance runners or sprinters, but no less athletic," she told Adventist Health.
"Kayaking's fluid paddling motion also provides a low-impact form of aerobic exercise improving strength and flexibility without the wear-and-tear on your joints like many other exercises. While you'll quickly notice the workout on your upper body, proper paddling technique will tone and strengthen your back and chest as well. Like any aerobic exercise, kayaking can improve lung strength, while lowering blood pressure and a regulating of cholesterol, and Men's Journal has even heralded kayaking one of the best workouts for a healthy heart," says Visit NH.df44d9eab23ea271ddde7545ae2c09ec
"Research has shown that stretching can help improve flexibility, and, as a result, the range of motion of your joints," says the Mayo Clinic. "Better flexibility may:
Improve your performance in physical activities

Decrease your risk of injuries

Help your joints move through their full range of motion

Increase muscle blood flow

Enable your muscles to work most effectively

Improve your ability to do daily activities
You may learn to enjoy the ritual of stretching before or after hitting the trail, ballet floor or soccer field."
"Vitamin D plays a big role in bone health and low Vitamin D levels have been linked to rickets in children and bone diseases like osteoporosis. So how much sun do you need to get enough Vitamin D? It only takes 5-15 minutes of sunlight exposure on your arms, hands and face to get your daily value," says SCL Health. "The darker your complexion, the more time in the sun. Forget choking down a chalky vitamin every morning, just get outside for a bit and let the sun do its thing."
"The enjoyment in activity is extremely important in terms of continuing to engage in those activities," says Hirofumi Tanaka, a professor in the University of Texas's Department of Kinesiology and Health Education, told US Masters Swimming. "Tanaka points to a study of minimally to moderately obese young women done by Grant Gwinup and published in the American Journal of Sports Medicine in 1987. Participants reported that they enjoyed swimming much more than running and cycling," says US Masters Swimming. "Swimming is also the third-most popular exercise, according to the most recent data available from the U.S. Census Bureau, meaning you'll have someone to work out with."
---