Pro Surfer Paige Alms in Swimsuit Says "Time For a Challenge"
Big waves? No big deal for this athlete.
Big wave surfer Paige Alms isn't afraid to take on new challenges, and share those changes on her social media. Alms, 35, shared a video of herself SUP [stand up paddling] foiling in Maui, wearing a black swimsuit that showed her off her strong, toned physique as she confidently navigated the waves. "Well, I finally took up the SUP foil thing ⚡️I've been tentative for a long time as I was just never really into stand up paddling. This summer being flatter than flat here on Maui, it was time for a change and a challenge 🤪 Winging saved me the past few summers, but after a while, I found down winding just wasn't as exciting anymore and only really wanted to wing in waves 🌊," she captioned the post. Alms is one of the first women to compete in the famed Eddie Aikau Big Wave Invitational—here's how she breaks down barriers and competes with the best.
`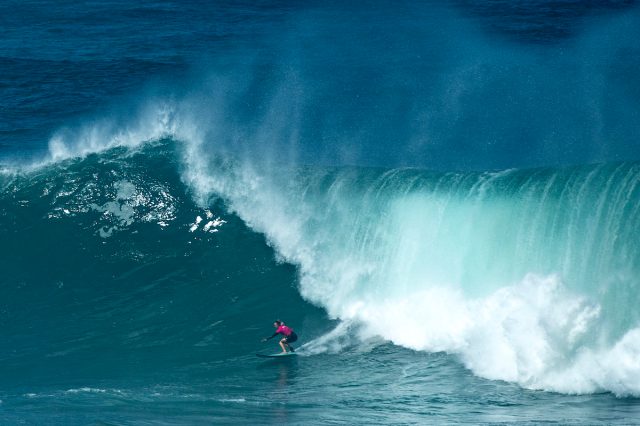 Alms works out with a personal trainer at home in Hawaii. "I have a very unique situation at home on Maui," she says. "I train at a gym that's two minutes from my house called Deep Relief Peak Performance. Samantha Campbell is the owner, and she's been training me for almost five years. I feel very fortunate because my training is different from most. It's very specific to who I am and how my body feels and the goals I want to accomplish. It varies from week to week or month to month or by the year depending on what I want to work towards. Anything from normal cardio and core, stability, and agility — it mixes in everything, and it's really based on how my body's feeling."
Alms genuinely enjoys food and cooking. "To be completely honest: I love food, and it's one of my biggest joys," she says. "Things I look forward to in a day are my meals, and I love cooking… I'd say nine out of 10, I eat pretty clean. Veggies, fruit, and protein, that's pretty much all I want. But I'm not afraid to eat a pizza once in a while. The night before a big swell or an event, I usually eat a big salad, a pasta, and a piece of salmon — that's one of my favorite meals. It makes me feel good and have energy throughout the next day."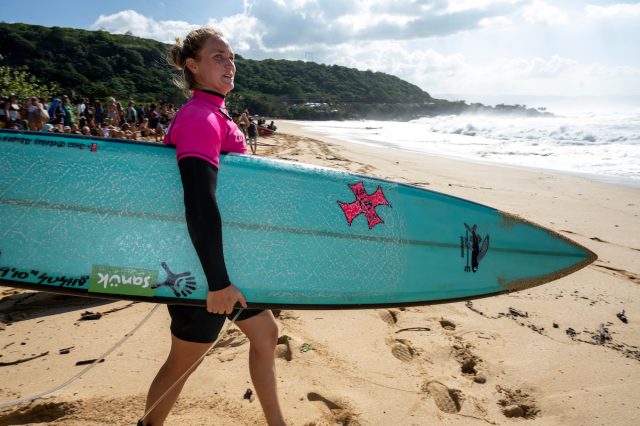 Alms grows her own food in her garden, so she always has access to fresh, healthy ingredients. "I believe in balance," she says. "When I am at home, it is a lot easier to be on a more strict diet, and by 'diet' I don't mean not eating, but just eating clean. When traveling it can get a bit tricky, but I usually try to stick to the same program. I try to eat veggies, fruit and lean meats daily… but I don't limit my happiness by not allowing myself to indulge once in a while. I love food! When I am at home during the winter, my garden is raging! I love being able to walk outside, talk to my plants, watch seeds sprout and eat meals from the veggies and fruit that I have grown. I believe we all need to have a more direct connection with the food we are putting into our bodies."
Alms is all about living a balanced life. "My life and moods and goals come in waves and it's all about being able to interpret and harness your emotions," she says. "Being a woman, well, we have super powers – duh! But in all seriousness, we see and hear and think about things differently. Finding balance is key. I always resort back to the ocean and being active, because that is when I feel the most balanced in my life. When I get a good surf or good workout in, my day is so much better, and then I am better – better at home, with my friends, in my community and the love spreads out to others. We are all in this together."df44d9eab23ea271ddde7545ae2c09ec
Alms is passionate about conservation and environmental issues. "I believe growing up in the ocean shaped who I am, what my values are, my personality and what I care about most," she says. "Being surrounded by nature and being in the water daily, it makes me value my environment above all else. I believe in treating our planet and others with the utmost respect, and that kindness is the key to living a fulfilled lifestyle. My health and wellness would not be the same if I didn't value the environment and our oceans."
Ferozan Mast is a science, health and wellness writer with a passion for making science and research-backed information accessible to a general audience.
Read more
---