The Walking Dead Star Emily Kinney Shares Swimsuit Photo of "Thanks"
She's happy to get away from the zombie apocalypse look.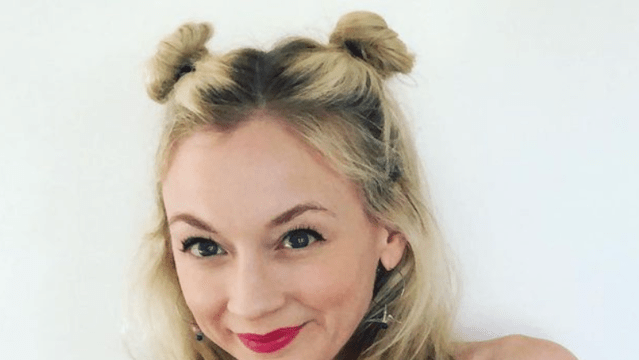 The Walking Dead star Emily Kinney is thanking fans for their warm reaction to her new music. Kinney, who played Beth Greene on the hit AMC show, shared pictures of herself posing in a blue and white swimsuit next to a sparkling pool, giving a nod to the name of her new album. "Thanks so much for listening to SWIMTEAM. Been overwhelmed and so inspired by all the kind notes about the tunes! Help me spread the music and tag a friend you think would like to hear it. 🏊‍♀️💫💕," she captioned the post. Here's what Kinney's lifestyle looks like these days. 
Kinney always starts the day with coffee. "I love coffee. If I don't have coffee, I can't function in the morning until I have it," she says. "I'll take it either hot or cold. I have two things that I'm thinking of for my last meal. I love avocado toast—I know it's so trendy and basic, but honestly, I would eat it for breakfast, lunch, and dinner. My favorite is avocado, cucumber, sprouts, and hot sauce on a really grainy bread like Ezekiel. I really love macaroni and cheese, too. It has to be worth it, though—I'm very specific."
df44d9eab23ea271ddde7545ae2c09ec
Kinney's work on The Walking Dead was a workout in itself. "I do get a workout on the show, not just from running from zombies, but just being ready to perform all day burns a lot of calories," she says. "I wouldn't say it's necessarily healthy, but I almost immediately lose a couple of pounds when I'm filming, even with craft services around. I also get up early every day and have a little 20-minute routine of stretches and yoga and lunges and abs that I do no matter what. I like feeling strong. Also, it wakes me up in the morning."
Kinney is not just an actor, she's a talented musician. "Each time you get a new [acting] job, you meet a new group of people, you maybe are in a new city, and new experiences become material that I can use in the words that I write," she says. "I do think that music has allowed me to weather the rejection, because there is non-stop rejection in acting, [where] you really are at the mercy of someone picking you. Ultimately, you have to fit into someone else's world, TV show, movie. One thing that older actors have always told me is that the happiest actors usually have other things that are really important to them. Even if it's just a matter of, they're really involved in their family stuff or they have some other hobby."
Kinney has a specific look she goes for when performing. "I want to feel dressed up and a little rock 'n' roll and cool because, after all, I'm standing in front of a bunch of people, and maybe they paid some money to hear and see me, so I want to make an effort," she says. "But, my music is very personal and I don't want to feel disconnected from the audience, so for that reason I'm also very aware when what I'm wearing will make me feel unapproachable."
Kinney has a low-key makeup and skincare routine. "I use Cetaphil to wash my face- it's so simple and gentle and I use it to take my makeup off," she says. "I love the Clinique gel moisturizer, I use that a lot- especially in the winter. It also wears well underneath makeup- I use it till it's gone! Then I just use some tinted moisturizer- I use Stila's version all the time and maybe apply a little MAC concealer for under the eyes. I recently discovered Tata Harper's line- it's natural and I'm really into their lip balm. It's hydrating and it smells so good. I also like a little bit of black eyeliner to make my eyes pop- this Maybelline pencil is automatic so it doesn't need to be sharpened. I'm always traveling so the less stuff to carry, the better."
Ferozan Mast is a science, health and wellness writer with a passion for making science and research-backed information accessible to a general audience.
Read more
---