Track and Field Star Ivet Lalova-Collio Shares Swimsuit Photo On Vacation
How to train like an Olympian.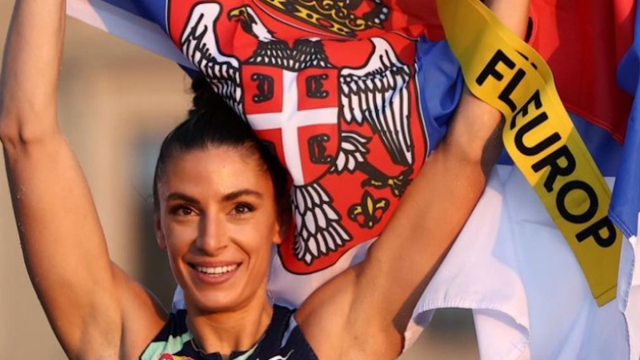 Bulgarian sprinter Ivet Lalova-Collio took some time off from her intense training regimen to don a swimsuit and spend quality time with friends at the Gloria Verde Resort in Turkey. Lalova-Collio, 39, shared a beautiful picture of herself posing in a white and tan bikini on a dock, against a background of blue sea and skies. "GIRLS 🫶🏼", her friend Maryna Bekh-Romanchuk—a champion long jumper—captioned the post. The Olympian athlete has an incredibly impressive strong physique, and she works hard to maintain her tone and muscle. But how exactly does she do it? Here are 5 ways Lalova-Collio stays one of the fastest women in the world. 
`
Lalova-Collio's training routine is what you would expect from an Olympian—she runs and lifts heavy weights. "In the winter I do a lot of weights, at least 3 times and tempo runs after," she says. "In the summer I do fewer weights, but lots of high intensity running. I have weeks that I don't have a day without putting on my spikes. I think about big championships from the moment I step on the track. Knowing that you have to be at your best there is taking me slowly to the moment and the day of the race. At the day I love some music during the warm-up, I do some strides, some active stretching, getting faster and faster in about 1 hour before the competition."
2
No Outrunning a Bad Diet
Lalova-Collio recognizes how important diet is—especially for an athlete—when it comes to staying fit and healthy. "If I organize myself around training and what I have to eat and around sport, it's easier so the days goes almost like normal," she says. "It's all about training, resting and recovery. I spend more time cooking – I really want to eat good and I keep telling people 'don't worry so much about exercise,' be careful because if you stay home all day, you end up eating so be careful about that so I pay more attention to diet."df44d9eab23ea271ddde7545ae2c09ec
Lalova-Collio didn't let pandemic lockdowns get in the way of her training regimen—instead, she became creative about working out outside of  the traditional gym environment. "We have a state of emergency – we are not under a lockdown – but we have a lot of restrictions," she says. "We can't go to parks, tracks are closed, gyms are closed but it's your choice if you want to go out but we all prefer to stay home as much as possible. It's tough times for people who train like us! We run in the streets but I keep saying that athletics is a 'poor' sport – we don't need that much to do what we do. We run, we jump, we do the basic things the human body can do although we try and improve them into something superhuman. Even if we have to run on the street or have to run on the stairs in our building, we are going to make it!"
Lalova-Collio says a serious accident that almost derailed her career in 2005 was actually the making of her. "I love to say that what saved me when the accident happened was that I was really young," she says. "I was 21 years old. By that time and in my head, there was no possibility that I'm not coming back and I'm not running again. So I had no idea what I'm facing and how long it's going to take and how hard it's going to be and I never thought about it. Of course, I had my dark moment and as I said, I cried a lot. It was really tough for me watching the World Championships in Helsinki later, that the same season that I wanted so bad to be there and compete. But I worked, even on that and it saved me, but mostly my motivation to come back saved me."
Lalova-Collio says if she could go back in time and give advice to her younger self, it would be to surround herself with positive people who encourage her, and get rid of negative people who would hold her back. "You will later work with a mental coach and discover many empowering things inside of you," she says. "You will read books on the subject and by training your brain you'll reach that state of feeling just how you want to feel – which is so important in both training and competition. I'd also say make sure you surround yourself with supportive and positive people."
Ferozan Mast is a science, health and wellness writer with a passion for making science and research-backed information accessible to a general audience.
Read more
---