WWE's Cora Jade Shares Swimsuit Photo Saying "I'm Busy"
The wrestler reflects on fame.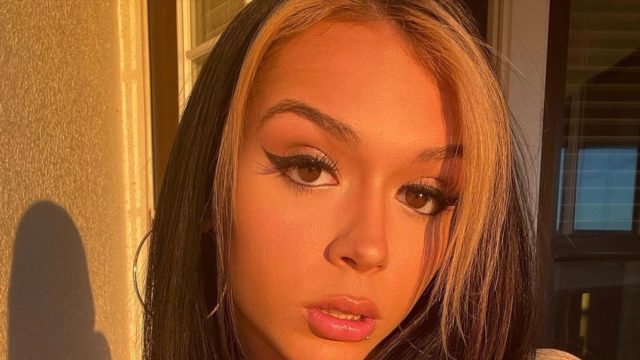 In the electrifying realm of WWE's NXT, Cora Jade emerges as a force to reckon with, captivating both the ring and fans' hearts. The path to NXT wasn't an easy one, as she has revealed in recent videos. With unwavering determination, she turned her childhood dream into reality, making her mark in the Dusty Classic. From grueling tryouts under the guidance of wrestling legends to navigating the love-hate relationship with passionate fans, Jade's journey is nothing short of remarkable. Amid the whirlwind rise to fame, she remains grounded, embracing the surreal moments and eagerly anticipating the future of WWE. Here's a roundup of her latest reflections, inspired by a new swimsuit photo she posted saying, "I'm busy."
1
Here's how She Got Into NXT
How did she get into NXT? "Well, I started watching the WWE product when I was about eight years old because my dad and my younger brother watched it together and I was just a huge fan of it. So as soon as I saw it, I was like, this is what I want to do," she said on the Mark Moses Show. " So when I was about 15, 16, I started wrestling on the independent circuit around the country, but I started in Chicago because that's where I'm from. And then in the pandemic around towards the end of 2020, I got an email to come do a tryout and I did the tryout in October of 2020 and then made my debut in the Dusty Classic a few months later in January of '21. So it's been a crazy ride, but that was how I got started and I've loved it every step of the way."
2
Her Tryout for NXT Was Tough
Her tryout "was definitely probably one of the hardest things I've ever done," she told Mark Moses. "But luckily one of my trainers, Kevin Quinn, he trained CM Punk, Lita, John Cena. He had a hand in so many people in wrestling and he had been to Japan and done a bunch of stuff. He ran a training school, so he would put us through these Sunday training cardio days we would call 'em, and it was just so much conditioning and it would be so much, and it was so at the time exhausting. But I think that really prepared me for the tryout because he kind of pushed us as much as we could be pushed then. So it made me feel like I could do anything. So when it came time for the tryout, I felt very prepared and everything I had down pat, I was ready to—all the drills had, I had already done them with my trainer before, so I felt like he really prepared me the best way possible. But it's so mentally and physically exhausting and just you got to be sharp in your mind and in your physical movements and everything was the craziest thing and the hardest thing I've ever done. But at the same time, I felt like I came in very prepared. I wanted to be here so bad. I knew what it took to get here."
3
It's a Love-Hate Relationship With Fans Sometimes
The WWE "has some of the most passionate fans I've ever witnessed in my life, but especially the NXT fans who are here, it's pretty much probably the same group of people that are here every week," she told Moses. "They're very dedicated and they're super into it and they're a very solid fan base, so they're very passionate about who they love and who they hate. So sometimes it's a love-hate relationship."
4
Sometimes it Feels Like a Dream
 df44d9eab23ea271ddde7545ae2c09ec
"It's definitely crazy," she says of her rise to fame on Fightful Wrestling With Sean Ross Sapp. "Sometimes I feel like I have to kind of pull myself out of it and kind realize what I'm doing because I feel like it all moves so fast and I'm a very stressed person. I want everything to be like I'm a perfectionist and I want everything to be perfect. So sometimes I got to step back and be like, this is really cool. Literally I'm doing everything I dreamed of when I was eight years old. I literally played this out in my head and it's unfolding in front of me, so I'm very lucky and very grateful. But it is crazy sometimes to step back and be like, this is actually happening."
"I think 2.0 really opened up a lot of opportunities for younger people like myself, and I think that change is kind of really what helped me be able to grow and have all these opportunities. So I'm so grateful for that. But now like you said, we're moving in a bit of a different, more neutral direction, and I don't know what the future holds, but I feel like WWE is a very exciting place right now. So I can only imagine that it's only up from here and I can't wait to see what this next era is. And generation of Jade will still be going strong no matter what."
---