Adele After Losing 100 Pounds Still Has These Insecurities
"Yeah, my arms are half the size, don't mean I f–king like them!"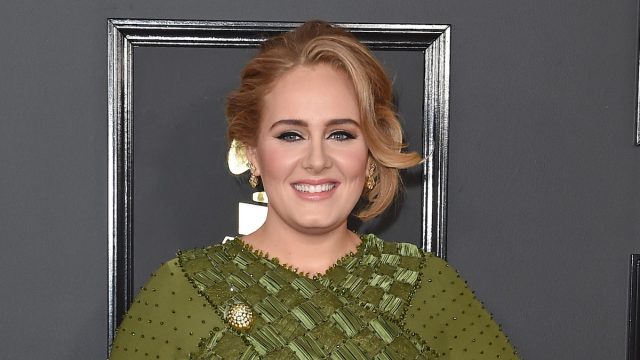 Adele's new album, 30, is out today, getting rave reviews. Fans are also impressed with her weight loss. She lost 100 pounds during the pandemic lockdown, and has talked about how she did it—and, in a new interview, how she still has insecurities despite the major achievement. Read on to see 5 things Adele has to say about her outlook—and to get beach-ready yourself, don't miss these essential 30 Best-Ever Celebrity Bathing Suit Photos!
`
1
She Still Has Things About Her Body She Does Not Like
"I don't know if I feel different. I still have things about my body that I don't like," she said in an interview with The Face magazine published Thursday. "They're not insecurities. But on the cover of Vogue, they were all trying to put me in sleeveless dresses. I was like: ​'I ain't showing my arms! Are you mad?' I've never liked my arms, ever, and I still don't like my arms. It goes back to that thing of being thin and being happy. "Yeah, my arms are half the size, don't mean I f–king like them! F–king hate my feet still."
2
She Can't Wear Stuff That Used to Fit
"There's so much jewelry I can't wear [now] because of my hands. No one tells you that, when someone loses weight," she explained. "Not that I was trying to lose weight. But my rings don't fit me anymore. Things that were gifts for my 21st birthday, I can't f–king wear," she told the Face.
3
She Worked Out Three Times a Day
"It was because of my anxiety. Working out, I would just feel better. It was never about losing weight, it was always about becoming strong and giving myself as much time every day without my phone. I got quite addicted to it. I work out two or three times a day," she told British Vogue. She added: "So I do my weights in the morning, then I normally hike or I box in the afternoon, and then I go and do my cardio at night. I was basically unemployed when I was doing it. And I do it with trainers." 
4
She Can Joke About Her Weight Loss
She joked about her weight loss in her opening monologue on Saturday Night Live. "I know I look really, really different since you last saw me," Adele said. "But actually, because of all the Covid restrictions…I had to travel light and I could only bring half of me, and this is the half I chose."df44d9eab23ea271ddde7545ae2c09ec
5
This is What She Wants to Say with 30
With her new album 30: "I just wanted to acknowledge all of the many layers of myself, which I think is definitely something that comes with age. Obviously, after a really big life moment, like my divorce, it's good to experiment a little bit more with sort of eclectic inspirations. I wanted to, more than anything, just comfort myself. It wasn't really about what I wanted to say for people. It was more like: ​'What do I need to hear for myself, lyrically?' It was just my friend, [the process of] making this album. I had to spend a lot of time on my own in order to figure a lot of things out," she told the Face.
---