Kourtney Kardashian in Bathing Suit Loves "Life With" Travis Barker
Here's how the entrepreneur stays fit.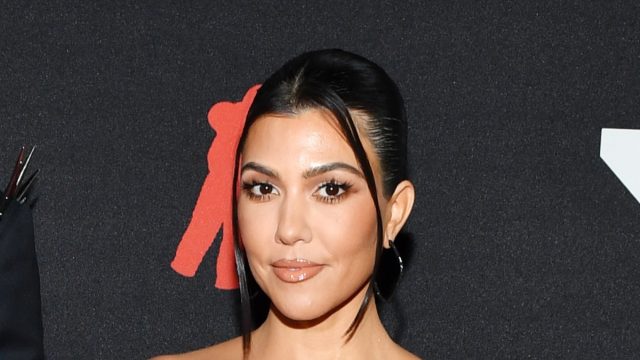 When you love someone, sometimes you just gotta show it—to 152 million followers. Yesterday, Kourtney Kardashian shared a photo of herself in a purple SKIMS x Fendi bathing suit, kissing her partner Travis Barker, captioning the photo "life with you." Earlier, she also posted photos from a pool. How does the 42-year-old mother of three stay so fit while keeping so busy? Read on to see 7 ways Kourtney Kardashian stays in shape and the photos that prove they work—and to get beach-ready yourself, don't miss these essential 30 Best-Ever Celebrity Bathing Suit Photos!
1
This is Her Typical Day of Eating
"A typical day for her would involve an avocado smoothie for breakfast (complete with MCT oil, bone broth powder, and blue-green algae), lunch would be a protein-based salad (e.g. turkey with mixed greens, cheese and egg whites) and dinner would be chicken or salmon, plus cauliflower or broccoli rice," according to Cosmo. The emphasis on protein is a no-brainer. "Protein is important because it provides the amino acids your body needs to build and repair muscle," according to the Mayo Clinic. "Most research suggests very active people should eat 1.2 to 2 grams of protein per kilogram of body weight. That means a 150-pound person should eat 82 to 136 grams each day. People who aren't active should eat less protein. Aim for .8 grams per kilogram of body weight each day."
2
She Doesn't Eat Processed Food
Says the Mayo Clinic: "According to the American Academy of Nutrition and Dietetics, processed foods range on a scale of minimally processed to mostly processed:df44d9eab23ea271ddde7545ae2c09ec
Minimally processed foods — such as bagged spinach, cut vegetables and roasted nuts — are often simply pre-prepped for convenience.

Foods processed at their peak to lock in nutritional quality and freshness include canned tomatoes, frozen fruit and vegetables and canned tuna.

Foods with ingredients added for flavor and texture (sweeteners, spices, oils, colors and preservatives) include jarred pasta sauce, salad dressing, yogurt and cake mixes.

Ready-to-eat foods — such as crackers, chips and deli meat — are more heavily processed.

The most heavily processed foods often are frozen or pre-made meals, including frozen pizza and microwaveable dinners."
3
She Eats These Foods Specifically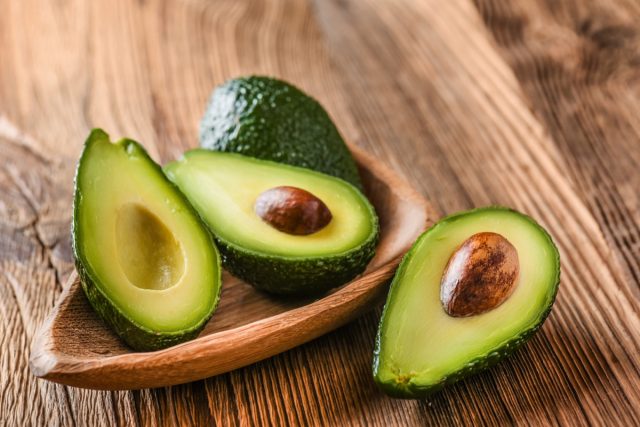 Kourtney once wrote a blog post saying she uses apple cider vinegar, wholegrain porridge, avocado and collagen supplements. Avocados are an extremely healthy fat. "One serving of a medium avocado is low in carbohydrates, yet it contains three grams of fiber," Toby Smithson, MS, RDN, CDE, of DiabetesEveryDay and author of Diabetes Meal Planning and Nutrition, told our sister site Eat This, Not That!. "Consuming higher fiber may reduce the risk of heart disease, Type 2 diabetes, and obesity."
"The concept behind HIIT is to do short bursts of very high-intensity activity interspersed with less-intense activity. A session of HIIT takes about 25 to 30 minutes, which includes a warm-up and a cool-down period. Do that three times a week to meet the recommended aerobic exercise goal," says the Cleveland Clinic. "The activity can be any aerobic exercise, like running, brisk walking, biking or using equipment like a stationary bike, treadmill, stair climber or rowing machine."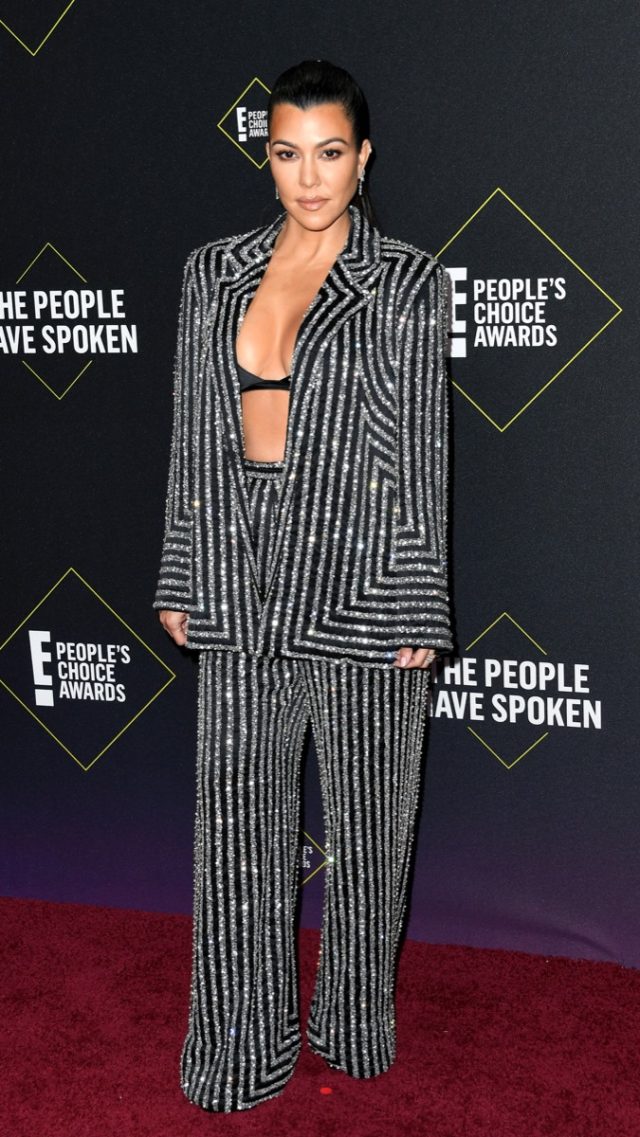 "I got really into Ayurveda and did the Panchakarma cleanse [a detoxification treatment involving massage, herbal therapy and other procedures]," Kourtney says in an interview with Natural Health Magazine. "Through that, I met my yoga teacher, who taught me her way of preparing food. We would do yoga for an hour and then she'd stay for another hour and cook with me. That's where I got all of my rules. In our house, we do everything whole: whole milk and full-fat cheeses. And I use ghee and coconut oil for cooking."
6
She Prefers Non-Toxic Makeup
I am slowly changing my beauty products over to safer choices," she tells Cricket's Circle. "I make sure that our products for Kardashian Beauty are made of non-toxic ingredients — our list of banned substances is longer than the list at Whole Foods, which makes me feel really proud." 
7
She Launched Her Own Wellness Site
Kardashian launched Poosh.com. "I decided to launch Poosh because I felt that there was something missing in the healthy lifestyle space. Healthy living gets a bad rap; it's as though if you care about what you put in — or on — your body, then you're not sexy or cool. But this just isn't true, and Poosh is here to prove just that," she wrote. "People are constantly asking me how I do it all, from being a single mom to working full-time to still maintaining a social life. I get endless questions about food, kids, beauty, and fashion, so I decided to create Poosh, a curated experience and a destination for modern living."
---