Maria Menounos in Bathing Suit Shows Off "Backyard Transformation"
Here's how she stays so fit.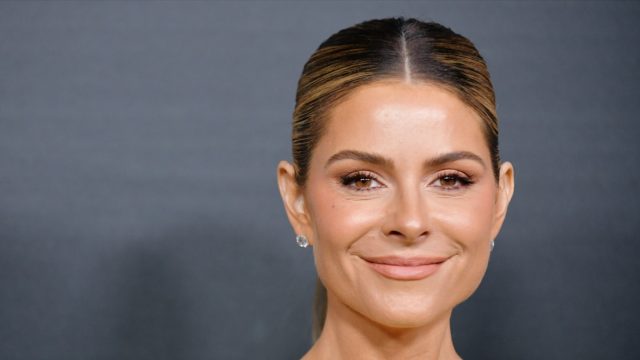 Maria Menounos, Noovie host and Better Together podcaster, is loving summer outdoors in her backyard, in a bathing suit, with new furniture. "Backyard transformation is here! BEFORE and AFTER 💥 My backyard reno reveal is here! Been working on this for sooooo long and it finally all came together. If you know anything about us Greeks-we don't pay for anything we can do…so my dad was adamant he would build the beautiful decks in our ct backyard -he crushed it! Picked my dream furniture from @frontgate and voila…hard launch today. Will be dropping them all day. Starting with the chaises because they are my favorite!! No arms, super easy to move around and use..the double chaise even has a little tray that pulls out for your drinks! Got these cute little trees for decor and the pool chairs are THE BEST pool chairs I've found. Definitely and investment but they last forever and are perfect," she said. How does she stay so fit? Read on to see 5 ways Maria Menounos stays in shape and the photos that prove they work—and to get beach-ready yourself, don't miss these essential 30 Best-Ever Celebrity Bathing Suit Photos!
"If you're a complete newbie when it comes to fitness, or if you have been away from exercise for a while and want to start again, there are a few things that you can do to get you moving in no time. The best way to get going is to get up! Move around the office, stretch, take a walk around the block, or go for a run at lunch time. If you're interested in getting some exercise before bedtime too, there are plenty of ways to do so," Maria wrote.df44d9eab23ea271ddde7545ae2c09ec
"Walking is a great way to get moving. It's easy, it doesn't require any special equipment or a gym membership, and you can do it anywhere. Walking is also effective because it gets your body moving without requiring much effort on your part—you can take as many breaks as you need without feeling guilty about skipping out on exercise altogether," wrote Maria. "You may have heard that walking boosts brain power and helps with memory retention, but that's not all! Walking can help reduce stress levels, improve sleep quality, lower blood pressure and cholesterol levels—all things that are good for your overall health and well-being (and happiness!)."
"Pro-tip: try to schedule all of your appointments in the same month," Maria wrote on an Instagram post. She knows what she's talking about, as she once had brain tumor symptoms discovered by her doctor. "Get your dentist, gynecologist, skin check and any doctor's appointments all done at once – this way you can always remember. October for example is when I handle the health biz. I try to set back-to-back appointments and knock out as many as I can at once. Try your best to have a rhythm so you never forget! It's helped me! Good luck."
4
Here's Her Take on Success
"I realized what matters in life are the people that you positively affect and touch — the things that you do that are not about accolades, awards, or success. Success isn't a closet of Chanel bags. It all doesn't matter if you're going to go, what matters is living while you can. Every time you can dance, someone else can't. You have to remember that," she has said, according to Girlboss.
"I never had hobbies and I never thought I had the time. Now I've gone the opposite way — it takes like six hours a week. Do we not have a couple of hours a week to devote to ourselves to be better and happier emotionally and spiritually? I took up guitar and I'll go into a guitar session having had a very stressful family conversation and leave feeling so uplifted and happy. Whatever that is going to make you feel good — is it dance class? Is it SoulCycle or playing with puppies at the shelter? You need to figure out things that aren't expensive and figure out how to access your happiness during stressful moments without cost," she told Girlboss.
---