Savannah Guthrie Shows Off Fat-Blasting Workout in Tokyo
The Today anchor's workout is a blast to the past.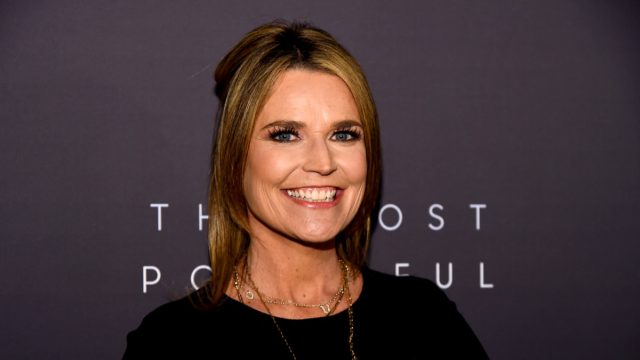 Savannah Guthrie has been in Tokyo for the past week prepping for the Olympic Games Tokyo 2020. And, despite the fact that she doesn't have access to the hotel gym, and can't go outside (due to COVID protocols), she is still managing to get a workout in from her hotel room. The 49-year-old shared a video clip of the exercise that is keeping her in shape while she is overseas, and it is oh-so-retro. Read on to find out what vintage workout Savannah is bringing back—and to get Olympic-worthy yourself, don't miss these essential 30 Best-Ever Celebrity Bikini Photos!
`
Savannah Steps to It
Savannah is all about step aerobics. "As far as I'm concerned step aerobics never went out of style. Hotel room workout in Tokyo since we can't go outside or use the gym…." she captioned the fun clip, giving a shout out to Christina Dorner, whose step aerobics routines she was following along to on YouTube."Big thank you @cdornerfitness for making me laugh AND sweat! "#whathappened."
During a recent interview with PEOPLE Savannah revealed that she was an aerobics instructor in the late '80s and early '90s. "The big trend in aerobics was step aerobics. And I still love step aerobics. I do step aerobics routines all the time. It's a great workout. And it's really fun."
She recently picked up a step so she could do Dorner's "great" and "really complicated" routines at home—or, judging from her recent interview, while she is traveling. "I kind of like it cause I can't really dance, but this is dance-y. So I feel it's a good workout for my brain as well. She's really good. She does these routines with all this fancy footwork and it's fun. And the next thing you know, you worked out for 45 minutes," she explained. "Jane Fonda all the way!" 
She also admitted that her workout is "sort of embarrassing," and that her friends laugh at her. "I would never want anyone to see me doing it, but that's what I've been doing." Obviously, she has gotten over her embarrassment. 
According to Harvard Health, step aerobics, a low impact workout, can burn anywhere from 210 to 294 calories per 30 minute session—more than vigorous weight lifting, a stair step machine, and traditional low impact aerobics. 
More From Celebwell: 5 Celebrity Ways to Lose Weight That Can Work For You.
Leah Groth has decades of experience covering all things health, wellness and fitness related.
Read more
---